Green Hills Software Completes BSP Safety Certification for Bombardier Train Control Management System - MITRAC
Board Support Package Certified to CENELEC EN 50128
(March 27, 2012)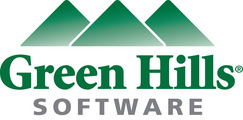 SAN JOSE, CA -- (Marketwire) -- 03/27/12 -- DESIGN West/ESC 2012, Booth #1227 -- Green Hills Software, the largest independent vendor of embedded software solutions, today announced that it has completed a CENELEC EN 50128 certification program for Bombardier Transportation, the global leader in rail technology. The program covered the creation and certification of a safety BSP (board support package) for the Central Computer Unit-Safe (CCU-S) in Bombardier's Train Control Management System (TCMS) MITRAC.
Igor Savicic, Head of TCMS, Propulsion & Controls, Bombardier Transportation, commented, "Green Hills Software has been extremely supportive, meeting and exceeding project schedules and proving their ability to flex with the changing demands of the program. Green Hills Software's commitment to share the risk and guarantee delivery is testament to the company's confidence in its products and the capabilities of its BSP development team."
The MITRAC TCMS uses the Green Hills Platform for Industrial Safety, which incorporates the IEC 61508 SIL 3 and CENELEC EN 50128 safety-certified INTEGRITY® real-time operating system (RTOS) and the MULTI® integrated development environment (IDE). Christopher Smith, vice president of marketing, Green Hills Software, comments, "Unlike standard BSPs, which mainly comprise drivers, the vast majority of code in a specialized safety BSP is assigned for safety functionality. The fact that the INTEGRITY RTOS is pre-certified, together with our extensive in-house experience of safety certifications, meant that we could approach this project with absolute confidence. Green Hills Software has built its reputation on delivering trusted and reliable software for safety-critical applications so we are accustomed to the requirements of these systems."
Bombardier is the world's largest supplier of passenger and freight rail transportation systems with over 100,000 vehicles currently in operation. It is at the forefront of the drive to combine the highest levels of safety certification with the most ergonomic and energy-efficient rail vehicles. Working together with Green Hills Software, Bombardier is developing a TCMS that will be more flexible and easier to upgrade than existing systems. This capability is particularly valuable given the long lifecycle of railway rolling stock.
EN 50128 Standard
A derivative of IEC 61508, EN 50128 is the European standard for railway applications -- communications, signalling and processing systems. As system safety monitoring increases, the task of certification can become increasingly complex. This is due to the manner in which individual functions are handled by separate computer boards, in order to prevent a failure in a non-safety element compromising a safety-critical element of the system. The outcome of this traditional approach is that each carriage on a train might require up to 50 boards in its control system.
By adopting Green Hills Software's safety-certified INTEGRITY RTOS, developers are able to run applications containing software of multiple levels of safety-criticality concurrently on a single processor. The INTEGRITY secure separation kernel enables applications to be partitioned in such a way as to ensure that an error or failure in one application cannot impact negatively on another. Using INTEGRITY, Bombardier will be able to maintain the highest safety certification standards while significantly reducing the number of boards in the TCMS. This change will simplify future system upgrades and maintenance; result in better space utilization and lower energy usage.
About Green Hills Software
Founded in 1982, Green Hills Software is the largest independent vendor of embedded development solutions. In 2008, the Green Hills INTEGRITY-178B RTOS was the first and only operating system to be certified by NIAP (National Information Assurance Partnership comprised of NSA & NIST) to EAL6+, High Robustness, the highest level of security ever achieved for any software product. Our open architecture integrated development solutions address deeply embedded, absolute security and high-reliability applications for the military/avionics, medical, industrial, automotive, networking, consumer and other markets that demand industry-certified solutions. Green Hills Software is headquartered in Santa Barbara, CA with European headquarters in the United Kingdom. Visit Green Hills Software at www.ghs.com.
Green Hills, the Green Hills logo and INTEGRITY are trademarks or registered trademarks of Green Hills Software in the U.S. and/or internationally. BOMBARDIER and MITRAC are trademarks of Bombardier Inc. or its subsidiaries. All other trademarks are the property of their respective owners.
Add to Digg Bookmark with del.icio.us Add to Newsvine
Contact:
Green Hills Software
Barbel French
805-965-6044
bfrench@ghs.com


Copyright @ Marketwire
Page: 1
Related Keywords:
CENELEC EN 50128, BSP, saefty certification, MITRAC, Bombardier, railway, TCMS, 61508 SIL 3, Applications, Sales & Marketing, Security, Networking, Business Issues, Management, USA, Marketwire, Inc., , england, Other,
---