Graffiti Spray Can 2 Application to Offer Specialized Graffiti Artist Packs
(April 27, 2011)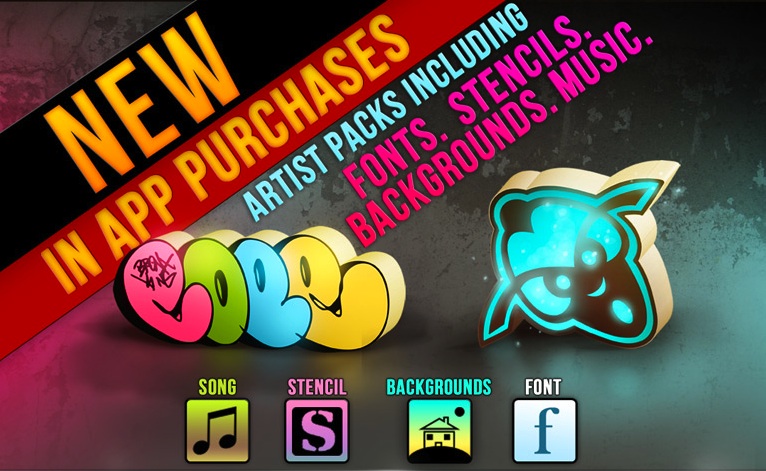 New York, NY (PRWEB) April 27, 2011
Elite Gudz, creative leaders in designing content for multi-media mobile, tablet and personal-use consoles, has announced the availability of "artist pack" add-ons for the upcoming release of Graffiti Spray Can 2. Each pack will include a downloadable artist-specific font, stencil, assorted backgrounds and original music. Graffiti Spray Can 2 officially launches on May 24, 2011, and will be available for iPad, iPod touch, iPhone, Android and Facebook. The artist packs can be downloaded from Graffiti Spray Can 2 and new packs featuring new artists will be available monthly.
It's important to us to have authentic graffiti writers represented in Graffiti Spray Can 2, said Brian Ferrara, Creative Director for Elite Gudz. "This is one of the aspects that really makes Graffiti Spray Can stand out from all other Art Entertainment Applications.
For the Graffiti Spray Can 2 launch on May 24, two artist packs will be available, featuring well-known graffiti artists Phetus and Cope2. The Phetus Artist Pack will include his signature "Phat Phace" stencil, a Phetus-specific font, 25 unique backgrounds and an original music track, We Bomb, the hip-hop single from Phetus, featuring PoeRilla. The Cope2 Artist Pack will include a signature stencil, an artist font based off Cope2s own handwriting, 25 backgrounds and the "Cope Theme" track by The Salazar Brothers from the Concrete Immortalz comic book soundtrack.
Graffiti Spray Can 2 will be available free on Facebook and Android. The application will cost $.99 on iPhone and iPod Touch and will include the Phetus artist pack. The new Graffiti Spray Can 2 application is now available free on iPad and will update on May 24 to include all upgraded features, including the artist packs, in-app store and music exclusives. For more information on Graffiti Spray Can 2 and the add-on artist packs, visit the application's official website at http://www.graffitispraycan.com.
ABOUT ELITE GUDZ
Elite Gudz is a creative studio founded by artists and creators from the worlds of graffiti, comics, designer toys and technology. Their first mobile application, Graffiti Spray Can, climbed to the #1 spot in Entertainment and Free Applications charts around the world within days of its release. Elite Gudz has since become leaders in designing creative content for mobile, tablet and consoles with designer platform production and new media for mass markets. For more information, please visit http://www.elitegudz.com.
###
Read the full story at http://www.prweb.com/releases/2011/4/prweb8347634.htm.
Page: 1
Related Keywords:
economy, business and finance,financial and business service,business enterprises,public relation,business (general),work relations,public holiday,international relations,civil and public service,public officials,public employees,public finance,church and state relations,casino and gambling,gaming and lottery,arts, culture and entertainment,entertainment (general),entertainment award,computer crime,Commonwealth Games,Winter Goodwill Games,Summer Asian Games,Winter Asian Games,Panamerican Games,African Games,Mediterranean Games,SouthEast Asiatic Games,PanPacific Games,
---