Global Electronics Manufacturer Purchases IceWEB 7000 Unified Data Storage System
'Global 50' Enterprise Corporation Selects IceWEB to Upgrade Supercomputing Environment With High Performance NFS Provisioning via 10Gb Ethernet
(April 24, 2012)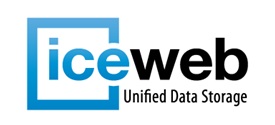 STERLING, VA -- (Marketwire) -- 04/24/12 -- IceWEB, Inc.™ (OTCBB: IWEB), www.IceWEB.com, a leading provider of Unified Data Storage appliances for cloud and virtual environments, announced today that one of the world's largest electronics manufacturers has purchased a high performance IceWEB 7000 highly redundant and scalable unified data storage system.
In a competitive procurement process involving traditional storage vendors, only the IceWEB 7000 system fully satisfied all of the customer's unified data storage and performance requirements, including:
Highly redundant dual controller units
Hybrid disk pooling, combining Solid State (SSD) and high performance SAS drives
Eight 10-Gibabit Ethernet connectivity
Four 8GbFibreChannel Ports
NFSv4 Provisioning
Hot-pluggable drives, controllers, fans and power supplies
Single, double and triple parity RAID protection: 0, 1, 10, 5, 50, 6, 60 and 6+1
Automatic file system error correction ensures data integrity
Unlimited, zero impact, zero capacity snapshots simplifies development and optimizes backup
Thin provisioning, deduplication and compression to optimize utilization efficiency
Flexible, no-impact replication (local or remote, real-time or scheduled) services
VMWare ESXi 5.0 Compatibility
IceSTORM 128-Bit Multi Node High Availability Cluster Operating System Enterprise License
"For more than 35 years, our Fortune 1000 customers have come to expect DataSpan to recommend only the absolute best technology solutions," said Michael White, Senior Account Manager with Dallas TX-based DataSpan, an IceWEB channel partner. "The IceWEB 7000 Unified Storage System with IceSTORM stands head and shoulders above traditional storage vendors due to the combination of hybrid disk pooling across SSD and SAS arrays, high performance computing, and redundancy -- all at a price point that sealed the deal for our customer. We're certain that this IceWEB order will trend forward with additional implementations for this and many more of DataSpan's Fortune 1000 customers."
"IceWEB's unified data storage products are designed to satisfy the unmet need for unified data storage with enterprise performance, capabilities, and scalability at a competitive price," said Steven Toole, IceWEB's CMO. "We brought the IceWEB 7000 to the enterprise data center market for companies like the Global 50 one announced today, and the market has clearly responded favorably to IceWEB's highly redundant, scalable and affordable enterprise unified storage system."
About DataSpan, Inc.
DataSpan is in the data protection business. For more than 35 years, we have helped Fortune 1000 companies and start-ups alike acquire, distribute, backup, archive, and secure their data. We focus on you and your unique challenges. We can help optimize how you store, access and protect your data with solid data storage solutions. We deliver the products and services you need to stay ahead of your data well beyond tomorrow.
About IceWEB, Inc.
Headquartered just outside of Washington, D.C., IceWEB manufactures award-winning, high performance unified data storage products with enterprise storage management capabilities at a fraction of the price of traditional providers. Through thin provisioning, target deduplication and inline compression, IceWEB's unified storage arrays enable standardization, consolidation and optimized storage utilization for virtual and cloud environments, saving up to 90% of storage costs, while reducing space, power and cooling requirements and simplifying storage management. For more information please call 800-465-4637 or visit www.iceweb.com.
This press release may contain forward-looking statements, which are made pursuant to the safe harbor provisions of the Private Securities Litigation Reform Act of 1995. In some cases you can identify those so-called "forward-looking statements" by words such as "may," "will," "should," "expects," "plans," "targets," "believes," "anticipates," "estimates," "predicts," "potential," or "continue" or the negative of those words and other comparable words. These forward-looking statements are subject to risks and uncertainties, product tests, commercialization risks, availability of financing and results of financing efforts that could cause actual results to differ materially from historical results or those anticipated. Further information regarding these and other risks is described from time to time in the Company's filings with the SEC, which are available on its website at: http://www.sec.gov. We assume no obligation to update or alter our forward-looking statements made in this release or in any periodic report filed by us under the Securities Exchange Act of 1934, as amended, or any other document, whether as a result of new information, future events or otherwise, except as otherwise required by applicable federal securities laws.
Contact:
IceWEB, Inc.
Investor Relations
571.287.2400
[email protected]
or
Stephen D. Axelrod, CFA
212.370.4500
[email protected]
Wolfe Axelrod Weinberger Associates, LLC


Copyright @ Marketwire
Page: 1
Related Keywords:
Unified Data Storage, Server Consolidation, Cloud storage, Thin Provisioning, Data deduplication, Business, OS (Operating System), Storage, Marketwire, , Appliances, Business, Other,
---