GigaOM Pro and YouSendIt Survey Reveals Overwhelming Majority of Business Managers Have Used a Personal Application or Service for Business Content Collaboration Without IT's Approval
(January 25, 2012)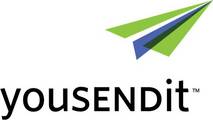 CAMPBELL, CA -- (Marketwire) -- 01/25/12 -- YouSendIt, Inc., the leader in business content collaboration services, today announced that results from a survey by GigaOM Pro revealed a majority of business managers are using a product or service for content collaboration at work that IT did not know about or sanction. Nearly two-thirds (63 percent) of business managers report doing so. In addition, 50 percent of survey respondents said they do this monthly or even more often. The most common reason given for routing around the prescribed way of doing things was the usability of these new collaboration tools. The full report can be downloaded today at http://resources.yousendit.com/GigaOMsurvey.html.
"There are many reasons why managers are choosing to bring their own tools to the workplace: Legacy systems do not meet current collaboration needs, traditional budgets are set many cycles in advance and therefore can't accommodate new tools, and the depreciation of existing systems is still on the books, to name a few," said Thomas Vander Wal, analyst, GigaOM Pro.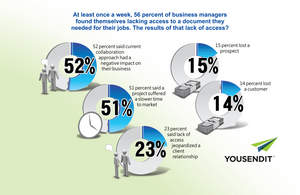 Email Focus
Although younger managers are more familiar with a broader variety of document-sharing tools, an overwhelming majority, 97 percent, of 20-to-40-year-olds said email is how their teams share business content with one another. In addition to being the top sharing tool inside the organization, email is also the top tool for working with those outside an organization. Ninety-two percent of respondents said they used it for just such a purpose, largely because of ease of use and to collaborate with vendors, partners and customers.
"The survey results demonstrate that email is still where collaboration and sharing really start," said Brian Curry, chief product officer, YouSendIt. "Email is the common business tool for business-to-business collaboration that requires no learning and is truly ubiquitous -- across desktops, mobile devices and the Web. It is even accessible through smart TVs. The results underscore that collaboration tools need to align closely with email in order to gain significant adoption in the enterprise."
Collaboration Challenges
Additional findings demonstrated that while adequate collaboration tools are essential for productivity, 52 percent of respondents cited that their current collaboration approach had a negative impact on their business. Respondents reported that productivity (30 percent), ability to generate revenue (19 percent) and time to market (18 percent) suffered as a result.
Access to documents also proved to be critical to respondents' business workflows. At least once a week, 56 percent of business managers surveyed found themselves lacking access to a document they needed for their jobs. Fifty-two percent of those surveyed reported that this lack of access had a negative impact on their business. The impact varied, as 51 percent said a project suffered a slower time to market, 23 percent said lack of access jeopardized a client relationship, 15 percent lost a prospect, 15 percent lost credibility in the organization and 14 percent lost a customer.
Survey Methodology
GigaOM Pro surveyed 306 U.S. business executives with the title of "manager" or higher at medium-sized and large companies. Respondents represent a cross section of functional responsibilities including operations, sales and marketing, manufacturing, customer service, finance and IT. Research Now executed the survey on behalf of GigaOM Pro. The survey was conducted in November 2011.
About YouSendIt
YouSendIt, Inc. is the first business content collaboration service to offer an integrated approach for sending, sharing and signing documents online. With more than 23.5 million registered users in 193 countries, YouSendIt helps enterprises and business professionals streamline collaboration by enabling them to instantly sync and access content in the cloud and easily send files, share folders and sign documents from anywhere -- the desktop, Web or mobile devices. YouSendIt offers a suite of productivity tools that integrate seamlessly into common desktop and mobile environments. With YouSendIt, companies can alleviate the burden placed on e-mail systems by offloading attachments, improving performance and productivity and reducing costs and IT security risks. Headquartered in Campbell, Calif., YouSendIt is a privately held company backed by venture capital firms Adams Street Partners, Alloy Ventures, Emergence Capital, Sevin Rosen and Sigma Partners. Visit www.yousendit.com or the YouSendIt Blog for more information.
About GigaOM Pro
GigaOM Pro delivers timely, actionable research on emerging technologies for entrepreneurs, executives, VCs, marketing communications professionals and other decision makers who need in-depth analysis that bridges the gap between breaking news and long-term research. Our analysis, reports and original research come from the most respected voices in the industry. Whether you're beginning to learn about a new market or are an industry insider, GigaOM Pro addresses the need for accessible, affordable and deep insights into dynamic markets. Learn more at http://pro.gigaom.com.
Image Available: http://www2.marketwire.com/mw/frame_mw?attachid=1865447

Media Contacts:
Lori Shen
YouSendIt, Inc.
408-429-7132
Email Contact

Erin Lumley
Trainer Communications
925-271-8229
Email Contact

Allison Parker
GigaOM Pro
206-579-3767
Email Contact


Copyright @ Marketwire
Page: 1
Related Keywords:
business content collaboration services, YouSendIt, enterprise, GigaOM, consumerization, USA, Marketwire, , IT (Information Technology), Security, Internet Technology, Business, Email, Business Professionals, Other,
---