Germany's wige MARKETING Selects Signiant to Speed Distribution of Promotional Motorsports Video for Broadcast
(June 12, 2012)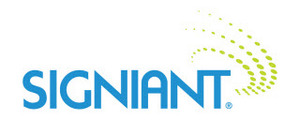 BURLINGTON, MA -- (Marketwire) -- 06/12/12 -- Signiant, the market leader in intelligent file movement software for the media and entertainment industry, today announced that German media rights company wige MARKETING has selected Signiant's Media Exchange™ software to accelerate the delivery of promotional video content for broadcast. Specializing in content distribution for televised sports and entertainment, wige MARKETING will use Signiant Media Exchange to support European events including the DTM, also known as the German Touring Car Championship.
"After testing for a recent DTM race, we were sold on Signiant. It worked perfectly and enabled our customers to download large video files at speeds that were close to real-time playout -- and without any failures or dropped packets like you might expect with FTP," said Thorsten Schroeder, Managing Director at wige MARKETING. "For a reasonable investment, we're now able to offer our customers unprecedented speed and convenience in receiving our promotional content for playout. We are continually working to improve the quality and delivery of our HD offerings, and Signiant is an important component in that effort."
For every DTM race, wige MARKETING uses digital transfer to distribute news content and race highlights as well as full race footage to more than 20 major sports networks worldwide. Previously, the company relied on FTP to transfer finished work to its clients, a slow process that was further complicated by the large size (up to 20GB) of the HD files in wige MARKETING's XDCAM-based production workflows. These files had to be encoded in order to be transported over FTP, and then decoded by customers before they could be ingested into editing systems.
With Media Exchange, wige MARKETING is able to move these large media assets in a highly secure and managed fashion using a 100GB Internet connection, and at speeds that are many times faster than FTP. Because files can be sent in their native XDCAM format without requiring encoding or decoding, they can be ingested directly into customers' editing systems to save time and streamline playout workflows. Media Exchange has been used successfully for four DTM events to date, and the system will be extended for several upcoming European racing series as well as the celebrated ADAC Zurich 24h Race Nürburgring in Germany. In addition, wige MARKETING has established a Signiant link with its associate company, Lauterbach, to exchange video content in support of the production of promotional motorsports videos.
"In the world of motorsports, wige MARKETING is a well-known global rights holder and distributor of sought-after content. The company's decision to adopt Signiant shows its commitment to offering the highest-quality services to its customers," said Joachim Bause, Signiant's General Manager for Central Europe. "Media Exchange offers a powerfully simple method of moving files in a fast, secure and managed fashion to meet the business requirements of media content providers -- ranging from global distributors like wige MARKETING to regional post-production houses, major studios and broadcast networks."
About wige MARKETING
wige MARKETING has built and established a unique worldwide market position in the areas of sports and entertainment -- with high-quality media rights, as a media partner for numerous global companies, and as a leading consultant for agencies, marketers, and major clients. The consulting team develops strategic concepts at wige MARKETING for brands, people, sports, and corporate social responsibility.
About Signiant
Used by the world's top content creators and distributors, Signiant is the market leader in intelligent file movement software for the media and entertainment industry. The company's powerful software suite optimizes existing enterprise network infrastructure and media technologies to ensure secure digital media exchanges, workflow efficiency and superior user experiences. Headquartered in Burlington, MA, with offices around the world, today Signiant connects tens of thousands of media professionals in more than 50 countries. For more information, visit www.signiant.com.
Photo Link: www.wallstcom.com/Signiant/wige.zip
Add to Digg Bookmark with del.icio.us Add to Newsvine
Media Contacts:
Lisa Clark
VP Marketing
Signiant
+1 781 221 4021
Email Contact

Susan Warren
Wall Street Communications
+1 631 261 1013
Email Contact


Copyright @ Marketwire
Page: 1
Related Keywords:
ftp replacement, accelerated file transfer, media workflows, signiant, media exchange, Internet/Web, Business, Internet, Marketing, Germany, Marketwire, Sports, Lifestyle, Internet Technology, Business, Entertainment, Internet, Sports, Championship,
---