Genius Inside Clocks Second Consecutive Year of Growth as Final 2011 Numbers Roll In
Demand for Project and Portfolio Management Solutions Defies Slow Economy; 2012 Outlook Strong for SaaS, Asia-Pac Growth
(February 07, 2012)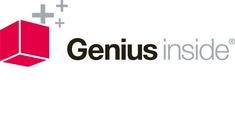 MONTREAL and GENEVA -- (Marketwire) -- 02/08/12 -- Defying a mediocre economy for the second year in a row, Genius Inside grew sales, revenue and its customer base when the final results from 2011 were tallied, the company announced today.
Demand for Genius Inside's Genius Project project and portfolio management (PPM) solutions drove double-digit global revenue growth in 2011. North American revenue increased 95 percent. The company's new client acquisitions have grown 30 percent year-over-year through 2011. Among the newest customers to choose Genius Project as their primary project management solution are international medical imaging software company Mach 7; Europe's largest tool and machinery rental service, Loxam; and Wash Tec Cleaning Technology GmbH, one of the world's largest designers and manufacturers of cleaning equipment for car washes. Halfway through 2011, Genius Inside had already announced new customer relationships with McGill University in Montreal, the Missouri State Highway Patrol, and Utah grocery chain Harmon City Inc. in North America. New European customers include Weidenhammer Packaging Group of Germany, software company SCIA of Belgium and BNP Paribas bank of France.
Reflecting a growing industry trend, a significant portion of the growth came from Genius Inside's software-as-a-service (SaaS) offering, Geniusproject On-Demand. It attracted new customers and attention from existing clients who wanted to expand their PPM implementations. SaaS revenue from new customers increased 100 percent in 2011. Overall SaaS revenue, from new and existing clients, increased 75 percent.
In addition to customer and revenue growth, Genius Inside expanded its product portfolio in 2011 with Genius Project Enterprise, an on-premise edition that enables companies with strict security rules to keep their data on site while employing Genius Inside's broad array of tools to manage products profitably and efficiently.
Looking into 2012, Genius Inside expects to double SaaS revenue; increase install and hosted on-premise income by about 25 percent; increase business revenue from Asia and add new hosting facilities in Singapore to better support that region.
"IDC estimates that the global market for PPM software is expected to reach $4.2 billion by 2013, and based on our experience in 2011 it looks like it's well on track to reach that goal," said Christophe Borlat, managing director, sales and marketing at Genius Inside. "Companies are using the economic situation as an impetus to look at their project management processes. Are they getting the creativity, efficiency and productivity they should be? They're increasingly turning to solutions like Genius Project to ensure that they do."
Genius Inside's Genius Project family of project management software enables organizations to manage and prioritize product ideas; ensure that the best resources are working on the most promising projects; and facilitate on-time project delivery. Genius Project Enterprise, Genius Project Domino and Genius Project On-Demand support the complete lifecycle of new product development projects by supporting dispersed project teams through its powerful web-based capabilities, configurable dashboards and reports, and powerful workflow engine designed to map to an organization's business structure.
About Genius Inside
Established in 1997, Genius Inside develops project management software that improves project selection, planning, staffing, execution and tracking. More than 60,000 users at 600 customers across the globe use Genius Inside's proven Web- and IBM Lotus Notes-based solutions. They are supported by European and North American offices and a global reseller network.
To learn more about Genius Inside, visit:
On the Web: www.geniusinside.com
PM box Project Management Blog: http://pmbox.geniusinside.com/
On Twitter: http://www.twitter.com/geniusproject
Add to Digg Bookmark with del.icio.us Add to Newsvine
Contact:
Darby Johnson
Brodeur Partners
djohnson@brodeur.com
(603) 559-5809
www.brodeur.com

Irene Penrose
Genius Inside
ipenrose@geniusinside.com
+41 (0)21 310 70 00
www.geniusinside.com


Copyright @ Marketwire
Page: 1
Related Keywords:
project management, SaaS, Genius Inside, Lotus Notes, Domino , France, Germany, Singapore, Marketwire, Inc., , medical technologists, Surgery, Business, Family,
---