Genius Inside Announces On-Premise PPM Solution for Security-Conscious Organizations at Lotusphere 2011
Genius Inside's Family of SaaS and Premise-Based Solutions Provide Project Management Capabilities to Meet Any Company's Needs
(January 31, 2011)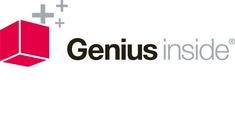 ORLANDO, FL -- (Marketwire) -- 01/31/11 -- Genius Inside has created an on-premise edition of its project management software that enables companies with strict security rules to keep their data on site while employing Genius Inside's broad array of tools to manage products profitably and efficiently. Genius Inside will demonstrate Genius Project Enterprise at the annual Lotusphere conference taking place in Orlando, Fla., January 30 - February 3, 2011.
Genius Project Enterprise PPM is a project portfolio solution designed to help mature project organizations implement tailored feature sets for a wide range of project team members and project types. It provides a 360-degree view of resources, budgets and earnings, plus direct visibility into project statuses. Enterprise PPM also provides secure, stable integration with enterprise software applications -- including SAP, Salesforce.com, Oracle JD Edwards, IBM Lotus Notes, Microsoft SharePoint and Office -- through a drag-and-drop interface with no hard coding. It joins the Genius Project On Demand PPM and Genius Project for Domino products in the Genius Inside portfolio. Genius Project also recently announced support for Apple iPads, iPhones and Mac desktops. Apple support enables Genius Project users to check assignments, report time investments, update progress, and approve, deny and or verify tasks through the Web browsers on their iPads, iPhones and Mac computers.
Enterprise PPM is implemented like an in-house SaaS (software as a service) solution. The customer installs the Enterprise PPM server in their data center. Users access the system through web browsers. Functionality includes project portfolio management features such as "what if" analysis and prioritizing tools; planning and Gantt charts; resource management; time sheets; cost and budget tracking; invoicing; dashboards and reporting.
"Genius Project Enterprise PPM provides all of the economy and versatility of a SaaS solution, but with the peace of mind that comes from having project data on a local server," said Christophe Borlat, managing director sales and marketing at Genius Inside. "Industries such as defense and pharmaceuticals have data security procedures that mandate all data be kept on premise. Other companies prefer to own their software rather than pay an annual fee for a web-based solution. By adding Genius Project Enterprise PPM, we now have on-premise solutions for Domino and non-Domino organizations, as well as our SaaS product for companies that prefer a hosted solution."
Genius Inside will be demonstrating its products at Lotusphere in booth # 628-629. The company has been an associate sponsor for three years in a row and has attended Lotusphere for 11 consecutive years. Genius Inside is a leading developer of project management solutions for IBM Lotus Notes and Domino. To request a product demonstration or meeting with a Genius Inside executive, please contact [email protected].
About Genius Inside
Established in 1997, Genius Inside develops project management software that improves project selection, planning, staffing, execution and tracking. More than 55,000 users at 550 customers across the globe use Genius Inside's proven Web- and IBM Lotus Notes-based solutions. They are supported by European and North American offices and a global reseller network. For more information please visit www.geniusinside.com. Follow us on Twitter at http://www.twitter.com/geniusproject.
See Genius Inside at Lotusphere in booth # 628-629
Add to Digg Bookmark with del.icio.us Add to Newsvine
Copyright @ Marketwire
Page: 1
Related Keywords:
project management, SaaS, Genius Inside, Lotus Notes, Domino , Sales, Applications, Marketing, Sales & Marketing, Security, Computer Technology, Internet, Security, Internet Server Applications, Web Servers, Management, Sales, Sales, Mac, OS9, OSX, Marketwire, IT (Information Technology), Security, Internet Technology, Browsers, Family, Other,
---