Gene Simmons and Ortsbo Bring Real Time Translation to the World
Iconic Personality Connects the Global Community
(April 05, 2011)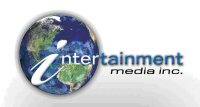 LOS ANGELES, CALIFORNIA, NEW YORK, NEW YORK, SAN MATEO, CALIFORNIA, and TORONTO, ONTARIO -- (Marketwire) -- 04/05/11 -- Intertainment Media Inc. ("Intertainment" or the "Company") (TSX VENTURE: INT)(OTCBB: ITMTF)(FRANKFURT: I4T) announces that its social media, real time, language translation platform, Ortsbo.com (www.ortsbo.com), today announced that international rock legend, accomplished global entrepreneur and one of the world's most recognized personalities, Gene Simmons has endorsed the Ortsbo service, having signed on as a business partner and to serve as Ortsbo's official spokesperson.
The personification of today's globally connected, multi-cultural citizen, Simmons is fluent in five languages, including English, Hebrew, Hungarian, and German, as well as some Japanese and he's working to add Mandarin to his repertoire. Simmons will lend his legendary personality to help spread the word about Ortsbo's unique, translator experience platform that integrates seamlessly with the most popular social media platforms to enable users from around the world to instantly send and receive messages in their native language.
Gene Simmons created the new Ortsbo logo and provided the artistic direction to the Ortsbo creative team.
Along with the new logo, Ortsbo is launching an engaging, dynamic website that offers users the choice of Ortsbo for Silverlight and Ortsbo HTML that is compatible with desktop and mobile browsers, iPad, and other portable computing devices for consumer and commercial environments.
"Ortsbo has changed my life. I can now instantaneously communicate with fans around the world in their native language. It's opened up so many new doors for me - personally and in business," said Simmons.
Unlike typical translation software, Ortsbo eliminates the need to cut/copy and paste text into a translator by automatically translating typed text into the specified language instantly. Users simply indicate the desired language for their intended recipient and Ortsbo does the rest. Ortsbo even lets users conduct multiple chat sessions simultaneously across multiple social networks in multiple languages in real time.
Free for consumers to use, the Ortsbo service is ideal for both personal/social communication, allowing users to chat with friends and family around the world or around the neighborhood, and for business communications. Global colleagues can use Ortsbo to collaborate and chat about projects in their native language for faster and more efficient communication that reduces the risk of misunderstanding due to translation errors.
For businesses, Ortsbo provides multi-lingual global communications solutions via RSS, API solutions, private chat networks and custom services allowing organizations to provide seamless communications with their constituents.
"Ortsbo is tearing down language barriers to bridge communication gaps in our infinitely connected global society," said David Lucatch, president of Ortsbo. "Whether you want to communicate with family and friends back home in Europe, or a business associate in Japan, Ortsbo is changing the way people communicate around the globe by automatically translating your conversation in real time."
In just nine months, Ortsbo usage has reached the same level that it took internet bellwether Facebook 29 months to achieve, outpacing usage growth at the world's largest network in one-third of the time. Ortsbo boasts more than 9 million unique users each month. Since launch, over 26.9 million unique visitors from more than 170 countries have logged more than 132.7 million minutes using Ortsbo, translating conversations automatically into more than 50 global languages.
Ortsbo integrates seamlessly with all the most popular social networks you already use, including Facebook, Twitter, MSN, Google Talk, Yahoo! Messenger and many more. For business or personal use, the Ortsbo for Outlook plug-in module will automatically translate emails sent and received for a one-time purchase of just $29.95.
"Our world is becoming increasingly interconnected every day, but the fact that we're all speaking different languages remains a significant obstacle in achieving a real global connectivity and consciousness," Lucatch said. "Ortsbo's quick and easy automatic translation that eliminates the need for the hassle of cut/copy and paste can help eliminate this barrier to move us forward economically and socially and help us to overcome some of the stereotypes, cultural challenges and political obstacles that stand in our way."
To become a Facebook Fan of Ortsbo, sign up at www.facebook.com/ortsbo.
Follow Ortsbo on Twitter at http://twitter.com/ortsbo.
To review Ortsbo's weekly performance metrics and the Company's corporate blog, please visit www.intertainmentmedia.com/blog.
About Gene Simmons: www.genesimmons.com
Rock legend, TV star, multi-hyphenate entrepreneur, writer, lecturer, and guest of financial and news programs, Gene Simmons is one of the world's most recognized personalities. With millions of fans on Twitter and Facebook and speaking FIVE languages including English, Hebrew, Hungarian, German, some Japanese and intending to learn Mandarin, Gene Simmons is the personification of today's globally connected citizen and the ideal spokesperson for Ortsbo.
Born in Israel, an only child to his mother, a Holocaust survivor, Mr. Simmons has gone on to climb the heights of fame and international recognition.
Simmons co-founded the legendary KISS over 36 years ago. The band has sold over 100 million CDs and DVDs worldwide, and continues to sell out stadiums and arenas around the world, breaking box-office records set by Elvis and the Beatles, and boasting over 3,000 licensed / merchandise items.
In addition to performing, Mr. Simmons has his own record company, Simmons / Universal Music, a joint venture between Universal Music and Belinda Stronach. He also discovered, signed, and produced the demo for Van Halen, and has managed the music career of Liza Minnelli, among others.
Outside of his music business endeavours, Mr. Simmons expanded his artistic explorations in the areas of TV and film. He has his own realty show on A&E, Gene Simmons Family Jewels, now in its seventh year of production, making it the longest running celebrity reality show of all time. He has also completed two seasons of his other show, Gene Simmons' Rock School, for VH-1. In addition he created the show Mr. Romance for Oxygen, as well as his own cartoon, My Dad the Rock Star, for Nickelodeon's NickToons.
As an actor, Simmons has co-starred in several motion pictures, among them Runaway (TriStar), Wanted: Dead or Alive (New World), and Extract (Miramax). He also served as co-producer of New Line Films' Detroit Rock City.
Mr. Simmons is a Co-Founding Partner in Cool Springs Life.com, a venture that provides estate planning for high net worth individuals exceeding $20 Million.
Other entrepreneurial accomplishments include his own book imprint, Simmons / Phoenix books, which published his NY Times Best Seller, SEX MONEY KISS, the LA Times Best Seller, LADIES OF THE NIGHT and the upcoming new book, GENE SIMMONS ART OF WAR and Mr. Simmons tours internationally on the lecture circuit.
Mr. Simmons graduated from New York State University (NYSU) and City University New York (CUNY) and holds a Bachelor of Education degree. After graduating, he taught sixth grade in Spanish Harlem in New York City and then became the Assistant to the Director of the Puerto Rican InterAgency Council, a government funded research and demonstration project. Early in his career, Mr. Simmons worked at Glamour and then at Vogue, as the assistant to the editor, Kate Lloyd.
About Ortsbo: www.ortsbo.com
Ortsbo (www.ortsbo.com) enables real-time conversational translation in over 50 languages and seamlessly integrates with today's most popular social media platforms.
Ortsbo's real time multi-session, multi-platform and multi-lingual application connects to PC and Mac computers, mobile browsers as well as all major search engine chat platforms including Microsoft, Google and Yahoo! along with Facebook, iChat, AIM, ICQ, Gadu-Gadu, Ovi, Lotus Sametime, LiveJournal and Tencent QQ and QQ International, China's largest chat platforms and Twitter. Ortsbo instantly provides real time translation capabilities to well over 1 billion active chat accounts in over 170 Countries / Territories.
Ortsbo Inc. is a division of Intertainment Media Inc., a Rich Media Applications leader, focused on delivering leading edge technology and marketing solutions enabling clients to power enhanced branding, loyalty initiatives and consumer engagement. Selected as a Microsoft Global Agency Initiative partner, Intertainment has joined an elite group of interactive agencies worldwide that Microsoft recommends to its Partners and Customers.
Intertainment Media owns and operates a number of key properties including Ad Taffy, itiBiti, Ortsbo and Magnum. For more information on the Company and its properties, please visit www.intertainmentmedia.com.
Headquartered in the Toronto, Canada region, with offices in New York, Los Angeles and San Mateo, CA, Intertainment Media Inc. is listed on the Toronto Venture Exchange under the symbol "INT" (TSX VENTURE: INT) and in the US under the symbol "ITMTF". Intertainment is also traded in Europe, on the Frankfurt Exchange under the symbol "I4T".
This news release may contain certain forward-looking information. All statements included herein, other than statements of historical fact, is forward-looking information and such information involves various risks and uncertainties. There can be no assurance that such information will prove to be accurate, and actual results and future events could differ materially from those anticipated in such information. A description of assumptions used to develop such forward looking information and a description of risk factors that may cause actual results to differ materially from forward-looking information can be found in the company's disclosure documents on the SEDAR website at www.sedar.com. The company does not undertake to update any forward-looking information except in accordance with applicable securities laws.
This release may contain forward looking statements within the meaning of the "safe harbor" provisions of US laws. These statements are based on management's current expectations and beliefs and are subject to a number of risks and uncertainties that could cause actual results to differ materially from those described in the forward looking statements. Intertainment Media Inc. does not assume any obligation to update any forward looking information contained in this news release.
Neither the TSX Venture Exchange nor its Regulation Services Provider (as that term is defined in the policies of the TSX Venture Exchange) accepts responsibility for the adequacy or accuracy of this release.
FOR FURTHER INFORMATION PLEASE CONTACT:

Ortsbo / Intertainment Media Inc.
David Lucatch
CEO
800-395-9943 or 905-763-3510
[email protected]
www.ortsbo.com or www.intertainmentmedia.com

OR

Public Relations / Media Inquiries:
SS | PR
[email protected]
www.sspr.com


Copyright @ Marketwire
Page: 1
Related Keywords:
Intertainment Media Inc. and Ortsbo, Mac,OS9,OSX,Canada,Toronto,Japan,Israel,Marketwire, Inc.,Financial,Film,Television,Music,Internet Technology,Business,Internet,Browsers,Family,Other,
---