GenArts Releases Sapphire for Autodesk Smoke for Mac OS X
Industry-Standard Visual Effects Toolset Offers Editorial Artists the Perfect Blend of Creativity, Speed and Affordability
(June 30, 2010)
CAMBRIDGE, MA -- (Marketwire) -- 06/30/10 -- GenArts Inc., the premier provider of visual effects software for the film, television and video industries, announced today that it has released GenArts Sapphire™ 5 for Autodesk® Smoke® for Mac OS® X. Based on industry-standard Sapphire 5 visual effects suite, Sapphire for Smoke for Mac OS X offers Macintosh editorial artists 130 Sparks featuring the image quality, speed and compatibility so essential to conforming and finishing their shots.
Sapphire for Smoke for Mac OS X was unveiled at NAB in April to much anticipation. Sapphire's image quality is unmatched in the industry, and enhances the quality of your Smoke. Its real-time interactivity (even at HD resolutions) and lightning-fast render speeds buy artists more time to finesse their shots -- even under tight on-air deadlines. Sapphire is available on every major host platform, so artists can confidently conform and finish shots from Nuke, Avid, Final Cut and After Effects.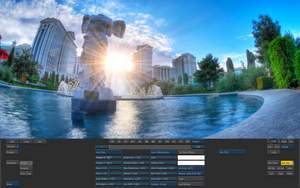 "Smoke for Mac OS X has been a great innovation, but it has really come to life with the addition of GenArts Sparks," said Roy Trosh, technical director at The Mill. "Now that Sapphire is available, we can integrate our Smoke for Mac OS X workstations seamlessly with the rest of our facility and workflow."
GenArts Sapphire for Smoke for Mac OS X features:
130 Sparks, including glows, edge rays, lens flares, lightning and warps, offer the ultimate in creativity.
Compatibility across all the major host platforms allows artists to seamlessly finish shots from Nuke, Avid, Final Cut or After Effects systems.
Blinding-fast renders and full interactivity buy artists more time for finessing shots.
Stunning image quality, including full floating point support, raises the bar over Smoke for Mac's built-in effects.
It is offered at an attractive $3,999 price point.
"GenArts Sapphire has built a reputation over the last 13 years as the go-to tool for Autodesk Systems," said Steve Bannerman, CMO of GenArts. "Our new release of Sapphire 5 for Smoke for Mac OS X delivers the same industry-standard Sparks that are indispensible to Linux Smoke artists, with the cost advantages of Smoke for Mac OS X. We're excited about the potential of this next-generation platform, and committed to delivering the GenArts-quality user experience to the Mac."
For more information on GenArts Sapphire for Smoke on Mac, visit: http://www.genarts.com/product/sapphire/smoke-mac.
Since the company's founding in 1996, GenArts software has been utilized in thousands of films, television broadcasts and commercials, including more than 20 Oscar-nominated pieces such as "Titanic"; "I, Robot"; "Armageddon"; "Star Wars Episode I, II and III"; "The Matrix" trilogy; "The Lord of the Rings" trilogy; "Pearl Harbor"; "Spider Man"; "Pirates of the Caribbean"; "Harry Potter and the Prisoner of Azkaban"; "Transformers"; "The Chronicles of Narnia: The Lion, the Witch and the Wardrobe"; "Avatar" and many more.
About GenArts
GenArts, Inc. is the premier provider of specialized digital visual effects software for the film, broadcast and video industries. As visual effects have become essential to the art of storytelling, GenArts' tools have emerged as the standard for creating breathtaking visual effects in thousands of feature films and television shows, and more than 5,000 commercials and music videos. The explosion of online and corporate video creation has led to the widespread adoption of GenArts software by a range of S&P 500 companies, leading museums, and educational institutions for communications, marketing and learning applications. GenArts' software enjoys the unique distinction of having been a key component of an Oscar-nominated film for the past 13 consecutive years.
The GenArts Sapphire™, Monsters™, Raptors™, Tinder™ and particleIllusion™ portfolio equips digital artists with a collection of state-of-the-art visual effects such as glows, light rays, lens flares, film, fire, fluid and particles to create the continually innovative looks that bring the entertainment industry's dazzling stories and broadcasts to life. GenArts' tools seamlessly integrate as software plug-ins into all leading editing and compositing systems. GenArts was founded in 1996 in Cambridge, Mass. For more information, visit: www.genarts.com, and become a fan of GenArts at http://www.facebook.com/genarts
Image Available: http://www2.marketwire.com/mw/frame_mw?attachid=1296644

For additional information, please contact:

Nicole Panas
GenArts Inc.
T: 617-492-2888
E: [email protected]

Ashley Wilkinson
BOCA Communications
T: 415.738.7718 x4
E: [email protected]


Copyright @ Marketwire
Page: 1
Related Keywords:
digital visual effects, GenArts, Sapphire, special visual effects vfx, Broadcast,Post/Production,Digital,Visual FX,Director,Camera/Film,Camera Lens,Broadcast Technology,Production/Post,Broadcast,HDTV,Software,Facilities,Facility (Post Production),Commercials,OS (Operating System),Unix,Mac,Linux,OS9,OSX,Marketwire, Inc.,Apple Final Cut Pro,National Association of Broadcasters,Film,Television,Music,Entertainment,
---