Gemsofinsight.com, First of Its Kind Content Sharing Platform for Inspirational Quotes, Announces Launch
New Site Enables Users to Discover, Contribute and Share 'Gems' of Motivational Quotes From People Like You and Me
(April 24, 2012)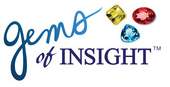 SEATTLE, WA -- (Marketwire) -- 04/24/12 -- Gems of Insight, the first content-sharing platform for inspirational quotes, today announced its full-scale launch. The advertising-free, easy-to-use online site offers social networking features that enable anyone to discover, contribute and share insights, called "gems." Geared for people of all-ages, Gems of Insight requires no sign-up and no divulgence of private information, including name. Site visitors can designate favorite quotes by clicking the "Gem It" button, with popular inspirational passages earning "Gems of the Week."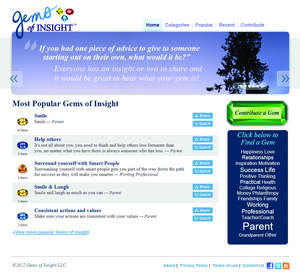 "Gems of Insight is founded on the premise that each one of us has something insightful to share that can enrich others," said the Founder Elaine Werffeli. "It is not a site with quotations by famous people. Gems of Insight allows people like you and me to encapsulate and pass on our practical, meaningful advice to help friends, family members and others to stay positive, inspire each other and achieve their goals."
Gems of Insight is a community for college graduates, parents, grandparents, teachers, mentors, working professionals or thinkers to share their daily life journeys with others at a single site. It also serves as a learning platform for those who are seeking inspiration.
The site is open to anyone and does not require sign-up to contribute gems. When on the site, users can read popular and recent gems organized in 16 categories (including motivational, relationship, friendships, success, health, money, college, and more) and "Gem It" the ones they like. Those who like to begin their day with an insight can subscribe to the site and can also follow Gems of Insight's Facebook and Twitter pages.
The concept and platform is the brainchild of Elaine Werffeli, who created the site as a meaningful graduation gift for her son Ryan. "As my son was heading to college, many friends, family members and colleagues passed along pieces of advice that I wanted to capture at one place to share with my son when he graduates in the summer of 2012," said Werffeli. "Hence Gemsofinsight.com was born."
Be sure to contribute your Gems of Insight and encourage your friends and family to 'Gem It'.
Image Available: http://www2.marketwire.com/mw/frame_mw?attachid=1958460

Add to Digg Bookmark with del.icio.us Add to Newsvine
Elaine Werffeli
Gems of Insight
[email protected]


Copyright @ Marketwire
Page: 1
Related Keywords:
quotes, inspirational quotes, quotes of famous people, advice, social network, motivational quotes, Networking, Marketwire, , Social Networking, Family, Parents, Teachers, Other,
---