Gartner Expects Major Expansion in Mobile BI by 2013
Expected Capabilities Already Being Provided by Webalo
(January 20, 2011)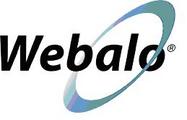 LOS ANGELES, CA -- (Marketwire) -- 01/20/11 -- Employees drive the demand for mobility, but what they want and what they can get are, at the moment, far apart. In the Gartner Group's recent predictions about business intelligence, its analysts can clearly see a future shaped by mobile workers, and it's a future that Webalo already provides.
As organizations move toward collaborative decision making, Gartner expects one-third of static BI functionality to be accessed on smartphones and tablets by 2013. Its analysts report that:
most corporations are not yet extending BI resources to mobile devices
BI vendors are enhancing their applications' value by creating mobile "apps" that duplicate the capabilities of their enterprise software
corporate migrations from enterprise to mobile have been hampered by the complexity and cost of creating (and then maintaining and updating) mobile applications and by the added cost and inherent limitations of vendor-specific mobile apps.
Webalo makes it fast, easy, and affordable to deliver business intelligence data to mobile users. "Devices like the iPhone and iPad are making mobility desirable," Webalo's CEO Peter Price observes, "and employees want to use these devices or any other smartphone or tablet to be productive. Getting just pre-defined static views of their data isn't enough. That data needs to be actionable, and Webalo makes this possible today. That makes a real difference in productivity."
By connecting directly to existing enterprise resources -- the BI, ERP, CRM, and other applications that run the business -- and doing it in minutes without the need to create new, mobile-specific applications, Webalo's enterprise-to-mobile connectivity platform lets IT avoid new development and maintenance costs while providing nearly instantaneous mobile access to individuals or groups of employees. For example, executives at a global CPG firm use Webalo to interact with BI data from its SAP data warehouse; a property management company connects its mobile managers, in real-time, to its enterprise Oracle database to retrieve and enter tenant-related information; and a retailer gives its mobile management team access to the latest KPIs about stores in their regions.
"Webalo can be configured to select only the data and functionality that specific users need. It can combine resources from multiple vendors' applications, and it can use a single configuration to work with any smartphone or tablet," Price points out. "That lets companies provide more capabilities with less effort, at significantly lower cost, and with virtually no delays. IT can meet mobile users' needs more precisely and, with transactional, bi-directional interactivity, that lets users work more productively and contribute more useful information to collaborative decisions. That's more than business intelligence. It's an intelligent way of doing business."
About Webalo
Webalo changes the economics of enterprise mobility. It provides the enterprise-to-mobile infrastructure that puts enterprise data and functions on smartphones 100 times faster than traditional approaches to mobile application development, and it provides personalized mobile capabilities that meet the individual needs of any end user.
Webalo technology eliminates the need for traditional mobile application development tools and custom programming to provide -- in hours, instead of weeks or months -- mobile access to the specific enterprise data and functions that smartphone users rely on to do their jobs. Rather than build new mobile applications or purchase proprietary mobile versions of a vendor's enterprise applications, organizations can use Webalo to let administrators easily select, from their existing enterprise applications, the exact data and functions that mobile users need so they can work more efficiently and productively.
Webalo -- available in hosted and virtual appliance versions -- lets non-IT business administrators easily and rapidly configure the connections between smartphones and enterprise apps from vendors such as IBM, Oracle, SAP, and Microsoft, as well as from in-house applications. Then, in seconds, Webalo conforms the settings to the native user interface of any Android, BlackBerry, iPhone, Symbian, Windows Mobile, or Java-enabled smartphone.
Founded in 2000, Los Angeles-based Webalo is privately held. Additional information about Webalo's products, customers, and partners is available at www.webalo.com and www.webalo.com/pr/gartner.html.
Editors, note: All trademarks and registered trademarks are those of their respective companies.
Add to Digg Bookmark with del.icio.us Add to Newsvine
CONTACT:
Robert Sax
SAX PR/Marketing
818.508.7660
[email protected]


Copyright @ Marketwire
Page: 1
Related Keywords:
webalo, mobile connectivity platform, enterprise-to-mobile, mobile BI, Gartner, business intelligence, Digital Media Software,Communications,Digital Audio,Smart Phone,PDA,iPods,iphone,iPad,Applications,Productivity Applications,Database,Business Issues,Software Development,Other Applications,Other,Business Intelligence,IT Management,Tools,Management,CEO/CFO,Business,Programming,PDA/Smartphone,Authoring/Programming,Marketwire,IT (Information Technology),Enterprise Applications,Apple Computer,Business,Other,
---