GENWI Unveils Adaptable and Intelligent Cloud Publishing for Mobile
Cloud-Based Mobile Publishing Platform Leader Announces the Next Version of the mCMS(TM) With SmartContent(TM) and SmartDesign(TM)
(January 10, 2012)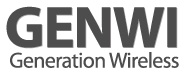 LAS VEGAS, NV -- (Marketwire) -- 01/10/12 -- GENWI (www.genwi.com) announced today at CES the release of several new features that advance their already-intelligent cloud publishing platform. The launch includes a new version of the Mobile Content Management System (mCMS™) with enhanced SmartContent™ and SmartDesign™ components.
GENWI's upgraded SmartContent™ offering includes a state-of-the-art real-time analytic facet that provides contextual content delivery based on usage, location, and social sharing. New SmartDesign™ features give leadership brands the power to own and optimize the potency of the growing mobile and tablet space by allowing them to deliver their unique brand experience in a creatively fluid way at every mobile touch-point in real-time.
"When we embarked on the development of our current Cloud Publishing innovations, we asked ourselves: 'How do we continue to build upon our successes and make the mobile and tablet experience enriching for everyone?'" said PJ Gurumohan, Co-Founder and CEO. "We looked through the eyes of all parties involved and understood their pain-points. The mobile and tablet space is unique. You cannot force-feed a desktop or web publishing solution into the mobile and tablet space and expect it to deliver brand magic and potency. In addition, historically there were design inefficiencies where solutions had to be created for each unique device, which makes tapping into the potential of mobile costly and cumbersome. Our inaugural launch addressed all of this and today is about upping that game."
Mr. Gurumohan continued, "For companies to 'self-actualize' their brand in the mobile and tablet arenas they need a platform that is intuitively designed for the space and takes into account all stakeholders. Internal content managers will find our new features are delivered through a dynamic and easy design process. Companies will immediately see our commitment to their brand equity and bottom-line. Agencies and creative directors will appreciate the ability to maintain design integrity. End-users will enjoy an 'actualized' mobile and tablet experience that is deeply engaging."
These new developments point to the intelligence of GENWI's publishing platform, which has only become a more fluid experience for business users, allowing full control over creative and branding aspects while providing guidance and best engagement practices. With GENWI, publishers can treat mobile tablet components as 'living brand experiences' that are constantly evolving.
Product Features and New Enhancements
General Advantages of GENWI's Cloud Publishing Platform
Rapid app design provides for an unprecedented time-to-market advantage
Publishers and mobile marketers can build out their entire mobile strategy on the GENWI platform as opposed to creating piecemeal solutions for various devices from multiple services (iOS, Android and HTML5)
Deep social integration
Low TCO
GENWI Mobile Content Management System (mCMS™)
Real-time Analytics
SmartMonetization™
SmartDistribution™
SmartContent™ [NEW ENHANCEMENT]


Content modeling for various forms of publications on mobile

Mix-and-match content from various sources into a single category

Ability to curate content that's aggregated from various sources before delivery to mobile (independent of the content on the existing CMS)

App network layer that provides a contextual content delivery based on personalization, content consumption patterns, usage habits, location and social sharing.


SmartDesign™ [NEW ENHANCEMENT]


Flexible client architecture delivers content in various forms that can be modified "on the fly" independent of the data
SmartShell™ technology is the gateway to multi-dimensional creative opportunities using standard HTML5/CSS and Java Script

Completely customizable interface and user experience combined with impeccable design aesthetic

Ease-of-use and real-time feedback on design allows for perfect adaptation and optimization of creative expression
ABOUT GENWI
GENWI (www.genwi.com) is enabling and accelerating the transformation of the mobile experience for everyone. As the inventor and leader of emerging cloud publishing, GENWI delivers the most powerful and creative turnkey solutions available for Publishers, Fortune 500 Leadership Brands and Agencies, allowing them to address the complexities and growing opportunities of the mobile and tablet landscape. GENWI's goal is to help companies engage and grow their audience with intelligent mobile apps that can be customized and adapted based on real-time analytics and feedback. GENWI currently has over 1500 publishers including Conde Nast, Moguldom Media, Forbes, and PBS kids.
Founded in 2010, GENWI is a privately held firm based in Los Altos, CA. For more information, please visit www.genwi.com
Add to Digg Bookmark with del.icio.us Add to Newsvine
Press Contact
Jessica Hasson
Vice President
Social Radius for GENWI
Email Contact
(310) 739-0344


Copyright @ Marketwire
Page: 1
Related Keywords:
Mobile Presence, iPhone app, iTunes App store, Android app, App developer, app development, design, Marketwire, , CES Attendees, Apple Computer, Internet Technology, Business,
---