Fujitsu U-Scan Compact Delivers Revolutionary New Self-Checkout Solution That Fits Any Retailer's Environment
Design and Transaction Flexibility Let More Retailers Leverage Self-Checkout to Offer Shoppers a More Efficient and Uniquely Branded Checkout Experience
(January 16, 2012)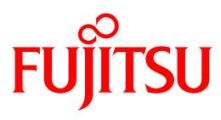 NEW YORK, NY -- (Marketwire) -- 01/16/12 -- National Retail Federation Convention -- Fujitsu today announced the availability of U-Scan(R) Compact(TM) self-checkout, a game-changing self-checkout solution that enables more retailers in more verticals to offer a self-checkout experience that is efficient, flexible, and designed to fit into the retailer's unique environment. With its smaller in-counter footprint, flexible transaction options, and build-to-order design strategy, the U-Scan Compact system is the first self-checkout system that can satisfy the needs of retailers in a variety of verticals beyond grocery and do-it-yourself (DIY), including drug stores, convenience stores, category-specific stores, and specialty stores. In addition, from queue management to automated cash handling, to built-in options to encourage impulse buying, U-Scan Compact self-checkout can create the ideal checkout experience for each retailer's target customer. The new Fujitsu U-Scan Compact system will be on display at the National Retail Federation's (NRF) Big Show in New York, January 16-17.
"While the first generation of self-checkout systems paved the way for the future, their size and design limitations have prevented many retailers from adopting them," said Brian Yates, director of retail marketing at Fujitsu America. "The U-Scan Compact system changes all that. Any retailer can now order a self-checkout solution that fits comfortably into their unique retail environment, while also offering payment and assistance options to meet the specific style and temperament of their clientele. Flexible and adaptable, the U-Scan Compact system will meet the evolving needs of retailers and shoppers for many years to come."
Benefits Summary
The U-Scan Compact system can be designed to fit unique retailing environments:
Build-to-Order - The U-Scan Compact system can be ordered with retailer-specified counter-tops (e.g., granite, solid surface, stainless) paint colors, laminate choices, and lane lights.
Compact Size - A smaller, in-counter design allows for ease of installation -- dimensions and sizes of the U-Scan Compact system are similar to legacy POS gear.
Modular Design - A modular design allows retailers to easily add or subtract components, even from one store to another.
Impulse Buying - The U-Scan Compact system is the first self-checkout system designed with integrated space allocation for impulse items and magazines, giving retailers the opportunity to encourage impulse buying during self-checkout.
The U-Scan Compact system has the flexibility to meet the unique needs of target customers:
Flexible Service Models - The U-Scan Compact system allows for any style of service, for any consumer, at any time. Self-service provides for full independence. Full-service provides for maximum assistance. "Modified service" enables shoppers to start with self-service but allows a clerk to step in at any time.
Automated Cash Handling - While supporting the use of a traditional till, the U-Scan Compact system is designed to allow for fully automated, highly secure cash handling, providing greater flexibility for shoppers.
Queue Management - Using lane lighting tied to the U-Scan operating system, consumers are alerted to the next available lane, speeding customers through checkout and eliminating the frustration of getting stuck behind a slow self-checkout user.
Availability
The Fujitsu U-Scan Compact self-checkout solution is available now.
For More Information
Website: http://solutions.us.fujitsu.com/index.php
News Page: http://fujitsunews.com/
Twitter: http://twitter.com/fujitsuamerica
About Fujitsu in Retail
Fujitsu provides the world's leading retailers -- locally and cross-border -- with a unique combination of retail products, retail applications and retail managed services, including Point of Sale, self-service solutions and store IT managed services. The Fujitsu suite of retail solutions delivers a differentiated shopper experience for its retail clients, increasing sales, operational effectiveness and shopper satisfaction. By building on its core strengths in retail industry solutions, scalable IT infrastructure products and services and international delivery services, Fujitsu aims to be the first-choice IT provider for retailers globally: The retailer's IT company. For more information on how Fujitsu kicks off the 101st National Retail Federation Convention and EXPO with a new global retail strategy, please visit: http://bit.ly/wOWwv5.
About Fujitsu
Fujitsu is a leading provider of information and communication technology (ICT)-based business solutions for the global marketplace. With approximately 170,000 employees supporting customers in over 100 countries, Fujitsu combines a worldwide corps of systems and services experts with highly reliable computing and communications products and advanced microelectronics to deliver added value to customers. Headquartered in Tokyo, Fujitsu Limited (TSE: 6702) reported consolidated revenues of 4.5 trillion yen (US$55 billion) for the fiscal year ended March 31, 2011. For more information, please see: www.fujitsu.com.
Fujitsu America, Inc., is a leading ICT solutions provider for organizations in the U.S., Canada and the Caribbean. Fujitsu enables clients to meet their business objectives through integrated offerings and solutions, including consulting, systems integration, managed services, outsourcing and cloud services for infrastructure, platforms and applications; data center and field services; and server, storage, software and mobile/tablet technologies. For more information, please visit: http://solutions.us.fujitsu.com/ and http://twitter.com/fujitsuamerica.
Fujitsu, the Fujitsu logo and "shaping tomorrow with you" are trademarks or registered trademarks of Fujitsu Limited in the United States and other countries. U-Scan is a registered trademark of Fujitsu Frontech North America Inc. All other trademarks and product names are the property of their respective owners.
Add to Digg Bookmark with del.icio.us Add to Newsvine
Press Contacts
Fujitsu America, Inc.
Karen Richardson
Manager, Public Relations
408-746-3300
[email protected]

Eastwick Communications
Joseph Beare
Associate
650-470-4876
[email protected]


Copyright @ Marketwire
Page: 1
Related Keywords:
NRF, retail, self-checkout, U-Scan, shopper, transaction, grocery, store, DIY, cash, checkout, SCO, Canada, USA, Marketwire, Inc., , Drug Stores, Business, Other,
---