Fujitsu Tops IDG's Computerworld Green-IT Vendors List
Focus on Sustainability Sees Fujitsu Ranked as the Leading Green-IT Vendor for the Second Consecutive Year
(October 26, 2011)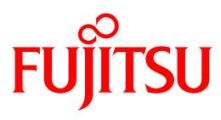 SUNNYVALE, CA -- (Marketwire) -- 10/26/11 -- Fujitsu, a leading provider of ICT business solutions, today announced it has been awarded the No. 1 spot on the Top 12 Green-IT Vendors list by IDG's Computerworld, the premium IT media brand dedicated to providing peer perspective, IT leadership and business results, for the second consecutive year. Fujitsu has been climbing the Computerworld Top 12 Green-IT Vendors list since the Award's inception four years ago, and has now won the prestigious first place in both 2010 and 2011, the only company to do so.
Computerworld set out to identify organizations that are implementing smart, efficient strategies to achieve "green IT." Seventy organizations responded to Computerworld's open invitation to complete a comprehensive online questionnaire, which closed in August. Computerworld verified the information to establish which organizations are working best to reduce energy consumption in IT equipment and using technology to conserve energy and lower carbon emissions. Based on a weighting scheme, the Top 12 Green-IT Users and Top 12 Green-IT Vendors lists were chosen.
The lists were announced in the October 24 issue of Computerworld and online at Computerworld.com.
Alison Rowe, Global Executive Director Sustainability, Fujitsu Limited, said: "Computerworld's role in promoting the value of Green IT technologies and practices is to be applauded. Fujitsu has a long commitment to sustainability, both internally and in assisting the achievements of our customers and is extremely proud of this recognition."
Fujitsu's ICT sustainability strategies drive business performance while minimizing environmental impact and shaping a prosperous low-carbon future. A business model based on sustainability provides customers with greater opportunities for differentiated brand stewardship and increased marketshare, improved corporate culture, and "trusted advisor" customer loyalty. Fujitsu's Green Policy 2020 has the specific goal of reducing global customer CO2 emissions by 30 million tons by the end of this decade.
"Many of the organizations recognized in our fourth annual Top Green-IT issue have woven energy-saving initiatives into the fabric of their IT strategies," said Scot Finnie, editor in chief, Computerworld. "These top organizations are tapping the collective brainpower of their IT staffs to capitalize on existing technologies that lower energy use and seek out new methods to better control their carbon footprints."
In acknowledgement of its world-leading green governance and carbon reduction programs, Fujitsu is also highly ranked by Gartner & WWF on "Global Low-Carbon and Environmental Leadership" and was included in the inaugural 2011 Newsweek Green Global 500 Ranking.
Resources
Fujitsu: Sustainability, Our Heritage, Your Future
ICT Sustainability: The Global Benchmark 2011
The Fujitsu Commitment to the Environment
Fujitsu Annual Sustainability Reports
Fujitsu Slideshow: Environmental Sustainability
Twitter: http://twitter.com/fujitsuamerica
Facebook: http://www.facebook.com/Face2Fujitsu
Blog: http://blog.ts.fujitsu.com/face2fujitsu/
Computerworld: http://www.computerworld.com/s/article/358887/2011_Top_Green_IT_Vendors
About Computerworld
Computerworld is the leading source of technology news and information for IT influencers worldwide, providing peer perspective, IT leadership and business results. Computerworld's award-winning website, bi-weekly publication, focused conference series and custom research forms the hub of the world's largest (40+ edition) global IT media network. In the past five years alone, Computerworld has won more than 100 awards, including 13 American Society of Business Publication Editors (ASBPE) awards in 2009, the 2009 Best Blog from the Neal awards, and 2006 Best Overall Web Publication from ASBPE. Computerworld leads the industry with an online audience of over 3.5 million unique, monthly visitors (comScore Media Metrix, August 2010). Computerworld is published by IDG Enterprise, a subsidiary of International Data Group (IDG), the world's leading media, events, and research company. Company information is available at www.idgenterprise.com.
www.computerworld.com
About Fujitsu
Fujitsu is a leading provider of information and communication technology (ICT)-based business solutions for the global marketplace. With approximately 170,000 employees supporting customers in over 100 countries, Fujitsu combines a worldwide corps of systems and services experts with highly reliable computing and communications products and advanced microelectronics to deliver added value to customers. Headquartered in Tokyo, Fujitsu Limited (TSE: 6702) reported consolidated revenues of 4.5 trillion yen (US$55 billion) for the fiscal year ended March 31, 2011. For more information, please see: www.fujitsu.com.
Fujitsu America, Inc. is a leading ICT solutions provider for organizations in the U.S., Canada and the Caribbean. Fujitsu enables clients to meet their business objectives through integrated offerings and solutions, including consulting, systems integration, managed services, outsourcing and cloud services for infrastructure, platforms and applications; data center and field services; and server, storage, software and mobile/tablet technologies. For more information, please visit: http://solutions.us.fujitsu.com/ and http://twitter.com/fujitsuamerica.
Fujitsu, the Fujitsu logo and "shaping tomorrow with you" are trademarks or registered trademarks of Fujitsu Limited in the United States and other countries. All other trademarks and product names are the property of their respective owners. Information provided in this press release is accurate at time of publication and is subject to change without advance notice.
Add to Digg Bookmark with del.icio.us Add to Newsvine
Press Contact
Fujitsu America, Inc.
Karen Richardson
Manager, Public Relations
408-746-3300
[email protected]


Copyright @ Marketwire
Page: 1
Related Keywords:
green, sustainability, green-IT, Computerworld, Fujitsu, vendor, energy, environment, technology, IT, Canada,USA,Marketwire, Inc., ,Internet Technology,Business,Other,
---