Fujitsu Ranks in Newsweek's Global Top 500 Green Companies
Fujitsu Provides Savings and Environmental Benefits to Customers
(October 18, 2011)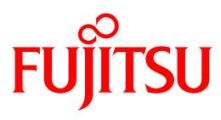 SUNNYVALE, CA -- (Marketwire) -- 10/18/11 -- Fujitsu, a leading provider of ICT business solutions, today announced it has been included in the Newsweek Green Global 500 Ranking, coming in as Number 13. The Newsweek Green Ranking places companies based on their actual environmental footprint, management of that footprint and sustainability communications. The analysis provides a reliable, cross-industry framework for comparing the environmental commitment and performance of major companies.
Now in its third year, the Newsweek Green Ranking assesses the environmental performance of the largest publicly traded companies in America. This year, the range has been expanded to include the largest international companies: the Global 500 list.
Newsweek's is a rigorous, peer-reviewed research process, including both quantitative and qualitative data from some of the world's leading environmental research organizations. Given the ranking's visibility, it presents a strong incentive for companies to work on improving their environmental impact and multi-stakeholder dialogue.
Alison Rowe, Global Executive Director Sustainability, Fujitsu Limited, said: "Inclusion in the Newsweek Green Global 500 Ranking acknowledges Fujitsu's ability to help customers execute effective projects based on Green IT practices and products that deliver both operational savings and environmental benefits throughout the supply chain."
In acknowledgement of its world-leading green governance and carbon reduction programs, Fujitsu is also highly ranked by Gartner & WWF on "Global Low-Carbon and Environmental Leadership" and been placed in Computerworld's Top 12 Green IT Vendors list for the last three years.
Resources
Fujitsu: Sustainability, Our Heritage, Your Future
ICT Sustainability: The Global Benchmark 2011
The Fujitsu Commitment to the Environment
Fujitsu Annual Sustainability Reports
Fujitsu Slideshow: Environmental Sustainability
Twitter: http://twitter.com/fujitsuamerica
Facebook: http://www.facebook.com/Face2Fujitsu
Blog: http://blog.ts.fujitsu.com/face2fujitsu/
About Newsweek Green Ranking
Newsweek produces the Green Ranking in collaboration with two leading environmental research organizations, Trucost and Sustainalytics. Details here.
About Fujitsu
Fujitsu is a leading provider of information and communication technology (ICT)-based business solutions for the global marketplace. With approximately 170,000 employees supporting customers in over 100 countries, Fujitsu combines a worldwide corps of systems and services experts with highly reliable computing and communications products and advanced microelectronics to deliver added value to customers. Headquartered in Tokyo, Fujitsu Limited (TSE: 6702) reported consolidated revenues of 4.5 trillion yen (US$55 billion) for the fiscal year ended March 31, 2011. For more information, please see: www.fujitsu.com.
Fujitsu America, Inc. is a leading ICT solutions provider for organizations in the U.S., Canada and the Caribbean. Fujitsu enables clients to meet their business objectives through integrated offerings and solutions, including consulting, systems integration, managed services, outsourcing and cloud services for infrastructure, platforms and applications; data center and field services; and server, storage, software and mobile/tablet technologies. For more information, please visit: http://solutions.us.fujitsu.com/ and http://twitter.com/fujitsuamerica.
Fujitsu, the Fujitsu logo and "shaping tomorrow with you" are trademarks or registered trademarks of Fujitsu Limited in the United States and other countries. All other trademarks and product names are the property of their respective owners. Information provided in this press release is accurate at time of publication and is subject to change without advance notice.
Add to Digg Bookmark with del.icio.us Add to Newsvine
Press Contact
Fujitsu America, Inc.
Karen Richardson
Manager, Public Relations
408-746-3300
karen.richardson@us.fujitsu.com


Copyright @ Marketwire
Page: 1
Related Keywords:
Newsweek, green, environmental, sustainability, green IT, Global Top 500, technology, business, ICT, Canada, USA, Marketwire, Inc., , Business, Other,
---