Fujitsu Launches Hybrid Cloud Services for Microsoft Windows Azure(TM) Customers
Solution Provides Enterprise and Government Customers With Cost Savings and Choice Within Their Cloud Strategies
(November 16, 2011)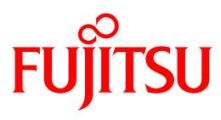 SUNNYVALE, CA -- (Marketwire) -- 11/16/11 -- Fujitsu announced today Hybrid Cloud Services for Microsoft Windows Azure, an extension of its global cloud portfolio and its relationship with Microsoft. The offering enables government and enterprise customers to benefit from hybrid cloud solutions and in doing so achieve operating cost reductions of typically 30% or more.
Hybrid Cloud Services gives organizations choices when they embark on a cloud strategy, putting their workloads and data wherever it is most appropriate for them -- in a public, private, or mixed environment. The solution helps companies address the challenges of interoperability, data security, governance and compliance when delivering across multiple platforms. Fujitsu delivers this through a comprehensive array of tooling, management and support services, and reference architectures to help customers manage their applications and data in the most effective and cost-efficient way.
The new Hybrid Cloud Services launched by Fujitsu offers comprehensive services to address the significant market potential in industry and government sectors that require a broader range of cloud deployment options, including hybrid options, within their business and IT environments. "Our research shows public sector organizations in most countries are concerned about data security," said Frank Gens, Chief Analyst, IDC. "Providing options to meet this concern could open up a much larger market for public cloud services and in our opinion is definitely a trend to watch."
Hybrid Cloud Services from Fujitsu links Microsoft Windows Azure-based components to Windows Server(R)-based components running either in a customer's premises or a Fujitsu cloud platform. This component portability enables Fujitsu to run an enterprise or government application in Windows Azure using data generated in one or more customer locations and to hold that data securely in a location of the customer's choice. Specifically, this addresses the need for government organizations to comply with national data regulations.
Fujitsu is launching these cloud services in five countries -- the UK, US, Australia, Spain and Canada, with more to follow soon. "Hybrid cloud services provide another important addition to the Fujitsu Cloud Portfolio and we are excited that we can now provide customers with a higher level of cost saving and flexibility from multiple cloud integration," said Cameron McNaught, Fujitsu SVP, Cloud. "Hybrid Cloud Services builds on our extensive experience in delivering Windows Azure services including the world's first independently managed Microsoft Windows Azure cloud environment delivered from the Fujitsu Global Cloud platform in Japan."
Doug Hauger, Windows Azure General Manager from Microsoft Corporation, said: "These new cloud options from Fujitsu demonstrate the potential for offering public cloud services with value-added service techniques to deliver sophisticated cloud solutions that meet customers' specific needs. The hybrid cloud model from Fujitsu, which uses the Microsoft Windows Azure platform, shows how our work together will address key customer needs such as integration with on-premise systems or specific security requirements."
For Further Information
Microsoft and Fujitsu Global Alliance: http://solutions.us.fujitsu.com/www/content/alliances/global/microsoft.php
Fujitsu Cloud Solutions and Services: http://solutions.us.fujitsu.com/www/content/services/cloud/index.php
Fujitsu America Homepage: http://solutions.us.fujitsu.com/
News Page: http://fujitsunews.com
Twitter: http://twitter.com/fujitsuamerica
Facebook: http://www.facebook.com/pages/Fujitsu-ONEplace/35802822876
YouTube: http://www.youtube.com/user/shopfujitsu
About Fujitsu
Fujitsu is a leading provider of information and communication technology (ICT)-based business solutions for the global marketplace. With approximately 170,000 employees supporting customers in over 100 countries, Fujitsu combines a worldwide corps of systems and services experts with highly reliable computing and communications products and advanced microelectronics to deliver added value to customers. Headquartered in Tokyo, Fujitsu Limited (TSE: 6702) reported consolidated revenues of 4.5 trillion yen (US$55 billion) for the fiscal year ended March 31, 2011. For more information, please see: www.fujitsu.com.
Fujitsu America, Inc. is a leading ICT solutions provider for organizations in the U.S., Canada and the Caribbean. Fujitsu enables clients to meet their business objectives through integrated offerings and solutions, including consulting, systems integration, managed services, outsourcing and cloud services for infrastructure, platforms and applications; data center and field services; and server, storage, software and mobile/tablet technologies. For more information, please visit: http://solutions.us.fujitsu.com/ and http://twitter.com/fujitsuamerica.
Fujitsu, the Fujitsu logo and "shaping tomorrow with you" are trademarks or registered trademarks of Fujitsu Limited in the United States and other countries. Microsoft, Windows, Windows Azure and Windows Server are trademarks or registered trademarks of Microsoft Corporation in the United States and other countries. All other trademarks and product names are the property of their respective owners. Information provided in this press release is accurate at time of publication and is subject to change without advance notice.
Add to Digg Bookmark with del.icio.us Add to Newsvine
Press Contact
Fujitsu America, Inc.
Karen Richardson
Manager, Public Relations
408-746-3300
[email protected]


Copyright @ Marketwire
Page: 1
Related Keywords:
Fujitsu, Microsoft, cloud, hybrid cloud, Azure, Windows, technology, security, enterprise, customer, Canada,USA,Japan,Australia,Spain,Marketwire, Inc., ,IT (Information Technology),Security,Business,Other,
---