Fujitsu Delivers ESPRIMO PC Family Models Ideal for Global Enterprise Rollout
(June 05, 2012)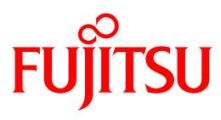 SUNNYVALE, CA -- (Marketwire) -- 06/05/12 --

News facts
New global line-up of ESPRIMO(R) desktop PCs provides enterprise economies of scale
Latest 3rd generation Intel(R) Core(TM) processor family
New global ESPRIMO Mini PC provides low power consumption, reduced noise and heat output
Fujitsu today announces a new global line-up of ESPRIMO desktop PCs, introducing across-the-range performance improvements. New models feature standardized architecture and components, making them attractive to organizations that want to benefit from economies of scale by applying worldwide standards.
With its new global PCs, now incorporating the 3rd generation Intel(R) Core(TM) processor family, Fujitsu is further cutting the total cost of ownership for desktop computing. Energy-efficient models are identical around the world -- and Fujitsu takes this design philosophy further by applying this concept to two different-sized ESPRIMO desktop PC models.
For large organizations, managing global fleets of desktop PCs becomes incrementally more expensive and complex due to the presence of different makes, models, designs and form factors. As well as needing to support a wide and eclectic range of hardware and software drivers, short-term break-fix repair for faulty PCs is only possible if appropriate spares are held on-site.
Adopting a global standard for PCs enables enterprises to cut the total cost of ownership for their PC fleet. Essential spares can be stocked locally -- allowing the reduction of unplanned downtime since the parts are guaranteed to fit all the PCs. Standardization also cuts the time required for system provisioning and maintenance -- because of the reduced number of hardware drivers.
Choice of form factors but identical components, worldwide
The new Fujitsu ESPRIMO E710 desktop and P710 microtower PC models are built from the same parts, including the mainboard, power supply, hard disk drive, optical drive and main memory modules. Fujitsu offers various configurations to suit different environments. One clever option is the FastOn feature, where the system boots from a cold start to login screen in just 13 seconds, meaning there is no need to leave an ESPRIMO PC running idle overnight just to avoid a lengthy start-up and login process. Network-based support is simple, since the ESPRIMO E710 and P710 ship with built-in Intel Standard Manageability.
The Fujitsu mini PC ESPRIMO Q910 uses standard desktop technology instead of mobile components. As well as taking up less desktop space than a standard PC and reducing cable clutter thanks to a built-in power supply, the ESPRIMO Q910 is highly energy-efficient. With optional low-voltage processors cutting Typical Energy Consumption (TEC)* to just 31.3 kilowatt-hours (kWh) per year per system, the new mini PC is ideal for environments such as call centers, while seamless network integration and administration is assured thanks to Advanced Intel(R) Desktop Manageability via Intel(R) vPro(TM) technology.
As well as being small in size, the ESPRIMO Q910 features an eye-catching, Red Dot Award-winning design, and has excellent manners -- as it is normally near silent in operation, thanks to the Zero Noise option. The advanced power and cooling design of Fujitsu means that system fans run only sparingly, helping reduce noise and heat output as well as saving lifetime energy costs.
Supporting quotes
Dieter Heiss, Vice-President, Workplace Systems, at Fujitsu Technology Solutions
"With the introduction of our new global PC lines, we have delivered twins: inside the box, both new ESPRIMO models are identical, even down to the software image and system drivers. Fujitsu is able to guarantee customers around the world that they're buying a truly global PC line, with fully interchangeable spares, from Beijing to Berlin. The only elements that differ are the power cords and the operating system language."
Paul Moore, Vice President, PC Product Marketing, at Fujitsu America
"Fujitsu is one of the top IT companies in the world and our customers require a partner that can deliver it all on a global scale. Our lines boast some of the most innovative products and consist of PRIMERGY(R) and PRIMEQUEST(R) servers, ETERNUS(R) storage systems, LIFEBOOK(R) notebooks, STYLISTIC(R) tablets and ESPRIMO PCs. With the new ESPRIMO Q910, we deliver a desktop product that sets the bar high with its compact design, screwless access, latest 3rd generation Intel(R) Core(TM) processor technology and renowned Fujitsu reliability."
Pricing and availability
New Fujitsu ESPRIMO PC models are globally available and will be rolled through various channels this month. Recommended pricing for the ESPRIMO E710 and P710 starts at $649(1) and varies by configuration. The ESPRIMO Q910 starts at $999.(1)
Resources
ESPRIMO desktop PCs: http://www.shopfujitsu.com
Fujitsu America Website: http://solutions.us.fujitsu.com/
Fujitsu America News Room: http://fujitsunews.com/
@FujitsuAmerica on Twitter: http://twitter.com/fujitsuamerica
Fujitsu on Facebook: https://www.facebook.com/fujitsu
(1) Pricing may change without notice.
About Fujitsu
Fujitsu is the leading Japanese information and communication technology (ICT) company offering a full range of technology products, solutions and services. Over 170,000 Fujitsu people support customers in more than 100 countries. We use our experience and the power of ICT to shape the future of society with our customers. Fujitsu Limited (TSE: 6702) reported consolidated revenues of 4.5 trillion yen (US$54 billion) for the fiscal year ended March 31, 2012. For more information, please see http://www.fujitsu.com
Fujitsu America, Inc., is a leading ICT solutions provider for organizations in the U.S., Canada and the Caribbean. Fujitsu enables clients to meet their business objectives through integrated offerings and solutions, including consulting, systems integration, managed services, outsourcing and cloud services for infrastructure, platforms and applications; data center and field services; and server, storage, software and mobile/tablet technologies. For more information, please visit: http://solutions.us.fujitsu.com/ and http://twitter.com/fujitsuamerica
Fujitsu, the Fujitsu logo, ESPRIMO, LIFEBOOK, STYLISTIC, PRIMEQUEST, ETERNUS and "shaping tomorrow with you" are trademarks or registered trademarks of Fujitsu Limited in the United States and other countries. PRIMERGY is a trademark or registered trademark of Fujitsu Technology Solutions in the United States and other countries.Intel, Intel Core and Intel vPro are trademarks or registered trademarks of Intel Corporation or its subsidiaries in the United States and other countries. All other trademarks and product names are the property of their respective owners. Information provided in this press release is accurate at time of publication and is subject to change without advance notice.
Add to Digg Bookmark with del.icio.us Add to Newsvine
Press contacts
Fujitsu America, Inc.
Karen Richardson
Manager, Public Relations
408-746-3300
[email protected]

Eastwick Communications
Wendy Grubow
831-626-7503
[email protected]


Copyright @ Marketwire
Page: 1
Related Keywords:
Fujitsu, ESPRIMO, PC, enterprise, desktop, Intel, processor, technology, mobile, IT, tablet, product, Sales & Marketing, Storage, Business Issues, Hardware, Services, Software, Misc, Standards, Canada, USA, Marketwire, Inc., Business, Family, Other,
---