Fujitsu Creates Flexible Datacenter Building Blocks for the Private Cloud
DI Blocks Introduce Modular Approach for Changing Business Dynamics
(November 09, 2011)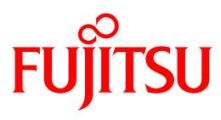 SUNNYVALE, CA -- (Marketwire) -- 11/09/11 -- Fujitsu today introduces globally Dynamic Infrastructures Blocks (DI Blocks), which enable enterprises to take a modular, step-by-step approach toward consolidating and reshaping their datacenters. Enterprises gain a competitive edge from DI Blocks by ensuring that their IT operations are always available to meet changing business needs, and ready for on-premise private cloud infrastructures.
A powerful but simple interface to fully automated datacenter resources, DI Blocks are comprised of orchestrated server, storage, network and virtualization technology, wrapped with integrated dynamic resource management software. Pools of infrastructure resources in datacenters enable enterprises to quickly and easily provision IT services.
As the needs of enterprise business change, DI Blocks provide an escape from the complexity and rigidity of last-generation silo technology. Datacenters are transformed into highly flexible powerful automated pools of computing resources. Furthermore, integration and lifetime services, including hardware and operating system maintenance, can be provided by Fujitsu consulting and operations support services.
Pre-integrated, factory-configured, customized DI Blocks enable enterprises to move toward scale-out private cloud-based computing environments. Total cost of ownership is reduced by improving the overall use of server, storage, software and networking components. IT resources are allocated on-demand, delivering improved productivity by provisioning logical infrastructure environments within minutes.
Simple management by orchestration software
Enterprises can dynamically assign computing components as and when needed with management software such as the Fujitsu ServerView(R) Resource Orchestrator managing all physical and virtual elements, including leading virtualization technology from Fujitsu partners VMware and Microsoft. ServerView Resource Orchestrator supports the flexible and rapid utilization of IT resources in private clouds through dynamic resource management for physical and virtual computing resources and leverages the public cloud expertise of Fujitsu.
Jens-Peter Seick, Senior Vice President, Product Development Group at Fujitsu Technology Solutions says: "For enterprises, it is impossible to predict future resource requirements from IT systems, but with DI Blocks it is possible to create flexible, future-proof systems that are flexible and agile enough to meet ever-changing needs. This represents a major shift in how forward-looking companies are making the move to IT that supports their needs, rather than being restricted by rigid, outdated systems."
DI Blocks are dedicated appliances for enterprise virtualization and private cloud infrastructures. The first set of DI Blocks will be commercially available in early 2012. Availability may vary by region. Pricing varies according to configuration.
Starting at 48 cores, DI Blocks system configurations scale to more than 1700 Intel® Xeon® 5600 series cores, with memory of up to almost 21,000GB and disk storage capacities of more than 900TB, requiring 10GB Ethernet or 8GB Fibre Channel networks.
For Further Information
DI Blocks: http://www.global-cloud.ts.fujitsu.com/fujitsu-cloud-infrastructure/fujitsu-cloud-solutions/
Fujitsu America Homepage: http://solutions.us.fujitsu.com/
News Page: http://fujitsunews.com
Twitter: http://twitter.com/fujitsuamerica
Facebook: http://www.facebook.com/pages/Fujitsu-ONEplace/35802822876
YouTube: http://www.youtube.com/user/shopfujitsu
About Fujitsu
Fujitsu is a leading provider of information and communication technology (ICT)-based business solutions for the global marketplace. With approximately 170,000 employees supporting customers in over 100 countries, Fujitsu combines a worldwide corps of systems and services experts with highly reliable computing and communications products and advanced microelectronics to deliver added value to customers. Headquartered in Tokyo, Fujitsu Limited (TSE: 6702) reported consolidated revenues of 4.5 trillion yen (US$55 billion) for the fiscal year ended March 31, 2011. For more information, please see: www.fujitsu.com.
Fujitsu America, Inc. is a leading ICT solutions provider for organizations in the U.S., Canada and the Caribbean. Fujitsu enables clients to meet their business objectives through integrated offerings and solutions, including consulting, systems integration, managed services, outsourcing and cloud services for infrastructure, platforms and applications; data center and field services; and server, storage, software and mobile/tablet technologies. For more information, please visit: http://solutions.us.fujitsu.com/ and http://twitter.com/fujitsuamerica.
Fujitsu, the Fujitsu logo and "shaping tomorrow with you" are trademarks or registered trademarks of Fujitsu Limited in the United States and other countries. ServerView is a trademark or registered trademark of Fujitsu Technology Solutions in the United States and other countries. VMware is a registered trademark and/or trademark of VMware, Inc. in the United States and/or other jurisdictions. Microsoft is a trademark or registered trademark of Microsoft Corporation in the United States and other countries. Intel, the Intel logo, and Xeon are trademarks or registered trademarks of Intel Corporation or its subsidiaries in the United States and other countries. All other trademarks and product names are the property of their respective owners. Information provided in this press release is accurate at time of publication and is subject to change without advance notice.
Add to Digg Bookmark with del.icio.us Add to Newsvine
Press Contact
Fujitsu America, Inc.
Karen Richardson
Manager, Public Relations
408-746-3300
[email protected]


Copyright @ Marketwire
Page: 1
Related Keywords:
Fujitsu, enterprise, technology, datacenter, Dynamic Infrastructure, DI Blocks, cloud, private cloud, Storage,Networking,Business Issues,Hardware,Cloud Computing,Services,Software,Misc,Networks,Server Hardware,Server Computers,IT Management,infrastructure,Public cloud,Management,Business,OS (Operating System),Canada,USA,Marketwire, Inc., ,Appliances,Business,Other,
---