Fujitsu Announces General Availability of Interstage Business Process Manager Analytics V12
Combines Automated Business Process Discovery, Monitoring and Analysis to Provide Visibility and Intelligence to End-to-End Business Processes
(February 07, 2012)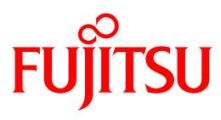 SUNNYVALE, CA -- (Marketwire) -- 02/07/12 -- Fujitsu today announced general availability of Interstage(R) Business Process Manager Analytics (BPM Analytics) V12, the latest edition of its business process discovery, monitoring and analysis software. Delivering the next generation of process intelligence to the enterprise, Interstage BPM Analytics seamlessly integrates Automated Process Discovery -- a groundbreaking technology developed by Fujitsu Labs -- with real-time process monitoring and alerting and sophisticated analytics to cost-effectively deliver exceptional levels of process visibility and intelligence.
"Process improvement is vital across the enterprise to increase productivity, lower costs, gain competitive advantages and improve the customer experience," said Tsune Yoshizawa, Senior Vice President, Platform Products at Fujitsu. "Until now, these initiatives have required considerable manual effort for process investigation, and companies have been unable to sufficiently visualize key processes in sales and operations management, customer interactions, and internal accounting. Interstage BPM Analytics changes all that, making it easy for users to automatically gather process intelligence around all their key processes, identify actual or potential process trouble-spots, and target specific areas for improvement and optimization."
Interstage BPM Analytics combines the Fujitsu Automated Process Discovery with real-time process monitoring and alerting. Automated Process Discovery, a groundbreaking technology developed by Fujitsu, has been used by the Fujitsu services group to provide more than 70 global companies with the visibility they require to dramatically improve their processes and achieve significantly improved business results. The technology, which automatically generates process flowcharts using business system logs without impacting any production systems, eliminates the need for traditional manual process discovery, which is often subjective, costly and time-consuming. The resulting fact-based process flows can be used to easily identify process bottlenecks and their root causes, and analyze such issues as processing times and cost.
Interstage BPM Analytics can be deployed across different systems and organization silos to provide end-to-end process intelligence. It can be deployed onto both the BPM orchestrated processes and non-BPM orchestrated processes in systems such as SAP and Oracle ERP.
"Combining business process discovery and analytics into a single, easy-to-use solution is an important step in the right direction. Business process analytics gives end users the ability to identify and understand the most important processes and tasks," said Maureen Fleming, Program Vice President, Business Process Management and Middleware at IDC. "The ability to have an end-to-end view of the actual business processes and also to track worker productivity and workloads is important to end user organizations and can impact productivity, agility, competitiveness, and profits."
Features and Benefits Summary
Uses logs from business systems and database data to automatically generate flowcharts to fully and accurately visualize business processes. Even when systems straddle multiple business operations, or in situations that have required human mediation between systems, the system logs and data can be captured, collated, and expressed using the patented technology of Automated Process Discovery.
Eliminates the time required for onsite inspection as well as the influence of preconceptions and subjectivity.
Provides easy-to-use analysis tools that speed identification of problem areas in business processes. Through simple and intuitive controls, users can pinpoint specific processes and view a wide range of metrics, such as process frequency, process lead time averages, and deviations by type, and number of steps per path.
Provides alert notifications when threshold values are crossed.
By continually monitoring underlying data, quantifies the impact of business-process improvements.
Enables staff without specialized training to obtain sophisticated process analysis.
Uses Smart Setup, based on the proprietary Fujitsu Smart Software Technology, to automatically optimize network settings needed for deployment and memory allocation, simplifying the deployment process and getting customers up and running quickly.
Interstage BPM Analytics V12 is also being made available worldwide through an OEM agreement with CA Technologies.
"Through the alliance of Fujitsu and CA Technologies, both companies have been offering Interstage Business Process Manager Analytics and CA APM to help customers improve agility by providing broad and deep insight into the performance of business processes, services, applications and transactions, and the quality of the end user experience," said Mike Sargent, general manager, Service Assurance, CA Technologies. "We welcome the release of Interstage Business Process Manager Analytics V12, which enhances its process discovery capabilities and provides enriched customer insight into IT environments. This new version is designed to enable customers to address critical IT and business management challenges, including quality service delivery and end user experience management."
Availability
Interstage Business Process Manager Analytics V12 is available both as standalone product and as an integrated part of Interstage Business Process Manager V11.2. Both products are available now.
For Further Information
Interstage: http://www.fujitsu.com/global/services/software/interstage/
Fujitsu America Homepage: http://solutions.us.fujitsu.com/
News Page: http://fujitsunews.com
Interstage Twitter (@Interstage): https://twitter.com/#!/interstage
Fujitsu America Twitter (@FujitsuAmerica): http://twitter.com/fujitsuamerica
YouTube: http://www.youtube.com/user/FujitsuInterstage
About Fujitsu
Fujitsu is the leading Japanese information and communication technology (ICT) company offering a full range of technology products, solutions and services. Over 170,000 Fujitsu people support customers in more than 100 countries. We use our experience and the power of ICT to shape the future of society with our customers. Fujitsu Limited (TSE: 6702) reported consolidated revenues of 4.5 trillion yen (US$55 billion) for the fiscal year ended March 31, 2011. For more information, please see http://www.fujitsu.com
Fujitsu America, Inc., is a leading ICT solutions provider for organizations in the U.S., Canada and the Caribbean. Fujitsu enables clients to meet their business objectives through integrated offerings and solutions, including consulting, systems integration, managed services, outsourcing and cloud services for infrastructure, platforms and applications; data center and field services; and server, storage, software and mobile/tablet technologies. For more information, please visit: http://solutions.us.fujitsu.com/ and http://twitter.com/fujitsuamerica
Fujitsu, the Fujitsu logo, "shaping tomorrow with you" and Interstage are trademarks or registered trademarks of Fujitsu Limited in the United States and other countries. All other trademarks and product names are the property of their respective owners. Information provided in this press release is accurate at time of publication and is subject to change without advance notice.
Add to Digg Bookmark with del.icio.us Add to Newsvine
Press Contacts
Fujitsu America, Inc.
Karen Richardson
Manager, Public Relations
408-746-3300
karen.richardson@us.fujitsu.com

Eastwick Communications
Joseph Beare
Associate
408-470-4876
joseph@eastwick.com


Copyright @ Marketwire
Page: 1
Related Keywords:
Fujitsu, Interstage, BPM, Analytics, Business Process Manager, CA Technologies, software, technology, Sales, Applications, Sales & Marketing, Storage, Database, Business Issues, Services, Software, Misc, Database, Other, Management, Finance/Accounting, Sales, Finance/Accounting, Sales, Canada, USA, Marketwire, Inc., , Business, Other,
---