Frontline Technologies Inc. Announces Termination of Management Cease Trade Order
(May 03, 2012)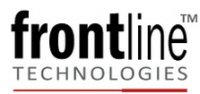 TORONTO, ONTARIO -- (Marketwire) -- 05/03/12 -- Frontline Technologies Inc. ("Frontline" or the "Company") (TSX VENTURE:FLC) announced that on April 30, 2012 it filed with the securities regulatory authorities its audited financial statements as at and for the year ended December 31, 2011 and its related Management's Discussion and Analysis and Chief Executive Officer and Chief Financial Officer certifications, and its Annual Information Form for the year ended December 31, 2011 (collectively, the "Required Filings").
As a result of the Required Filings, the trading prohibition against The Chief Executive Officer Mr. Hoss Astaraki and Chief Financial Officer Mr. John Culbert contained in the MCTO will terminate on May 3, 2012.
About Frontline Technologies Inc.
Frontline Technologies Inc. is a well-established, innovative technology services company serving the professional, financial and investment banking marketplaces across Canada. Frontline's two comprehensive offerings include hosted IT infrastructure services and trading technology. Frontline's customers enjoy the benefits of Frontline's broad array of services from one reliable provider.
Forward looking statements:
Certain statements in this press release may constitute "forward-looking" statements which involve known and unknown risks, uncertainties and other factors which may cause actual results, performance or achievements of the Company, its subsidiaries or the industries in which they operate to be materially different from any future results, performance or achievements expressed or implied by such forward-looking statements. When used in this press release, the words "estimate", "believe", "anticipate", "intend", "expect", "plan", "may", "should", "will", the negative thereof or other variations thereon or comparable terminology are intended to identify forward-looking statements. Such statements reflect the current expectations of the management of the Company with respect to future events based on currently available information and are subject to risks and uncertainties that could cause actual results, performance or achievements to differ materially from those expressed or implied by those forward-looking statements. These risks and uncertainties include, but are not limited to, economic, competitive, governmental and technological factors affecting the Company's operations, markets, products, prices and other factors as are detailed from time to time, including, without limitation, under the heading "Risk Factors", in documents filed by the Company with the Canadian securities regulatory authorities which are available at www.sedar.com and to which readers of this press release are referred for additional information concerning the Company, its prospects and the risks and uncertainties relating to the Company and its prospects. New risk factors may arise from time to time and it is not possible for management to predict all of those risk factors or the extent to which any factor or combination of factors may cause actual results, performance and achievements of the Company to be materially different from those contained in forward-looking statements. Although the forward-looking statements contained in this press release are based upon what management believes to be reasonable assumptions, the Company cannot assure investors that actual results will be consistent with these forward-looking statements. Given these risks and uncertainties, investors should not place undue reliance on forward-looking statements as a prediction of actual results.
The forward-looking information contained in this press release is current only as of the date of the press release. The Company does not undertake or assume any obligation to release publicly any revisions to these forward-looking statements to reflect events or circumstances after the date hereof or to reflect the occurrence of unanticipated events, except as required by law.
Contacts:
Frontline Technologies Inc.
Hoss Astaraki
Chairman and Chief Executive Officer
416.637.7462
[email protected]


Copyright @ Marketwire
Page: 1
Related Keywords:
Frontline Technologies Inc. , Canada,Toronto,Marketwire, Inc., ,Financial,Other,
---