Fresh Approach for Exam Preparation, Bringing Mobile Technology to Schools to Support Students
(April 04, 2011)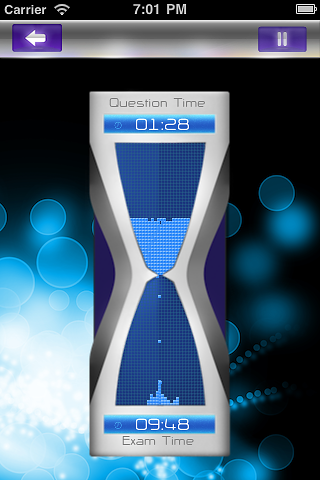 New York, NY (PRWEB) April 4, 2011
Freshly developed and launched, Exam Time for iPhone is a powerful, efficient time management application that is beneficial for the students who wish to improve their time management skills for various competitive examinations. The application has been designed with the objective to suit requirements for multiple-choice questions in exams. This easy-to-use, delightful and visually attractive app is developed to help score well on tests.
There are preloaded settings for any standard examination however, scholars can also customize the tool with their desired settings. Exams based on the format for GRE, GMAT, CAT, MAT, SAT, TOEFL and IELTS etc. can be efficiently dealt with, using Exam Time for iPhone, set different themes and looks. An animated timer that appears after every question and helps the pupils in tracking their time spend on each question.
Exam Time app for iPhone has been designed in order to complement any kind of test where a student has to score based on the number of questions answered within a particular time limit. It is best suited for the preparation of entrance exams and competitive tests.
Users just have to set their scheduled time limit and the number of questions they need to answer. Simply configure the Exam Time for iPhone by entering individual preferences. Select either study mode or the practice exam mode and let the timer guide the student. The enhanced display exhibits the recorded time and progress and, automatically saves the question paper so that the settings are saved for future references.
With Exam Time for iPhone, student easily knows when she need to move on and start working on the next answer. Spending more time on a difficult question can seriously affect exam results unless the test taker keeps the difficult questions for last.
About Us:
It is distributed by the True Hero Studios which is a revolutionary company in the field of mobile productivity. Exam Time for iPhone is an effective examination time management application that helps pass tests with great results. The software boasts a 4+ rating and is set to create a revolution in the markets!
# # #
Read the full story at http://www.prweb.com/releases/exam-fimer/iphone-app/prweb5207104.htm.
Page: 1
Related Keywords:
plastic art,entertainment award,entertainment (general),arts (general),arts, culture and entertainment,economy, business and finance,financial and business service,business enterprises,business (general),lifestyle and leisure,lifestyle (house and home),crime, law and justice,law enforcement,international law,legal service,computer crime,education,adult education,further education,religious education,family,family planning,computing and information technology,satellite technology,wireless technology,science and technology,technology (general),identification technology,
---