FreeFi Public Internet Access Network Named "Best WiFi Network" in the United States for Tech Travelers
PC World Ranks Airports Through Social Media
(February 22, 2012)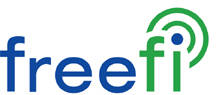 SAN FRANCISCO, CA -- (Marketwire) -- 02/22/12 -- According to a recent poll published in PC World, unsolicited public conversations among Twitter and Facebook users found Oakland International Airport's free and fast public Internet access (WiFi), powered by FreeFi Networks, was the best WiFi system among 35 of the top airports in the nation. The value of the WiFi system to travelers propelled Oakland's overall rating to "Best Tech Airport" in the country.
"This designation is important to us because it's feedback from travelers who care enough about WiFi to post and tweet about it," said Matt Yerington, FreeFi CEO. "Tech travelers today expect free, fast WiFi at airports and other public transit facilities. They don't want to pay for it. We are pleased to see that our FreeFi technology at Oakland International Airport is not only good but is recognized as 'the best WiFi' nationally."
FreeFi provides easy log-in, free access, high-speed bandwidth and 24/7 customer service.
Yerington says his company sees a trend as airports, train stations and ferries move away from user-paid WiFi to free access. Through informal research, FreeFi found travelers are frustrated with expensive, one-day or monthly WiFi plans. A recent informal survey conducted at Houston's Bush International Airport, which ranked 28th out of 35 airports in the U.S., showed travelers were unhappy with the lack of freely accessible public WiFi. Houston's Bush International is currently serviced by a "Hybrid" system where free access is extremely limited and encourages users to purchase access time.
"Travelers are getting nickel and dimed every time they turn around -- bag fees, WiFi fees, pillow and blanket fees, on-demand video fees. They especially don't want to pay $7.95 to access the Internet access between flights," said Yerington. "They also don't want to waste their time with overcrowded, slow networks. As validated by travelers and Oakland's #1 distinction, FreeFi's free and fast public Internet access is a win-win for consumers and public transportation venues."
About FreeFi
FreeFi provides fast, free public WiFi Internet access solutions at airports and airport lounges, and on trains, commuter buses and ferries.
FreeFi uses a content advertising business model. Current advertisers include Google, Amazon, Walt Disney, Toyota, America Express, Hilton, Hyatt, Sony, Delta, Ford, HBO, 3M, Dell, HP, Staples, Holiday Inn, Marriot and many other top-tier international brands.
Visit the FreeFi website at www.FreeFi.com, call toll free (888) 547-4947 or contact us via email at [email protected].
Add to Digg Bookmark with del.icio.us Add to Newsvine
FreeFi
101 California Street
Suite 2710
San Francisco, CA 94111
Contact:
Doug Kohl
(209) 586-5887
[email protected]


Copyright @ Marketwire
Page: 1
Related Keywords:
WiFi, FreeFi, free airport Internet access, Free WiFi, airport, WiFi networks, free WiFi network, USA,Marketwire, ,Sony,HP,Communications Technology,Internet Technology,Business,Internet,Email,Other,
---