FreeAppADay's New FunChat-Powered iPhone App Passes 1.2 Million Downloads in the First Month
New Standalone iOS Application Achieves Top Ten Status in iTunes, Showing Power of 'Gamifed' Mobile Communities
(January 19, 2012)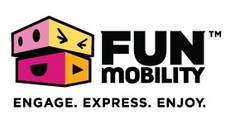 PLEASANTON, CA and SANTA MONICA, CA -- (Marketwire) -- 01/19/12 -- FunMobility (http://www.funmobility.com), a leading mobile social entertainment company, and FreeAppADay.com (FAAD), a leading iPhone application discovery platform, today announced that its new mobile application, FAADChat, has gained more than 1.2 million user downloads in its first month on the market, achieving Top Ten status on iTunes shortly after its release. Users spent an average of more than 26 minutes per day in the application with many users spending several hours. The strong download and engagement numbers show the power of adding real-time gamification to a mobile community. FunMobility created the new mobile application specifically for the FAAD community, using its FunChat Mobile Engagement Platform™ to customize the application within a few weeks.
The FunChat Mobile Engagement Platform is a compelling way for brands and services to engage and monetize their audience via enhanced chat, community rewards, a pranking engine and more. The new FAAD application enables millions of FAAD users to directly interact with each other, discuss new app releases, and earn FAADGold virtual currency through the FunChat Mobile Engagement Platform's proprietary technology, which employs a flexible HTML5 and native code hybrid solution. By adding gamification elements, FAAD also benefits from increased viral reach, greater user retention, and the creation of new revenue streams.
"Through FunMobility, we were able to instantly gamify our platform and create a richer, more engaging mobile experience for our many customers," said Joe Bayen, CEO and co-founder of FAAD. "We are very gratified, but not entirely surprised, to see the massive downloads of the new application. We expect this to increase retention and extend our reach as the No. 1 iPhone app discovery tool on the market."
FAAD's new gamified mobile app enables users to:
Meet, chat and engage with other FAAD community members
Earn "FAADGold" virtual currency to purchase customized chat bubbles and avatars
Earn achievement badges and rewards for being an active FAAD member
Send in a "daily wish" to help FAAD decide which apps to make free
Get up to five paid apps for free posted daily
View a showcase of the most popular paid apps with trailers and screenshots
Share their favorite apps with friends
Get a one-stop shop to discover the best free and paid apps
The FreeAppADay.com (http://www.freeappaday.com) application currently reaches more than six million iOS users daily via push notification, and millions more worldwide are retrieving FreeAppADay promoted applications using FAAD's dedicated Twitter feed and Facebook page.
"FAAD has been a pioneer for mobile app discovery and we are proud to deliver this customer application in just a few weeks," said Adam Lavine, CEO of FunMobility. "There is great potential for more growth and engagement as more and more FAAD users discover the new application. We also plan to implement new features that will enhance user engagement and adoption."
To download the new FAADChat app, please visit (http://www.funmobility.com/faadchat).
About FunMobility
Established in 1999, FunMobility is a mobile social entertainment company that lets people share, play and connect through their mobile devices. The FunChat Mobile Engagement Platform™ is an integrated suite of applications and interactive mobile widgets that provide new forms of monetization and distribution, and literally enable developers and brands to "join the conversation" with consumers. FunChat™, FunMobility's groundbreaking free smartphone app, is the first product to seamlessly blend chat and games with popular new features including photo pranks, contests, virtual goods and virtual currency. Engage. Express. Enjoy!
Follow us on Twitter, friend us on Facebook, or visit http://www.funmobility.com to learn more about the company and products.
About FreeAppADay
FreeAppADay.com is a social networking website built to facilitate iPhone application discovery, as well as offer a centralized location for iPhone enthusiasts and developers of polished iPhone applications. Learn more at http://www.faad.com.
Add to Digg Bookmark with del.icio.us Add to Newsvine
Media Contacts:
Daniel Pfeiffer
FunMobility, Inc.
Tel.: +1 925 598 9700 ext 233
Email Contact

Jennifer Collins
ICS Mobile Media for FAAD
Tel. + 1 424 238 2224
Email Contact


Copyright @ Marketwire
Page: 1
Related Keywords:
mobile social entertainment, Mobile social network, Apps, ios, games, gamification, chat, HTML5, Communications,Digital Audio,Smart Phone,iPods,iTunes,iphone,Applications,Networking,Marketwire, ,Apple Computer,Entertainment,Social Networking,Other,
---