Former Cal Ripken VP, Develops Unique iPhone App Geared Toward Helping Coaches Communicate With Their Sports Team
(April 21, 2011)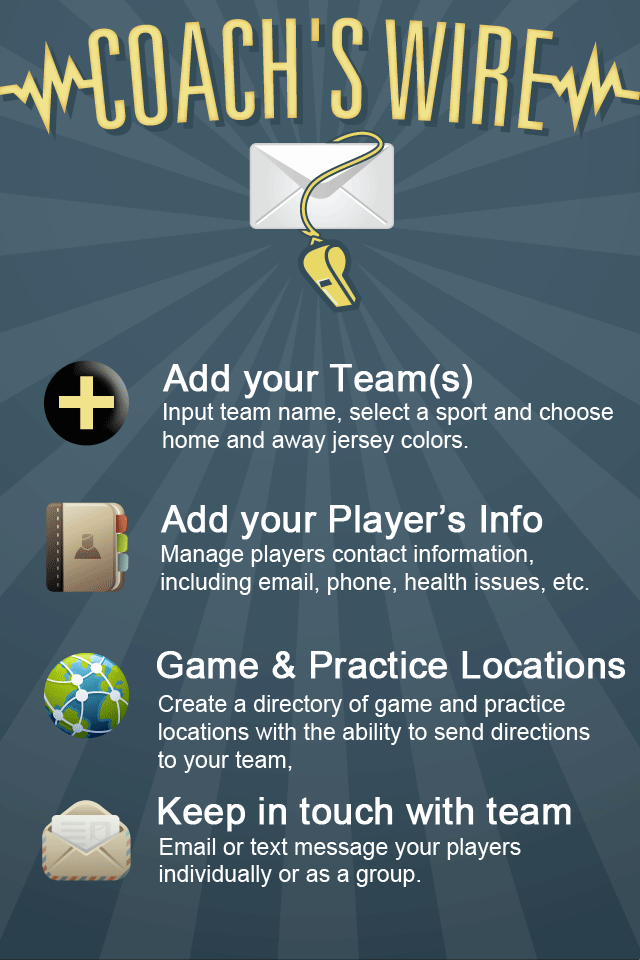 Boston, MA (PRWEB) April 21, 2011
The Coachs Wire app frees coaches up from the administrative side of coaching so they can spend more time focusing on doing what they do best...coaching their sports team! This handy tool stores and keeps track of individual player information and facilitates communication of all the logistical details players and their parents also look to from their coach for throughout the season. Coach's Wire supports: Football, Field Hockey, Soccer, Basketball, Ice Hockey, Volleyball, Wrestling, Baseball, Golf, Lacrosse, Softball and Tennis. The app, which is available for purchase through the Apple® iTunes ® store is available for downloading on the iPhone® 3G, 3Gs, 4 models, as well as for the iPad®, and iTouch®
Andrew K. Rosen, founder and president of Team Management Solutions, is a sports marketing veteran who formerly handled all marketing and business development for hall of fame baseball icon Cal Ripken, Jr. Coach's Wire will be a difference maker for Coaches of all levels, said Rosen. It really minimizes the time a coach has to deal with the administrative side and allows them to focus on coaching.
. Download and set up in just minutes to create a personalized, organized turn-key system
. Input teams name and then choose the icon that corresponds to teams sport
. Ability to input multiple sports icons to help manage multiple team responsibilities
. File each players contact information and even note health issues etc.
. Send customized emails at anytime, from anywhere, to individual players, parents or entire group
. Record dates and times of practices and games and note names of opposing teams
. Color coded icons let you highlight which color uniform to wear and when
. Links to Google Maps to provide directions to game locations
###
Read the full story at http://www.prweb.com/releases/2011/04/prweb5262924.htm.
Page: 1
Related Keywords:
sports event, sports disciplinary action, sports awards, sport, sports organisations, baseball, Major League Baseball (North American Professional) - American League, Major League Baseball (North American Professional) - National League, Major League Baseball (North American Professional) - Special (e.g. All-Star, World Series), rubberball baseball, Major League Baseball Playoffs, sports organisations, sports event, sports disciplinary action, sports awards, soccer, sports organisations, sports event, sports disciplinary action, sports awards, computing and information technology, satellite technology, wireless technology, science and technology, technology (general), identification technology, agricultural research and technology, American football,
---