FlightStats.com Celebrates Fifth Anniversary
(April 11, 2011)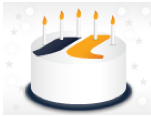 Portland, OR (PRWEB) April 11, 2011
Today, Conducive Technology announced the fifth anniversary of its flagship brand FlightStats, which reaches 3.5 million unique travelers per month via flightstats.com and another 1.5 unique travelers per month via its mobile site and apps. On April 11, 2006, Conducive Technology launched the flight and airport status tracking website FlightStats.com. We made a whopping $4.28 in advertising revenue that day, Jeff Kennedy, Conducive Technologys CEO laughingly reflects, In just five years, weve come a long way from an unknown travel data site to a globally recognized brand that millions of people rely on everyday to improve their travel experience.
In addition to direct traffic to its properties, FlightStats data reaches travelers around the world via its third-party publisher feeds, widgets and APIs. FlightStats five hundred plus independent developer network generates over three million data queries per day, which powers major sites like USA Today and Accuweather, top selling mobile apps like Flight Track and Kayak, digital signage solutions like Marriott Courtyards GoBoards, email/SMS alerts by Alaska Airlines and in-terminal displays at over 30 airports. Millions more access FlightStats through data sharing agreements with Google and Bing.
Whether its flight delays, cancellations, weather conditions, traffic jams, emergency situations or airport terminal services, over the years, FlightStats has provided a growing array of timely day-of-travel information services that keep travelers and businesses around the world in control of their travel experiences. Previous to FlightStats, there wasnt a solid, go-to source for tracking flight and airport status. By focusing on the needs of the traveler, providing global coverage, constantly looking for new ways to deliver our information and ensuring data quality, FlightStats has carved a unique, trusted place in the travel information ecosystem. Says Mr. Kennedy.
Below is a timeline of major events in FlightStats evolution:
April 2006
FlightStats.com launches as a consumer site empowering travelers with a single source for flight status information
July 2006
First 1 million page view month
December 2006
FlightStats mobile website launches
September 2007
FlightStats Flight Tracker launches, providing people everywhere a visual tool to watch their loved ones trek across the sky
October 2007
Wall Street Journal rates FlightStats Alerts #1 for business travelers to receive flight status updates via email/SMS
December 2007
Integration with Google launches, allowing millions of travelers to get their flight status directly from Google searches (Bing integration soon follows)
June 2008
Alaska Airlines adopts FlightStats Alerts as its official passenger flight status alerting solution
December 2008
UK version of FlightStats is launched (flightstats.co.uk)
May 2009
FlightStats Android app launches
December 2009
Over 29 million page views (additional 4.5 million pages views on mobile site)
February 2010
FlightStats shown in Googles Super Bowl commercial
April 2010
Icelandic Volcano creates havoc on European air travel - drives global audience to FlightStats resulting in first 30 million page view month
September 2010
FlightStats Airport Portal launched providing airports with a single dashboard to gather operational data and publish messages to travelers via the FlightStats Network
December 2010
Over 42 million page views (additional 10 million page views on mobile site)
January 2011
FlightStats presents the second annual On-time Performance Awards, which recognizes airlines and airports around the world for getting passengers to their destinations on-time (opsawards.flightstats.com)
March 2011
4 of the top 5 paid travel iPhone apps are powered by FlightStats data (Flight Track, Flight Track Pro, Flight Board and Kayak)
April 2011
FlightStats staff celebrates its 5-year anniversary by cracking a few local micro-brews (no different than any other day)
###
Read the full story at http://www.prweb.com/releases/flightstats/fifthanniversary/prweb5239724.htm.
Page: 1
Related Keywords:
plastic art, entertainment award, entertainment (general), arts (general), arts, culture and entertainment, economy, business and finance, financial and business service, business enterprises, business (general), restraint of trade, international (foreign) trade, trade dispute, trade agreements, trade policy, trade balance, education, adult education, further education, religious education, medical procedure/test, medical research, medical staff, medical specialisation, medical service, medical conditions, family, family planning, computing and information technology,
---