FixMeStick Launches First Ever Consumer-Ready USB Device for Removing Computer Viruses
Partnership with 3 anti-virus leaders and a separate operating system means anyone can clean infections like the pros for a fraction of the price
(May 09, 2012)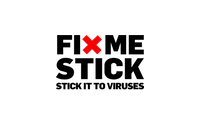 MONTREAL, QUEBEC -- (Marketwire) -- 05/09/12 --
Editors' note: A photo and a video are associated with this press release.
Computer viruses should be scared. Today, Montreal-based start-up, FixMeStick, has launched the first ever, consumer-ready USB device for removing viruses from infected PCs.
What makes this product unique?
The principles of the FixMeStick are not new to security IT professionals: multiple anti-virus engines increase the number of detectable viruses, and clean external scanning devices prevent viruses from hiding or from interfering with their removal. But, for the first time, FixMeStick has built these principles into a ready-to-go USB device that enables everyday users to do what the pros do (watch the FixMeStick remove the ZeroAccess rootkit that is blocking and hiding from desktop anti-virus software).
"This is about enabling everyone to rid their machines of malware," says co-founder Marty Algire. "And it will help people continue to enjoy their computers and the Internet."
The FixMeStick costs $49.99 for an unlimited number of uses on three PCs per year. Renewals can be purchased for $24.99 annually.
Co-founder Corey Velan explains, "The FixMeStick enables anyone to use the biggest advantage they have over Internet thieves: physical access to the PC. This way, PC owners can use the FixMeStick, a safe external device, to remove infections."
The FixMeStick is powered by three of the biggest names in anti-virus software: Kaspersky Lab, Sophos, and GFI.
"The FixMeStick is an innovative solution that delivers great value to consumers," notes Julian Waits VP, Strategic Relationships at GFI Software.
"This collaboration will allow organizations and their users to significantly minimize the impact of a malware infection," stresses Michael Rogers, Vice President, Global Alliances & OEM at Sophos.
And Stephen Le Hir, VP Global Business Development at Kaspersky Lab, says, "It's always a pleasure to see an innovative product, such as FixMeStick, emerge on the market. I am sure this innovation, boosted by Kaspersky Lab's anti-malware expertise, will help protect and cure millions of computers."
For more information, to request a sample FixMeStick to review, or to book an interview, please contact Jackson Wightman at Jackson.Wightman@fixmestick.com or (514) 605 9255.
About FixMeStick
Headquartered in Montreal, FixMeStick is a private company, founded by two IT security veterans, Marty Algire and Corey Velan. The company's namesake product is a Linux-based device that runs before Windows boots, enabling it to clean the PC while malware is inactive. It contains three leading anti-virus engines: Kaspersky, Sophos, and GFI's VIPRE, integrated behind a single full-screen application. The FixMeStick is set up and ready to go right out of the box. No additional installation is required and automatic updates are stored directly on the device. The FixMeStick is easy to support and any quarantine operation is 100% reversible. The FixMeStick works on any PC with a minimum of 512 MB of RAM.
Product video: http://youtu.be/sWczcru3C0w
Twitter: https://twitter.com/#!/FixMeStick
Facebook: http://www.facebook.com/FixMeStick
The photo associated with this press release is available at the following address: http://www.marketwire.com/library/20120508-fixme-800.jpg
The video associated with this press release is available at the following address: http://www.youtube.com/watch?v=RtYN3R7YL-A
Contacts:
Jackson.Wightman@fixmestick.com
(514) 605 9255
www.FixMeStick.com


Copyright @ Marketwire
Page: 1
Related Keywords:
FixMeStick , Consumer-Ready USB Device , Removing Computer Viruses , Marketwire, , IT (Information Technology), Security, Internet Technology, Business, Internet,
---