Five Signs That It's Time to Change Your Financial Software
Guidelines Released From UNIT4 CODA Based on CFO Survey
(May 23, 2012)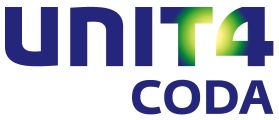 MANCHESTER, NH -- (Marketwire) -- 05/23/12 -- UNIT4 CODA, Inc., a division of UNIT4 (EURONEXT AMSTERDAM: UNIT4), the world's leading provider of business software for fast-changing organizations, today released guidelines to help companies determine when it's time to change their financial software. According to a recent survey conducted at CFO Leadership Summit, financial executives said that the biggest challenges they face with their financial systems are a lack of real-time reporting and poor integration with other systems in their organization.
"The financial system is the backbone of every organization, providing the data that is critical for analyzing and reporting profitability, sales and expenses," said Steve Pugh, CEO of UNIT4 CODA. "Unfortunately, many organizations don't have one single integrated system that can provide real-time visibility into their finances, but rather have data in disparate systems. This makes it impossible for them to know what's really going on in their organizations."
Other challenges CFOs cited include their system's inability to adapt to change, complex financial tables, poor ease-of-use, minimal support, and features that are less than comprehensive.
Based on these insights and UNIT4 CODA's experience with thousands of customers, the company offers the following signs that it is the time to improve financial management and change your accounting system:
1. You are adapting processes to accommodate your system. Instead of implementing the best practices for your business, you are re-engineering them to fit your legacy system.
2. You are relying more on work-arounds and spreadsheets. When you start depending on manual systems to complete everyday tasks that should be handled by your accounting solution, it's time to change. You are at risk for human error and problems resulting from using outdated numbers for activities such as budgeting, forecasting and planning.
3. You have different versions of the truth. If General Ledger (GL), Accounts Receivable (AR), and Accounts Payable (AP) are all managed separately in disparate databases, you won't have one accurate view of the data, the ability to identify issues and opportunities as they arise, or the agility you need to respond to them quickly.
4. You no longer have your finger on the pulse of your business. Without a single real-time view into your finances, you can be out of touch with what's really happening within your organization. The more changes in your organization -- such as expansion, acquisitions, and new product lines -- the harder it is to know what's really going on. You need visibility across your organization and the ability to drill down to the detailed level view and to "slice and dice" data in multiple ways.
5. You can't support your global organization. If your financial system can't handle multiple languages, currencies, taxes, and regulations, and it can't simultaneously handle GAAP and IFRS accounting and reporting needs, it's time for change.
"Every business, regardless of its stage of maturity, faces the organizational, technological, and economic challenges of change and growth. If the internal systems and processes aren't designed to easily accommodate change, it can result in inefficiencies and missed business opportunities. The good news is that there are solutions that enable companies to achieve the visibility and agility they need to be competitive and support their business goals," said Pugh.
About UNIT4 CODA
UNIT4 CODA, Inc. is part of UNIT4, a $603 million global business software company aimed at helping dynamic organizations to embrace change simply, quickly and cost effectively. Coda Financials is best-of-class financial management software designed to integrate with industry- and company-specific applications. Coda Financials provides real-time financial visibility and control across people, processes and systems. By acting as the financial information backbone for companies with fast-changing and mixed application environments, it offers a "no compromise" approach to financial modeling, process controls and application choice. For more information on UNIT4 CODA, visit http://www.unit4coda.com. Follow us on Twitter and LinkedIn or visit http://blog.unit4coda.com.
Add to Digg Bookmark with del.icio.us Add to Newsvine
Media contact:
Margaret Bonilla
Birnbach Communications
603-548-0693
Email Contact


Copyright @ Marketwire
Page: 1
Related Keywords:
financial software, UNIT4 CODA, financial management, accounting solution, best of class, IFRS, Marketwire, Inc., , Financial, Business, Other,
---