First Thunderbolt-Ready Device Rocks the Creative World
PROMISE Pegasus Adoption Soars With Creative Community; Intel's Groundbreaking Thunderbolt Technology Allows Media and Entertainment Professionals Unprecedented Flexibility and Performance; NOW Available Through Worldwide Network of Resellers and Dist
(July 12, 2011)

MILPITAS, CA and TAIPEI, TAIWAN -- (Marketwire) -- 07/12/11 -- PROMISE Technology, Inc., a leading supplier of versatile RAID storage solutions catering to customers from enterprise to consumer, today announced that its recently introduced Pegasus line of high-performance hardware RAID storage systems leveraging Intel's industry leading Thunderbolt™ technology, is enabling the media and entertainment industry to change the way they currently exploit digital applications. Pegasus is now fully available throughout the world through the PROMISE global network of distributors and value added resellers.
Tweet this: #PROMISE Pegasus Adoption Soars With Media and Entertainment Pros http://bit.ly/4QCDRj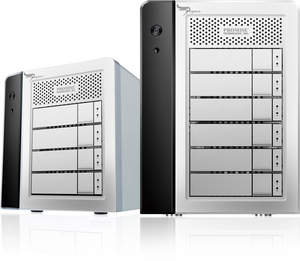 Intel's groundbreaking Thunderbolt™ technology is a transformational I/O innovation that provides a leap in performance over current I/O technologies with 10 Gbps of full-duplex bandwidth per channel. It significantly simplifies the end-user experience by concurrently supporting data (PCI Express) and display (DisplayPort) connections over a single cable. For time-sensitive data, such as video and audio during creation and playback, data transfers can be critical to the success of the work. Thunderbolt technology was specifically designed with video and audio applications in mind with inherently low latency and highly accurate time synchronization capabilities.
"Intel is excited about the performance and simplicity Thunderbolt™ technology brings to the Pegasus family storage products," said Jason Ziller, director, Thunderbolt Marketing and Planning, Intel Corporation. "Media enthusiasts will be blown away."
Designed from the ground up for media and entertainment customers, Pegasus also offers superior speed and throughput in a form factor small enough for a desktop or on-location environment. Utilizing Thunderbolt technology high-speed I/O, Pegasus can deliver performance up to 864MB/s, more than 20 times faster than USB 2.0 and 12 times faster than FireWire 800.
"The media and entertainment industry sets the pace for digital innovation worldwide," said Alice Chang, CMO, PROMISE Technology. "With the general availability of Pegasus through our worldwide dealer network, creative professionals are able to leverage Pegasus and Thunderbolt for performance, simplicity and flexibility. Pegasus is a catalyst for digital innovation."
Pegasus delivers a massive and unprecedented leap in performance allowing amateurs and professionals, audio engineers, photographers and post production engineers to unleash the raw power of Pegasus. Final Cut professionals can ingest, edit and playback multiple streams of uncompressed HD (10-bit and 12-bit) video, while protecting valuable workflows, audio sessions and other media content for desktop, small office environments and or any room in the home.
Pegasus Pricing and Availability
Pegasus is offered as a 4-bay or 6-bay RAID enclosure supporting seven RAID modes including RAID 0, 1, 5, 6, and 10. Pegasus features two Thunderbolt technology ports, a new sleek and stylish aluminum enclosure and a smart fan for reduced system noise. Pegasus hardware RAID solutions are available through the global network of PROMISE distributors and value added resellers and from the Apple Store (www.apple.com) MSRP for a 4-bay 4TB configuration is priced at $999, with a 6-bay 12TB priced at $1,999.
About PROMISE Technology, Inc.
With a long history of innovation, PROMISE Technology develops and manufactures sophisticated RAID solutions recognized worldwide, ranging from a complete line of RAID controller cards to FC/iSCSI/SAS/SATA RAID subsystems. Catering to enterprise, mid-range, entry-level consumer data protection needs, PROMISE products are distinguished by their Unified Common RAID Core and management software and unparalleled support. Headquartered in Milpitas, Calif., PROMISE has operations throughout Asia and Europe. For more information, follow PROMISE on Twitter, Facebook and visit PROMISE Technology's website at www.PROMISE.com.
© 2011 PROMISE Technology, Inc. All Rights Reserved. PROMISE, the PROMISE logo, VTrak, SmartStor, SuperTrak, FastTrak, VessRAID, Vess, PerfectPATH, PerfectRAID, SATA150, ULTRA133 VTrak S3000, BackTrak, HyperCache, HyperCache-R, HyperCache-W, DeltaScan, GreenRAID, Pegasus and SANLink are registered or pending trademarks of PROMISE Technology, Inc. in the U.S. and other countries. All other trademarks are the property of their respective owners. Information regarding products, services and offerings may be superseded by subsequent documents and are subject to change without notice. For the latest information and specifications regarding PROMISE Technology, Inc. and any of its offerings or services, please contact your local PROMISE office or the corporate headquarters. Visit www.promise.com for more information on PROMISE products.
Image Available: http://www2.marketwire.com/mw/frame_mw?attachid=1668910

Add to Digg Bookmark with del.icio.us Add to Newsvine
Contacts

The Americas
Douglas Gruehl
PROMISE Technology, Inc.
408.228.1432
Douglas.gruehl@promise.com

Nancy Pieretti
PROMISE Technology, Inc.
603.268.8007
nancypieretti@comcast.net

Asia Pac
Alice Chang
PROMISE Technology, Inc.
+886 3 5782395
Alice.chang@tw.promise.com

Steven Lien
PROMISE Technology, Inc.
+886 3 5782395 Ext: 8838
Steven.lien@tw.promise.com

EMEA
Albrecht Hestermann
PROMISE Technology EMEA
+49 2 31 56 76 48 21
Albrecht.Hestermann@eu.promise.com


Copyright @ Marketwire
Page: 1
Related Keywords:
PROMISE, Pegasus, Intel Thunderbolt, Thunderbolt, Media, Entertainment Industry, Post/Production, Management, Director, Display, Prosumer/Consumer, Production/Post, Post Production, Production, USA, Taiwan, Marketwire, Inc., Apple Final Cut Pro, Aluminum, Entertainment, Family, Other,
---