FiRe-Adopted Film "Midway" Surpasses $100,000 Kickstarter Goal
(July 23, 2012)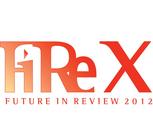 FRIDAY HARBOR, WA -- (Marketwire) -- 07/23/12 -- Strategic News Service is proud to announce that FiRe-Adopted Film Midway has surpassed its $100,000 Kickstarter campaign goal, thanks in part to the FiRe Film Team. Still in production, Midway will tell the hauntingly beautiful story of Midway Island's albatross population, which is struggling to survive in a sea of plastic. Director Chris Jordan has been sending video updates from the island, where he and a team are currently filming. The film needed to raise $100,000 by Wednesday, July 18 in order to receive any of the funds raised. The goal was met nearly four days early.
Each year the FiRe Film Team selects a pair of world-changing films, which will be showcased at Strategic News Service's annual Future in Review technology conference, and which will benefit from the support of the Film Team's networked community of industry leaders, promoters, and supporters. Through meetings and workshops, the FiRe Film Team will work with filmmakers to build audience, raise funds, create global awareness, distribute their films, and support these work of the films beyond completion.
"We are thrilled that the Kickstarter campaign for Midway was a huge success! Huge thanks to the FiRe Film Team and Strategic News Service Members who have supported this potentially world changing 'FiRe adopted film,'" said Sharon Anderson-Morris, Chair of the FiRe Films program.
Along with Midway, FiRe has adopted Chasing Ice as a 2012 FiRe Film, which follows National Geographic photographer James Balog's mission to change history by gathering a multi-year photographic record of the world's changing glaciers.
An annual gathering of world-class thought leaders in technology and economics, FiRe's attendees convene each year with the combined goals of understanding the future of technology and the economy, and using technology to solve major world problems. These goals are consistently met through FiRe's collaboration across disparate industries, its now-famous "CTO Design Challenge," and through active year-round support by the FiRe community.
Now in its eleventh year, Future in Review 2013 will take place May 21-24th at the beautiful Montage Resort in Laguna Beach, California. The Economist calls FiRe "the best technology conference in the world."
To register, and to see the draft agenda, go to http://www.futureinreview.com.
Strategic News Service was founded by Mark Anderson in 1995 as the first paid online news service. Since its inception, SNS has provided the most accurate, publicly-graded predictions covering the convergence of technology and the global economy. Its subscribers include top executives at technology and financial companies worldwide, including Microsoft, Dell, HP, Cisco, Intel, Accenture, Google, Telstra, Orange and others.
Future in Review™ is a Strategic News Service™ conference. Future in Review™, and Strategic News Service™ are registered international trademarks.
Add to Digg Bookmark with del.icio.us Add to Newsvine
Press Contacts:
Jennifer Lee
Strategic News Service
360-378-8628
[email protected]


Copyright @ Marketwire
Page: 1
Related Keywords:
Strategic News Service, Jordan,Marketwire,HP,Financial,Film,
---