Ferrari-Carano Vineyards & Winery, Along with the Vintners Inn, Launch Custom iPhone App, Android App and Mobile Website
(June 06, 2011)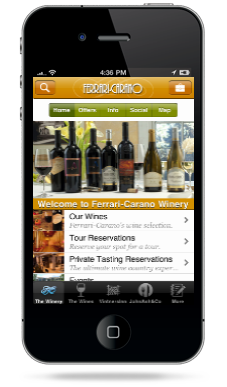 Healdsburg, Calif. (PRWEB) June 06, 2011
Ferrari-Carano Vineyards and Winery announces the launch of their new iPhone and Android apps, as well as a mobile website for BlackBerry and other smartphones. The free mobile solutions let visitors learn about Ferrari-Caranos vineyard ranches, set up a tour or private tasting, find Ferrari-Carano wines at restaurants and retail outlets nationally, browse the winerys selection of nationally acclaimed wines, book room reservations at Vintners Inn, or book dinner reservations at John Ash & Co.
We see our visitors using their smartphones to jot down wine tasting notes and research vintages all the time, and we wanted to make it easier for them to discover all that Ferrari-Carano has to offer in one place, said Rhonda Carano, owner. Our new mobile app gives our visitors a whole new way to explore and experience the tastes and sights of California wine country.
The multi-platform mobile apps were developed by San Francisco mobile software developer MacroView Labs and launch just in time for Sonoma Countys summer high season. From wine guides to information on tours and tastings, Ferrari-Caranos mobile app allows visitors to plan their trip, learn more about wines, share their experiences with friends, and more.
Sample mobile app features include:

A full catalog of Ferrari-Carano wines and gifts
A food and wine pairing guide with recipes from Rhonda Caranos personal library
Tours and tastings information
Circle of Friends wine club details and member sign-in for deep discounts, exclusive events and personalized concierge service
Learn about the Vintners Inn, an intimate four-diamond hotel, and book spa services and hotel rooms right from the app
Browse restaurant menus and make reservations at both John Ash & Co. Restaurant and the Front Room Bar and Lounge
Local information about the region and maps that allow access to overhead custom GPS maps of the winery, the Inn and the surrounding area. Visitors can even drop a pin onto the satellite map to remember where they parked
A wine locator to find Ferrari-Carano wines in select restaurants and retail outlets throughout the country
My Ferrari-Carano, which lets app users bookmark information about wine tours, their favorite vintage or restaurant menus, or save any page in the app to create their own itinerary
Twitter, Facebook, Foursquare, YouTube, and tell-a-friend integration
The iPhone app is available for download in the Apple iTunes Store at http://itunes.apple.com/us/app/id437828394?mt=8 and the Android application is available in the Android marketplace at https://market.android.com/details?id=com.mvl.ferraricarano. The mobile website is available at http://mobile.ferraricarano.com.
More and more people are expecting their favorite brands to have strong mobile presence, said Aron Ezra, CEO of MacroView Labs. Weve packed in some really exciting features and content that should appeal to long-time fans and novices alike as they discover everything that Ferrari-Carano has to offer."
About Ferrari-Carano Vineyards and Winery
Ferrari-Carano Vineyards and Winery is located at 8761 Dry Creek Road, Healdsburg, CA, (707) 433-6700, (800) 831-0381, and is open 10 5pm daily. The Enoteca is open 10 4:30pm daily. For more information, please visit http://www.ferrari-carano.com.
About MacroView Labs
MacroView Labs is a mobile software company that helps its customers and their target audiences understand and interact with each other in the mobile world. MacroViews proprietary platform allows clients to include many functionalities in a single app, and allows that app to work across multiple mobile devices. The company provides ongoing development, best practice mobile consulting, unlimited upgrades and account management activities. The apps give guests and customers an enhanced real-world experience by providing them with schedules, GPS maps, games, activities and other concierge services. More information is at http://www.macroviewlabs.com.
# # #
Read the full story at http://www.prweb.com/releases/2011/6/prweb8530219.htm.
Page: 1
Related Keywords:
hotel and accommodation, lifestyle and leisure, lifestyle (house and home), food, beverage, food, food safety, lifestyle and leisure, lifestyle (house and home), tourism and leisure, lifestyle and leisure, tourism, travel and commuting, lifestyle (house and home), computing and information technology, satellite technology, wireless technology, science and technology, technology (general), identification technology, agricultural research and technology, economy, business and finance, financial and business service, business enterprises, advertising, marketing, business (general), consumer goods,
---