Fandor Launches Keyframe as the Digital Magazine of Independent and International Film
Featuring David Hudson's Keyframe Daily, Kevin Lee's Video Essays and Susie Gerhard as Editor-in-Chief, Innovative Film-Streaming Service Unites Industry Experts to Deliver Rich Insights Into the World of Cinema
(May 01, 2012)

SAN FRANCISCO, CA -- (Marketwire) -- 05/01/12 -- Fandor, a curated online service for discovering and watching exceptional films, today announced the launch of Keyframe as Fandor's digital magazine for exploring the art and artists of film. The company has brought together an all-star lineup of industry reporters, observers and critics to provide in-depth coverage of the art, craft and business of the film world.
"Fandor's Keyframe is an essential discovery tool for film lovers. It stands alone in its devotion to the art of cinema and the loving attention it brings to films and the filmmakers behind them," said Ted Hope, award-winning producer of over sixty independent films, including Martha Marcy May Marlene, Adventureland and 21 Grams, and vocal advocate of Truly Free Film. "I look forward to reading and watching Keyframe for its take on the important world of independent and international film."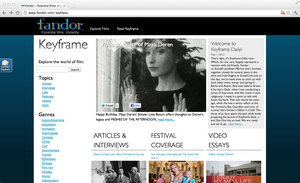 Keyframe was the inspiration of Jonathan Marlow, Fandor's VP of Content and a highly regarded expert in the world of digital distribution. Before co-founding Fandor, Marlow was instrumental in advancing the intersection of cinema and technology at companies such as Amazon, VUDU and GreenCine as well as his concurrent contributions to numerous non-profit arts organizations, most recently as Executive Director of San Francisco Cinematheque.
Susie Gerhard serves as Editor-in-Chief of Keyframe. Susie previously published SF360, an online film journal initiated by Indiewire and the San Francisco Film Society. She brings twenty years of print, digital media and film industry experience to managing Keyframe's daily content, which includes features, video essays and breaking news.
David Hudson, one of the world's foremost film culture writers and an early collaborator with Jonathan Marlow at GreenCine, now joins the team as chief correspondent. He will produce Keyframe Daily, Fandor's round-the-clock analysis of news and trends in the world of cinema. Hudson will also highlight the best festival coverage from around the world. In addition to his work at GreenCine, Hudson previously wrote for IFC and MUBI. His first feature assignment for Keyframe will be in-depth, up-to-date reporting of the Festival de Cannes.
Kevin Lee, a renowned video essayist, Editor-in-Chief of Indiewire's PressPlay video blog and the founding editor of Keyframe, continues to build a rich catalogue of visual criticism in the video essay format for Fandor and elsewhere. His recent piece for Keyframe, "The Spielberg Face," was profiled in The New York Times. He is a popular panelist and speaker on the video essay's role in cutting-edge criticism.
Keyframe is additionally home to an expanding cast of leading critics, widely published writers and film enthusiasts from around the world, including Michael Atkinson, David D'Arcy, Dennis Harvey, Omar Moore, Beth Lisick, Brandon Harris, Chuck Stephens, Anna Tatarska, Jay Kuehner, Michael Oleszczyk, David Ehrenstein, Michael Sicinski, Max Goldberg, Shari Kazirian and Michael Guillen, among many others.
At a time when newspaper and print magazine coverage of film is in decline, Fandor supports the broader film ecosystem with Keyframe's criticism, analysis and true appreciation of great film. "I am astounded by the quality of the team that we have been able to assemble for Keyframe. They are all incredibly knowledgeable, deeply passionate and highly talented individuals," said Marlow. "I am particularly delighted to work with David Hudson again. He is a singular talent. We anticipate that Keyframe Daily will be the hub that unites all of the remarkable writing and video essays that we've commissioned for the service."
To view Keyframe, please visit www.fandor.com/keyframe.
RSS: http://www.fandor.com/keyframe/feed/
Follow Keyframe Daily on Twitter: @KeyframeDaily
About Fandor
Fandor is a curated on-demand movie service for exceptional independent and international narrative and documentary films of all durations. Launched in March 2011, Fandor offers a new way to discover, watch and share great, hard-to-find movies. Founded by veterans of the Internet and film industries, Fandor offers thought-provoking entertainment to consumers and a new distribution channel for filmmakers. Through a deep integration with Facebook, Fandor allows members to easily share what they're watching with friends, adding a unique social component to the film watching experience. Subscribers to Fandor.com get unlimited access to films for $10 per month. For more information, please visit us at www.fandor.com.
Image Available: http://www2.marketwire.com/mw/frame_mw?attachid=1966613

Add to Digg Bookmark with del.icio.us Add to Newsvine
Contact
Steven Beauregard
(415) 848-8071
Email Contact

Michael Azzano
(415) 596-1978
Email Contact


Copyright @ Marketwire
Page: 1
Related Keywords:
indie, independent film, international film, VOD, streaming, digital magazine, ezine, Broadcast, Streaming, Digital, Internet/Web, Camera/Film, Business, Internet, Internet Media, Marketwire, , Film, Internet Technology, Business, Entertainment, Internet,
---