Eyealike Delivers "My Type" Attraction Trait Levers to Bring Fresh Sparks to Online Dating Sites
Combination of Facial and Physical Attribute Recognition Allows Dating Websites to Offer New Ways for Singles to Factor in Attraction to Find More Relevant Matches
(June 25, 2008)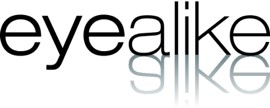 SEATTLE, WA -- (MARKET WIRE) -- 06/26/08 -- Eyealike, an innovator of visual-based search platforms for leading Web sites, revealed today new Attraction Trait Levers for Eyealike Faces, an image-to-image search solution for facial recognition and similarity matching. With big intentions to transform the way people search social networks and online dating websites, Eyealike Faces is based on patent-pending algorithms that uniquely understand the geometry of the face, including similarities in skin tone, eyes, hair color, hair texture and length, as well as hundreds of other relevant data points. The addition of the new Attraction Trait Levers allows users to further refine their search results to find more relevant dating prospects based on personal preferences for face shape, skin color, and hair color.
"Having a physical connection with someone is one of the most important components of a relationship, yet a huge percentage of first dates never turn into second dates due to a lack of mutual attraction," says Mark Brooks a consultant to the online dating industry and Editor of Online Personals Watch. "Some dating sites will reverse the process so singles can start with a pool of people they are attracted to and then drill down further with specific criteria. This will be a much more fun and efficient means of finding a true match."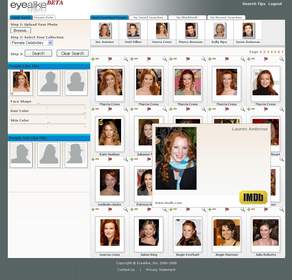 There's No Sex Appeal in Checking Boxes: Physical Attraction Matters
Searching for your soul mate is not easy, but in today's dating world, Match.com, AmericanSingles.com, Yahoo! Personals and other sites open up the possibilities with a few clicks of a mouse and 24-7 access. These online dating portals facilitate finding potential matches with text-based user input via keywords and checked boxes, which are not naturally designed for image-based search and retrieval because they rely on rich hyperlinks, anchor tags, metadata, path names, font size, and page formatting to deliver results. Though the criteria may vary slightly by site, users can typically specify location, age range, education, income level, marital history, height, body type, eye and hair color, political leanings, interests, and so on. After sorting by the desired parameters, comes the manual part of weeding out individuals based on physical attraction, or lack thereof.
New Visual Search Approach for Dating and Social Networking Sites
Powered by the Eyealike Visual Search Platform, Eyealike Faces takes a new sophisticated image-to-image search approach that relies on facial recognition and similarity matching technology over keywords to connect consumers to relevant images. The technology has been load tested and will scale to service the largest online dating and social networking sites in the world.
"Our conversations with multiple dating sites worldwide tells us that facial recognition and matching technology can help inject the rules of attraction that take place at a bar, on the ski slopes, or at a friend's wedding into online dating," said Greg Heuss, president of Eyealike. "With a unique visual-based approach to search, we can help daters quickly find people they are attracted to, whether it's someone who looks like their favorite movie star or anyone else they find attractive."
Following over four years of proprietary research and development supplemented by unique technologies and expertise from the University of Washington, the strength of Eyealike Faces lies in its object/facial exact and similarity matches by extracting and comparing hundreds of features in an image using smart, 3D model-driven analysis. All together, these features provide results far closer to what the human eye sees at unprecedented speed, scale, and relevancy compared to systems that employ a single method for shape/model analysis.
The new Attraction Trait Levers take online dating even further, allowing users to quickly find people that look good to them on paper, and in person simultaneously. For example, a user could upload a photo of someone they find attractive, whether it is an "ex," a friend or even a celebrity. If they found Jennifer Anniston beautiful, but had a preference for short red hair and a round jaw vs. the Hollywood star's blonde hair and pointed jaw-line, they could set the levers to search the database for relevant matches. The dater would then sit back while Eyealike Faces processed detailed criteria to return a set of customized results so they could immediately start connecting with people based on both physical chemistry and compatibility via the sites established search criteria.
Pricing, Availability, and Technology
Available immediately, online dating and social networking websites interested in seeing a demo of Eyealike Faces and discussing how they can enhance their website with visual-based search should email [email protected]. Pricing is based on an annual licensing fee and varies depending on CPU and storage size, modules purchased, and frequency of utilization. There's no need to replace current technology or a Website front end because the platform easily integrates with existing Website keyword and attribute-based search systems. Eyealike Faces is compatible with any Windows or Linux server and is optimized to work on Windows and Mac computers as well as most mobile and smart phones.
About Eyealike
At the forefront of visual-based search, Eyealike offers the first enterprise-class search platform for facial similarity/recognition, image detection, and video copyright surveillance. Based on unique patent-pending technology, the Eyealike Visual Search Platform offers an entirely new approach that will dramatically advance the way people search, find, and access people, images, and other rich media content. Following four years of extensive research and development supplemented by sophisticated technologies from the University of Washington, Eyealike offers a modular approach that gives companies the flexibility to meet today and tomorrow's visual search needs. Visit www.eyealike.com for more information.
Eyealike and their respective logos are trademarks, registered trademarks, or service marks of Eyealike. Other product and company names mentioned are the property of their respective owners.
Image Available: http://www2.marketwire.com/mw/frame_mw?attachid=787403

Add to Digg Bookmark with del.icio.us Add to Newsvine
Media Contacts:
Michele Mehl
425-205-9444
Email Contact

Deanna Leung
206-915-0512
Email Contact


Copyright @ Marketwire
Page: 1
Related Keywords:
online dating, visual-based search, Match.com, Yahoo Personals, American Singles, facial recognition, Education,Storage,Networking,Database,Computer Technology,Internet,Misc,Metadata,Networks,Server Hardware,Server Computers,Other,Mobile Devices,Search,Portals,Search Engines,Unix,Mac,Linux,OS9,OSX,Marketwire,Internet Technology,Chemistry,Computer Science,Social Networking,Email,Other,
---