Executives Will Love New iPad App That Increases Office Productivity
(June 02, 2011)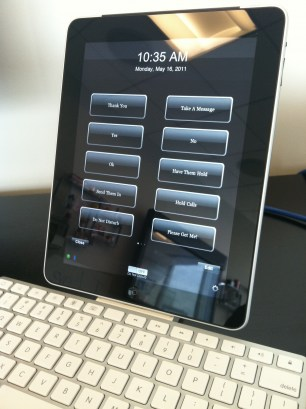 New York, NY (PRWEB) June 02, 2011
OfficeBleepster, a newly released iPad App, now makes it possible for business executives to increase effectiveness and productivity while handling interruptions in an efficient and respectable manner.
OfficeBleepster is a patent-pending iPad App that allows for two-way communication through a Wi-Fi network or through Bluetooth between an executive and his/her assistant.
OfficeBleepster has more than 25 pre-determined instant message buttons that represent a question or a reply. A pleasant bleep (30 custom sounds available) is heard each time the executive or assistant sends or receives a message. Custom bleeps can easily be created by the user.
The assistant pushes one button to message the executive who simply pushes one button to reply. A visitor sitting across a desk seldom if ever notices the exchange. The executive or assistant also can communicate more specifically by sending longer text messages through OfficeBleepster.
In this manner, OfficeBleepster avoids interruptions, provides fast communications, and eliminates wasted time through safe and secure messaging.
Over the years I tried to duplicate an effective messaging system but became frustrated using email, AIM, Office Communicator, pagers, intercoms and other instant messaging tools. None of these provided the ability to seamlessly handle office intrusions without the visitor or person on the phone being part of the exchange with my assistant, says Paul Brooks, CEO of Peakland Innovation Group of Charlotte, NC.
OfficeBleepster is available free as an Apple iAd supported application or $14.99 for OfficeBleepster without any advertising. http://www.OfficeBleepster.com
My assistant loves OfficeBleepster because it is very effective, we no longer need to shout back and forth across the office and she got a free iPad because of this app, adds Brooks. OfficeBleepster increased my productivity, effectiveness, and allows me to respond to interruptions without losing my train of thought or offending someone.
Peakland Innovations is also developing an OfficeBleepster version for Android tablets and Blackberry PlayBook.
About OfficeBleepster
OfficeBleepster was developed by Peakland Innovation Group of Charlotte, NC, http://www.OfficeBleepster.com The app is being promoted by Westwind iPhone App Publicity. http://www.iPhoneAppPublicity.com
Media Contact: For an interview with Paul Brooks contact Scott Lorenz of Westwind Communications at scottlorenz(at)iPhoneAppPublicity(dot)com or by phone at 734-667-2090.
# # #
Read the full story at http://www.prweb.com/releases/2011/6/prweb8513144.htm.
Page: 1
Related Keywords:
economy, business and finance, financial and business service, , business enterprises, business (general), economy, business and finance, financial and business service, business enterprises, marketing, business (general), economy, business and finance, financial and business service, business enterprises, corporations, business (general), economy, business and finance, financial and business service, business enterprises, business (general), crime, law and justice, law enforcement, international law, legal service, economy, business and finance, economy (general)
---