Evolving Systems Expands Its Footprint Within Global Telecommunications Group With an Additional Win in Africa
Becoming the Tenth Operator Within the Group to Select Tertio(TM)
(June 26, 2012)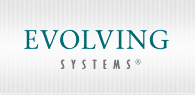 ENGLEWOOD, CO -- (Marketwire) -- 06/26/12 -- Evolving Systems, Inc. (NASDAQ: EVOL), a leading provider of software solutions and services to the wireless, wireline and cable markets, today announces yet another African subsidiary within this global telecommunications group has selected the Company's Tertio service activation solution.
The Tertio solution will replace an existing provisioning system in order to support the operator's rapid subscriber growth as well as the faster introduction of new and expanded services. After a competitive evaluation, the operator selected Evolving Systems' Tertio solution to provide a proven, scalable and flexible activation platform.
"This global tier 1 wireless group provides affordable and accessible prepaid cellular services to more than 30 million customers in emerging markets across Latin America and Africa. This win brings to ten the number of operating companies that have chosen Evolving Systems' best-in-breed Tertio service activation solution," said Thad Dupper, CEO and Chairman at Evolving Systems. "The win also represents our ninth win in Africa, a market that analysts consistently rank among the highest in terms of growth and is a clear indication that we have the right products and distribution strategy in place to continue expanding our foothold in high growth emerging markets."
About Evolving Systems®
Evolving Systems, Inc. (NASDAQ: EVOL) is a provider of software and services to 50 network operators in over 40 countries worldwide. The Company's product portfolio includes market-leading activation products that address subscriber service activation, SIM card activation, mobile broadband activation as well as the activation of connected devices. Founded in 1985, the Company has headquarters in Englewood, Colorado, with offices in the United Kingdom, India and Malaysia. Further information is available on the web at www.evolving.com.
CAUTIONARY STATEMENT
This news release contains "forward-looking statements" within the meaning of the United States' Private Securities Litigation Reform Act of 1995, based on current expectations, estimates and projections that are subject to risk. Specifically, Evolving Systems' statements about the impact and ability of Evolving Systems' DSA solution to handle future needs of customers are forward-looking statements. Readers should not place undue reliance on these forward-looking statements, and Evolving Systems may not undertake to update these forward-looking statements. Actual results could differ materially because of many factors, such as internal budgeting changes of customers, the impact of competition and the general state of the telecommunications industry. For a more extensive discussion of Evolving Systems' business, please refer to the Company's Form 10-K filed with the U.S. SEC on March 30, 2012, as well as subsequently filed Forms 10-Q, 8-K and press releases and the Company's website at www.evolving.com.
CONTACTS

Investor Relations
Jay Pfeiffer
Pfeiffer High Investor Relations, Inc.
303.393.7044
Email Contact

Evolving Systems
Sarah Hurp
Marketing Manager
+44 (0)1225 478060
Email Contact

Press Relations
Chris Harris
The Whiteoaks Consultancy
+44 (0)1252 727313
Email Contact


Copyright @ Marketwire
Page: 1
Related Keywords:
Evolving Systems, Africa,USA,India,Marketwire, Inc.,Communications Technology,Internet Technology,Business,india,england,
---