Entuity Increases Operational Efficiency With All-In-One Network Management Suite
New Release Designed to Reduce Time and Effort to Address Network Issues
(December 01, 2011)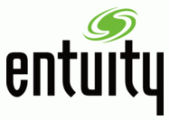 LONDON and BOSTON, MA -- (Marketwire) -- 12/01/11 --

News Facts
Entuity® today announced the general availability of a major new release of its award-winning solution, Eye of the Storm® Enterprise 2012 (EYE 2012). This new version contains significant functional improvements on network coverage while continuing to focus on reducing the time and effort required of network administrators.
EYE 2012 integrates all the requisite, contemporary network management functionality -- automated, continual discovery of inventory and topology, event alerting, root cause analysis, configuration management and elemental and flow-based performance -- into one tightly-integrated product with enterprise-wide scalability and extensive customizable reporting.
Virtual Switch Support - EYE 2012 extends the existing discovery, inventory and topology of virtualized systems to include embedded virtual switches. The supported virtual switches in this release include:

VMware standard vSwitch
VMware distributed vSwitch
Cisco Nexus 1000V

This functionality eliminates a growing blind spot that is critical to enable faster troubleshooting, improved capacity planning and intelligent network design. In addition EYE 2012 built-in net flow capability can now understand traffic flows in Cisco Nexus 1000V.
New Interactive Charting - Collecting deep, broad and timely network data does little good if it requires significant effort to make sense of it. EYE 2012 advanced, "any-data" aggregation and visualization techniques can utilize data from different sources or timeframes to quickly provide effortless insight into networks behavior. Drag and drop multiple network analytics at anytime into charts to visualize display how metrics affect each other. Or create custom dashboards to provide aggregation, cumulative performance and long and short term history at your fingertip to enable more powerful troubleshooting and discovery of long term trends.
Centralized License Management - EYE 2012 simplifies license administration by creating a centralized license pool that is managed from a single EYE 2012 server for all or selected servers throughout the enterprise. This flexibility also allows administrators to quickly determine enterprise license status.
High Frequency Polling - Not all applications have equal business importance. Accordingly, the network ports that support these may require closer, more precise monitoring. Port selective high frequency polling can be specified at one minute or less intervals to keep a better "eye" on high value network assets. This allows for important port outage detection in near real time, less-important alerts muting, more precise sampling of performance data and quicker remediation of problems before they turn into major impacts.
Additional Improvements for More Efficient Network Management

Extended Discovery - EYE 2012 now adds more information about the infrastructure and its connectivity than was previously available with the addition of two discovery protocols: Link Layer Discovery Protocol (LLDP) and SONMP.
Oracle Enterprise Manager 12c Integration - The Oracle Enterprise Manager plug-in developed in EYE 2011 for Oracle EM 11g is now available in EYE 2012 and compatible with Oracle EM 12c. Using this plug-in, Oracle Enterprise Manager customers can proactively monitor and assure application health by detecting potential network problems that may be affecting application service delivery.
Detection of Module Adds/Changes/Deletions - EYE 2012 polls all devices to detect changes in module configuration where modules are added, removed or changed. Any module changes detected are added to the discovered database immediately. In turn, an appropriate event is raised against the device to inform administrators of the detected change in a timely manner.

Platforms - EYE 2012 is available for Microsoft® Windows Server®, Oracle® Solaris™ and Red Hat® Enterprise Linux® on both physical and virtualized hardware. Other supported virtual environments include Oracle VM Server & VM Manager, VMWare ESX/ESXi & vCenter Server, and Microsoft Hyper-V.
Supporting Quotes
Quote, attributed to Josh Pelosi, Senior IT Operator, Pernod Ricard Americas
"Pernod Ricard Americas has been leveraging Eye of the Storm to effectively manage our network across multiple countries and deliver varied services for almost a year. Some of the new EYE 2012 enhancements will definitely make the job of managing the network less burdensome. The new charting capabilities that capture the necessary data through simple drag and drop functionality increases the visibility needed to make fast decisions. Streamlining reporting is definitely a positive and being able to include it in a custom dashboard screen is helpful for key monitoring. Another standout is the high frequency polling feature allowing the ability to see more precise samples of performance data for detection of fine patterns in traffic to keep performance at high levels. EYE 2012 brings improved operational efficiency to help network management organizations stay ahead of the curve."
Quote, attributed to Werick Venter, Group Specialist: IT Infrastructure - O.R. Tambo International Airport, Airports Company South Africa
"Significant new monitoring advances for virtual switches will let us receive key relevant data to maximize our rapidly expanding virtual environment. EYE 2012 continues to provide more refined network management expertise that ACSA definitely will find beneficial in keeping our nation's airport operations at peak levels."
Quote, attributed to Sakkie Joubert, Business Unit Executive - hosting, Gijima - an Entuity Partner
"EYE 2012 brings to the table what we value most about the product -- both the critical support of new technologies like the new support of virtual switches, but also operational efficiency improvements that equip us with more automation and streamlined techniques to better serve our customers. New redesigned Web UIs show us more data for faster troubleshooting, new automated alerts regarding hardware changes, and enhanced topology with LLDP and SONMP are all going to enhance our day to day operations at Gijima."
Quote, attributed to Jim Frey, Managing Research Director - Network Management, Enterprise Management Associates
"Entuity continues to impress with its focus on continuous improvement in core features and capabilities of the EYE platform while also adding support for new technologies. Network managers will appreciate EYE 2012's extended support for virtual switches, the improved discovery accuracy, and the new streamlined user interface. Of special note are the major changes made to the charting features in the operator console, which open new realms of scope and flexibility to shorten diagnostic and reporting workflows."
Quote, attributed to John Diamond, Senior Solutions Architect, Entuity
"Our customers have always appreciated the technological competence of EYE, but they've also told us they need a solution that allows them to quickly visualize large amounts of seemingly unconnected data to quickly analyze and address network issues. A great deal of effort went into EYE 2012 to do just that. This latest release was focused not only on technological advances but also on increased operational efficiency by greatly reducing the time and effort needed to produce meaningful results."
Multimedia Elements
About Entuity
Entuity is a leading independent provider of innovative network management software for both large and small networks supporting enterprises worldwide. Entuity Eye of the Storm (EYE) helps deliver network predictability and control that enables enterprises, system integrators and managed service providers to manage network services and assets, meet service level commitments and implement best practices in network service delivery. On a daily basis, Entuity solutions help customers take the work out of network management through future-proof technology, operational efficiency, a sharp business focus, and a high degree of automation.
EYE is highly regarded for its rapid deployment, ease of use, and low cost of ownership. Entuity customers include organizations such as ABB, Airports Company South Africa, Aptina, Astra Zeneca, BMC Software, CLS Services, DIRECTV, IBM Global Services, Dell Services, Pernod Ricard, Phones 4U, The Royal Bank of Scotland, SASSA, Visteon and WorldPay. For more information, please visit entuity.com or call (508) 357-6344 (North America) or +44 (0) 20 7444 4800 (Europe).
Entuity and Eye of the Storm are registered trademarks and InSight Center is a trademark of Entuity, Ltd. All other marks and names mentioned are the property of their respective companies.
Add to Digg Bookmark with del.icio.us Add to Newsvine
Contact information:
Roger Katz
Entuity
1.508.357.6344 Ext. 15
Email Contact


Copyright @ Marketwire
Page: 1
Related Keywords:
entuity, network, management, software, performance, cloud, fault, inventory, netflow, virtual, Applications, Database, Internet, Business Issues, Hardware, Other, Administration, Internet Server Applications, Traffic Analysis/Reporting, Web Servers, Management, Network Administrators, Windows, Africa, Marketwire, , Environmental Technology, Internet Technology, Business, Other,
---