Enter the World of Future P.L.A.Y.
Digital Taipei Is Your Exclusive Stage
(May 02, 2012)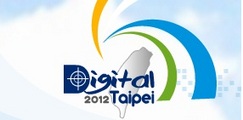 TAIPEI, TAIWAN -- (Marketwire) -- 05/02/12 -- According to PricewaterhouseCoopers (PWC) research firm's annual analysis report on the Global Entertainment and Media Market (E&M), the value of the Asia-Pacific region for 2011 was approximately US$410.7 billion, of which, Taiwan came in seventh place out of the major top ten in entertainment and media with an output of NT$600.3 billion, making Taiwan a market with considerable scale and potential.
With the popularization of mobile application carriers and the rise of Apps, revenue for mobile game software and computer animation in Taiwan have skyrocketed, furthermore, the prevalence of e-books and tablets have enabled digital publishing and archive industries to flourish.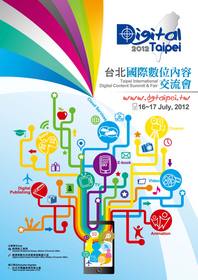 In this perspective, the government has more actively invested in domestic digital content industries in Taiwan, and as of 2008, the Ministry of Economic Affairs Industrial Development Bureau is the dominant organizers of "Digital Taipei," successfully holding three consecutive events thus far, and inviting nearly 250 international buyers from countries such as China, Canada, Malaysia, Vietnam, Russia, India, America, Australia, Germany, the Philippines, Thailand, Qatar, Singapore, Italy, North Korea, Turkey and Japan. Business opportunity is reflected by the 660 one-on-one business meetings organized, 4 letters of intent facilitated per hour, and the total of NT$1.156 billion in business opportunities achieved. In addition, 68 international forums were held, inviting hundreds of domestic and international speakers to share their successful experiences, not only bringing the event's climax, but also injecting new enthusiasm into Taiwan's digital content industries.
Since the beginning of "Digital Taipei," outstanding results have led this domestic digital content event to evolve into an indispensable international exhibition. During the event period each year, not only is it compulsory for domestic digital content industries to participate, but more and more international buyers join the festivities. "Digital Taipei 2012" is scheduled to be held for two days on the 16th and 17th of July, with "Future P.L.A.Y." (Plenty, Link, Amazing, Young) as this year's theme, combining these elements to create unprecedented entertainment experiences for the future.
Sincerely invite you to join us in the search for optimal business opportunities! The annual gathering shall create even greater international alliances for the industry.
Welcome all industries and organizations to purchase Taiwan's digital content products, or willing to undergo business negotiations to register thereof. To register, please log on to http://www.dgtaipei.tw/index.php?c=discuss for more information. (Buyer Registration Deadline&#65306;June 15, 2012) < Advertise by Industrial Development Bureau, Ministry of Economic Affairs, Taiwan >
About Digital Taipei 2012 Preparatory Committee
For the purpose of promoting Taiwan's digital content industry and expending international cooperation, "Digital Taipei" is held by Taiwan Industrial Development Bureau, Ministry of Economic Affairs. This is the 4th year of the event as it's larger in scale and has gradually gained its fame in the Asian market. The committee makes enormous efforts on organizing conferences, business talks and exhibitions to provide opportunities for companies to seek collaborations. As a result, many Taiwan digital content companies have earned more international visibility and increase product exposure during the event time. In order to link the global industry and the Chinese mainland market, "Digital Taipei" also plays an important role in cross-strait industrial exchanges.
Image Available: http://www2.marketwire.com/mw/frame_mw?attachid=1967660

Add to Digg Bookmark with del.icio.us Add to Newsvine
Media Contact
Ms. Kai Hsuan Wu
Digital Taipei 2012 Preparatory Committee
TEL: +886-2-2577-4249 ext.801
Email: Email Contact

Linked to http://www.dgtaipei.tw/


Copyright @ Marketwire
Page: 1
Related Keywords:
Digital Taipei , Animators, Business, Canada, Russia, Germany, India, China, Japan, Korea, Vietnam, Thailand, Taiwan, Singapore, Australia, Italy, Marketwire, , Business, Entertainment, russia, china, india,
---