EmpowHER Media Partners With GoodTherapy.org
Social Health Company for Women Announces Partnership With One of the Top Therapist Directories on the Web to Expand Mental Health Resources
(January 23, 2012)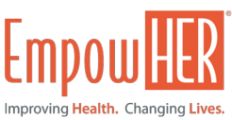 SCOTTSDALE, AZ -- (Marketwire) -- 01/23/12 -- EmpowHER, an award-winning social health company for women, today announces a new partnership with one of the nation's top therapist directories on the web, GoodTherapy.org. EmpowHER Media partnered with this association of mental health professionals from over 30 countries around the world in an effort to expand the company's current mental health resources, integrating offerings not only to extend marketers' reach to mental health content, but also to provide the 40M women expected to come to EmpowHER.com this year more robust mental health and therapy videos, articles and user-generated content to help inform and support them around mental health topics.
According to the Centers for Disease Control (CDC), data shows that as many as 1 in 4 people in the U.S. suffer from some type of depressive disorder, with anxiety disorders almost twice as common as depression. The CDC goes on to forecast that as many as 50% of the population will experience a mental health issue at one point in their lives. Additionally, according to the National Institute of Mental Health, studies show that by 2030, unipolar depressive disorders would be the leading cause worldwide of years of good health lost because of disability, ahead of heart disease, traffic accidents, chronic obstructive pulmonary disease and HIV/AIDS. Just as statistics show that mental health issues are prevalent, therapy can be an effective treatment to help mitigate the effects of mental health issues by helping individuals identify and work through various factors that contribute to or trigger their illness, as well as help the individual learn coping techniques and problem-solving skills that could improve their mental health.
"Good mental health is the foundation for healthier lives," says Michelle King Robson, Founder, Chairperson and CEO of EmpowHER Media. "Partnering with GoodTherapy.org allows EmpowHER to build a more robust resource for the millions of women that come to our site each year looking for answers and support. EmpowHER will not only provide these women with additional content, and future directories where they can easily locate and research various therapists, but we will be able to offer health care marketers and brand managers more opportunities to reach, engage and influence women looking for answers and support around mental health issues."
The initial phase of the partnership will showcase content-sharing opportunities where both the EmpowHER.com audience and the GoodTherapy.org audience can benefit from additional resources. Later phases of the partnership will spotlight a mental health therapist directory, available to EmpowHER.com visitors, providing them with a credible, quality database of professional, certified therapists offering their services. This is part of a broader strategy for EmpowHER to continue to build out professional directories that offer women not only information about specific issues, but a quality resource where they can identify professionals in specific areas.
"GoodTherapy.org is in a unique position to affect change within the field of mental health -- leveraging social enterprise and entrepreneurial principles to achieve social change," says Noah Rubinstein, LMFT, and Founder and CEO of GoodTherapy.org. "Partnering with a social health platform like EmpowHER that is also affecting social change in the way people consume health care, gives us the opportunity to not only expand our offerings to a broader audience, but can also provide additional resources to those affected by mental health issues looking for answers, support or therapists."
Click here to view this release on EmpowHER.com and share it with your social networks.
About EmpowHER Media
EmpowHER Media is an award-winning, HON-certified, social health company for women. The Company's flagship -- EmpowHER.com -- is the third most visited women's health and wellness destination on the Web (comScore Media Metrix). As the online home for female health consumers, EmpowHER.com offers a unique value proposition of a peer health community and premium, original women's health and wellness content. Health care professionals, brands and agency professionals rely on EmpowHER Media for reaching the most influential health and wellness buyer on the Internet -- women. EmpowHER reached more than 60 million women onsite and through syndication in 2011, and expects to reach more than 250 million in 2012.
About GoodTherapy.org
GoodTherapy.org is one of the leading mental health directories on the Internet. Founded in 2007 by Noah Rubinstein, licensed marriage and family therapist, GoodTherapy.org was created out of a desire to educate clients and clinicians about healthy therapy. Today, GoodTherapy.org is comprised of professional therapists and mental health clinicians from around the globe who all strive to reduce harmful therapeutic practices. Rubinstein built GoodTherapy.org with the mission of addressing misuse of power by mental health professionals and offering tools to prevent harmful therapy, condescending practices, self-satisfying techniques and boundary infringement. GoodTherapy.org provides numerous resources from like-minded professionals, visitors and clinical studies that educate and empower the client and clinician with regards to unhealthy and abusive psychotherapy practices. All of the providers that are part of GoodTherapy.org work collaboratively to offer non-pathological strategies and techniques to address a broad range of mental health challenges. GoodTherapy.org recently exceeded 1.5 million clinician searches per month and coupled with its other partners, touches the lives of over 7 million people each month. Adhering to its stringent ethical and professional standards, GoodTherapy.org requires that each of its members be individually screened to ensure proper licensure, educational requirements and integrity.
Add to Digg Bookmark with del.icio.us Add to Newsvine
Press Contact for EmpowHER
Lauren Moye
EmpowHER
(971) 832-1456
Email Contact


Copyright @ Marketwire
Page: 1
Related Keywords:
EmpowHER, prevention, wellness, women's health, women's fitness, women's diet and exercise, USA, Marketwire, , Diet, Disease, Therapy, Surgery, Internet Technology, Medical, Internet, Family, Other, Women,
---