EmpowHER Media Announces Executive Leadership Promotions
Social Health Company for Women Structures Management Team for Continued Growth
(January 25, 2012)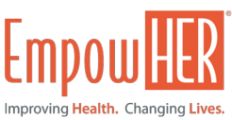 SCOTTSDALE, AZ -- (Marketwire) -- 01/25/12 -- EmpowHER, an award-winning social health company for women, prepares for continued expansion and growing demand by promoting Thom Brodeur to President and Chief Operating Officer and Jamie Glass to Executive Vice President and Chief Marketing Officer. Both will continue reporting to EmpowHER Founder, Chair and CEO Michelle King Robson.
Today, EmpowHER ranks third among women's health destinations and in the top 30 among all health destinations on the Web according to comScore Media Metrix (December 2011). EmpowHER's traffic and audience grew nearly 400% in 2011 direct and through syndication with partners including AOL, Yahoo! Health, Fox News, HealthGuru Media, Howdini, blinkx, Hearst's RealAge, Healthline Network, and Rodale Healthy Living Network and is positioned to extend the reach of its original premium women's health article and video content to more than 200 million female health consumers in 2012.
"This is an exciting time for EmpowHER," says Michelle King Robson, Founder, Chair and CEO of EmpowHER Media. "Our growth has been driven by the explosive demand among women for our engaging peer health community and gender-specific health information and advocacy resources. Thom and Jamie have helped prepare EmpowHER to capitalize on new market opportunities. By aligning their responsibilities and internal resources, we are prepared to execute our long-term strategic plans and do more to help HER."
In addition to oversight for the company's Board of Advisors and management of its leadership team, Ms. Robson will continue advancing women's health advocacy as a media personality through broadcast television and radio partnerships; original programming on EmpowHER's own, soon-to-be-launched branded Web TV platform -- EmpowHER TV, and patient advocacy education.
Brodeur will focus on strategy, product, content and community, and corporate development. In this capacity, Brodeur will work with the CEO on EmpowHER's corporate strategy and capital development efforts, while overseeing the Company's shift from a health information publisher to a comprehensive social health platform for women with offerings in Web, mobile, social and gaming for women's health, wellness and lifestyle.
Glass will continue to focus on sales, partner and client services and will add EmpowHER marketing to her responsibilities. She will leverage her nearly 25 years of experience to continue to grow revenue through direct sales, channel relationships and now corporate marketing and consumer marketing.
Click here to view this release on EmpowHER.com and share it with your social networks.
About EmpowHER Media
EmpowHER Media is an award-winning, HON-certified, social health company for women. The Company's flagship -- EmpowHER.com -- is the third most visited women's health and wellness destination on the Web (comScore Media Metrix). As the online home for female health consumers, EmpowHER.com offers a unique value proposition of a peer health community and premium, original women's health and wellness content. Health care professionals, brands and agency professionals rely on EmpowHER Media for reaching the most influential health and wellness buyer on the Internet -- women. EmpowHER reached more than 60 million women onsite and through syndication in 2011, and expects to reach more than 250 million in 2012.
Add to Digg Bookmark with del.icio.us Add to Newsvine
Press Contact for EmpowHER
Lauren Moye
EmpowHER
(971) 832-1456
Email Contact


Copyright @ Marketwire
Page: 1
Related Keywords:
EmpowHER, prevention, wellness, women's health, women's fitness, women's diet and exercise, Marketwire, , Television, Lifestyle, Internet Technology, Medical, Internet, Women,
---