Eileen Koch & Company, Inc. Gets Wild With Veterinary Expert Dr. Amber Andersen
(October 18, 2011)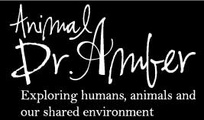 LOS ANGELES, CA -- (Marketwire) -- 10/18/11 -- Not many professionals can list African elephants, Beluga whales, and lions as their top clients, but Dr. Amber Andersen (www.animaldramber.com) takes on the animal kingdom with ease. As a renowned veterinarian, and Certified Veterinary Journalist, Andersen works as a media personality, consultant, and motivational speaker with a mission to help people understand the relationships between humans, animals and the environment. Eileen Koch & Company has been retained by Dr. Andersen to handle all of her public relations needs.
When Dr. Andersen is not traveling the world saving animals and volunteering at shelters, she works out of an outstanding clinical practice at Point Vicente Animal Hospital in Rancho Palos Verdes, CA. As one of a handful of Certified Veterinary Journalists (CVJ) in the country, Andersen lends her consulting services to media, business and philanthropic entities on a broad range of issues including animal welfare, food safety, public health, animal behavior, marine and wildlife conservation, and pet care.
As a media consultant, she helps news networks relay accurate animal related stories, and prepares segments for radio and television outlets. She also offers her expertise in the business realm, as she advises corporations on how to improve animal related products, as well as how to make hotels and airports friendly to animals and our environment. Likewise, Andersen assists in designing creative projects to utilize animals appropriately in advertisements. Her well roundedness has contributed to her credibility as a respected advisor of political policy measures and campaigns impacting the health of humans, animals and the environment.
Dr. Andersen's passion for understanding the depth of the human animal bond and the range of emotions associated with it, drives her work. She gushes, "The joy of a new family puppy, captivation with sea creatures, anger over animal abuse cases, sorrow from the death of a beloved pet, fervency over farm animal welfare issues, triumph in being carried by four hooves, satisfaction found in a steak and shrimp dinner, and the comfort discovered in petting fur. I am fascinated by all these emotions being invoked in people by animals."
Dr. Andersen was selected by The Annenberg Foundation to develop the animal services program for a proposed public education center in Los Angeles. The doctor obtained her Doctor of Veterinary Medicine from Western University, and her Bachelor's Degree in Animal Science from Cal Poly San Luis Obispo. She is currently working on her Masters in Public Health.
For more information, or to interview Dr. Andersen, contact Eileen Koch & Company Inc., a public relations firm, at 310.441.1000 or [email protected]. Please visit www.eileenkoch.com.
Contact:
Eileen Koch & Company Inc.
310.441.1000
Email Contact
www.eileenkoch.com


Copyright @ Marketwire
Page: 1
Related Keywords:
Veterinary Expert Dr. Amber Andersen, Marketwire, Inc., , Healthcare, Television, Pets, Agricultural Science, Environmental, Business, Science, Family,
---