Eileen Koch & Company Client, Barbarian Overlords, to Jam Out at The Troubadour
(July 02, 2012)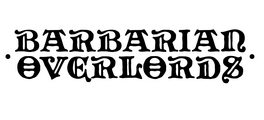 LOS ANGELES, CA -- (Marketwire) -- 07/02/12 -- Rocking the world with their boisterous musical tunes, thriving band Barbarian Overlords (barbarianoverlords.com) has established itself as a throwback to the sounds of 1970s rock & roll, packed with attitude and punch. An answered prayer to religious rock fans, the band is barging its way into L.A.'s legendary Troubadour on July 7, 2012 with a headlining performance, also featuring eEnik, Lumaria, Angels Landing, and Lee Anduze performing throughout the night. The evening will definitely be an expressway to rock & roll, so rock out with the men of the hour as tickets are on sale for $10 online through the band's website, and $15 at the Troubadour box office. Eileen Koch & Company INC. has been retained by Barbarian Overlords to handle all of their public relation and marketing needs.
With sounds similar to rock legends, Led Zeppelin, Wolfmother and the White Stripes, Barbarian Overlords' self-titled debut album gets down to the nitty-gritty of authentic, straight up rock and roll music, mixed with nostalgic blues beats from the past. Each band member's individuality contributes to creating soulful melodies on the musical bars as lead guitarist Joe Spadaro, drummer Brandon Kachel, bassist GK Via, and singer Brent A. Nuffer rifles through sassy riffs with no reservations.
"We don't get to hear much new bluesy, pounding rock & roll these days. Black Keys and Clutch are some of the few bands holding the torch from legends like Led Zeppelin and Deep Purple. Barbarian Overlords are worthy of being in that prestigious company," said one fan of the band.
Often spotted in many of Southern California's hottest venues like The Roxy, Barbarian Overlords spawns headlines as they belt out their wild and theatrical compositions such as "In A Rush To Meet The Queen" and "Running Scared." With their album gaining momentum, these hard-hitting rockers might just find themselves running and rushing to meet success under the limelight.
For more information, or to interview Barbarian Overlords, please contact Los Angeles Publicist Eileen Koch of Eileen Koch & Company INC., a PR, Marketing, and Branding Firm at 310-441-1000, or email [email protected]. Please visit www.eileenkoch.com. (LA PR)
Eileen Koch
Eileen Koch & Company INC.
310-441-1000
Email Contact
www.eileenkoch.com


Copyright @ Marketwire
Page: 1
Related Keywords:
Barbarian Overlords, Marketwire, Inc.,Music,Email,Men,
---