Eight Tips to Create a Successful Business Website by Interaktiva Digital Marketing
Websites Are the Cornerstone of a Business' Online Presence; With Users Leaving Pages Within 10-20 Seconds, Companies Need Attention-Grabbing Website Designs and Content to Keep Their Customers Engaged
(January 31, 2012)

MIAMI, FL -- (Marketwire) -- 01/31/12 -- As internet usage continues to grow, largely due to the exploding growth of smartphones and tablets, companies must have a compelling website to create a strong first impression and stand out from their competition. While there are a lot of elements and technology that go behind designing a great website, Interaktiva Digital Marketing, a two-time website design award nominee, is sharing the essential foundations to create a successful site.
Eight tips to designing an outstanding business website:
1. Know your objectives. The first step is to determine the purpose of your website and what you want your end users to do. Do you want to create interaction? Content consumption? E-commerce? Define the goals for your website and structure the design and content accordingly.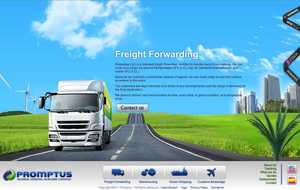 2. Stand out. There is a lot of "noise" on the internet and it is up to you to grab your customers' attention. How are you going to be different, better and be remembered? Be creative -- find interesting ways to convey your content, find your own voice and create a website design that grabs attention.
3. Call things by their name. Usability is about making things easy for your users. Make your site intuitive and call things by their name. Buttons and call to actions should say exactly what you want the user to do -- join, click, enter, etc. You have a finite time to capture your customer's attention. Unless you give a clear direction, the user will learn little about you.
4. Interfaces are not for interpretation. While we are proponents of creative website design, don't sacrifice usability in the name of originality. Make your interface user friendly and organize your content so it can easily be found. You work hard to get traffic to your site -- keep your customers consuming your content by quickly leading them to the content that interests them.
5. Create websites for the worst bandwidth connections. Not everyone has a powerful computer or a 12 MB internet connection. Design a site that can be easily opened and viewed by the worse connection. For businesses that are targeting a global audience, Amazon CloudFront and HTML are good tools to ensure your content can quickly be read by anyone.
6. Prioritize content before beginning the design phase. Make a list of your content and prioritize it from most to least important. This simple exercise will help you eliminate content that you really don't need and saves you from designing pages that are not as useful as you originally thought.
7. Create functional wireframes. Make sure you know what your site is going to look like and how it is going to work. At Interaktiva, we use Hotgloo http://www.hotgloo.com -- a very useful and time saving tool. iRise and Axure are quite good as well.
8. Make your website design mobile friendly. According to some statistics, more people will access the internet via mobile than desktop within the next three years. When designing your site, make sure you have a mobile-optimized version. If your customers are pinching and zooming to read your website on their mobile devices, or clicking on the wrong link, you are not making a good first mobile impression.
About Interaktiva Digital Marketing
Interaktiva is a full-service digital marketing agency based in Miami. The company was launched in 2011 and offers website solutions, social media strategies, online media planning, emerging platforms, emails and CRM, and analytics and metrics services. Since its brief inception, the company has already been nominated twice for the prestigious Awwwards and CSS Design Award, which recognize the best developers, designers and web agencies in the world. For further information, visit the agency's website at www.interaktivaonline.com, Facebook http://www.facebook.com/Interaktiva, Twitter @LoveInteraktiva.
Image Available: http://www2.marketwire.com/mw/frame_mw?attachid=1871366

Add to Digg Bookmark with del.icio.us Add to Newsvine
Media Contact:
Birgit Johnston for Interaktiva
+1 (408) 656 8025
Email Contact


Copyright @ Marketwire
Page: 1
Related Keywords:
Interaktiva Digital Marketing, Internet,Communications,Web,Smart Phone,Social Media,Sales & Marketing,Internet,Social Media,Marketwire, ,Internet Technology,Business,Internet,
---