Echo360 Reveals the Secrets of Large-Scale Blended Learning Technology Adoption
Webinar Features Experts From Monash University, Wainhouse Research and The Campus Computing Project That Will Share Best Practices of Universities With Deployments of 30 to 100 Classrooms
(April 13, 2012)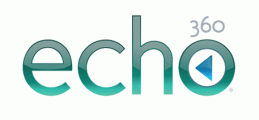 DULLES, VA -- (Marketwire) -- 04/13/12 -- Echo360, the global leader in campus-wide blended learning and lecture capture solutions, is hosting a complimentary webinar on Tuesday, April 17, 2012 at 4:00PM EDT, 1:00PM PDT to review best practices surrounding large-scale adoption of blended learning technology in higher education. The webinar, titled "Navigating the Challenges of Blended Learning," features Janette Burke of Australia's Monash University and leading blended learning technology analyst, Alan Greenberg of Wainhouse Research.
With more than a decade with Monash University, Burke is recognized for her direction in establishing the institution's remarkable efficiency in creating and curating content. The university has captured over 50,000 lecture recordings, accumulated over 1.7M student views across their networks and actively manages over 100 lecture theaters. Wainhouse Research's Alan Greenberg leads the firm's eLearning practice and consults with education providers on how to best maximize technology's impact on teaching and learning. Greenberg is also an accomplished author having penned several white papers, research documents and a three-volume series on distance education. The webinar will be moderated by the founding director of The Campus Computing Project, the most comprehensive study of eLearning in American higher education, Kenneth C. (Casey) Green. Green will guide the discussion offering best tips for charting and implementing deployment of blended learning technology.
Additional webinar topics include:
Conquering deployment challenges and faculty objections
Establishing institutional policies for recording content
Helpful tips on how to drive adoption on your campus
Registration for the webinar is now open and available at: http://tinyurl.com/d9zkg95.
Chief information officers, deans, department heads and education technologists are encouraged to attend and share opinions over Twitter at #navigatelearning and @echo360. Questions and comments will be collected during the live event.
About Echo360
As a global leader in blended learning and lecture capture solutions, Echo360 helps higher education institutions keep pace with modern students' learning needs through products that digitally record and upload learning content. Echo360 has been recognized with a Product Line Strategy of the Year Award from Frost & Sullivan and named a Visionary Vendor in Educational Technology by IT research firm Basex. Echo360's products facilitate better instruction, lower costs and enrich learning experiences by enabling students to easily access and share multimedia content. Through Echo360's platform, students can replay recorded sessions and review course information online at their convenience and across various devices. More than 500 colleges and universities in 29 countries use Echo360's solution.
Add to Digg Bookmark with del.icio.us Add to Newsvine
Media Contact:
For Echo360:
GdR PRoductions, LLC
Gabriel del Rio
323/247-8853
Email Contact


Copyright @ Marketwire
Page: 1
Related Keywords:
Echo360, blended learning, Wainhouse Research, lecture capture, Marketwire, ,Theaters,Technologists,
---