Echo360 Introduces Live Webcasting and Cloud-Based Blended Learning With the Launch of EchoSystem 5
Colleges Can Tailor a Blended Learning Solution to Meet Their Exact Needs
(October 13, 2011)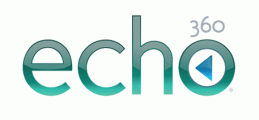 DULLES, VA -- (Marketwire) -- 10/13/11 -- Echo360, the global leader in campus-wide blended learning and lecture capture solutions, today announced the launch of EchoSystem 5. The latest release of the EchoSystem enhances the already robust product offering with options for cloud-based or on-premise infrastructure, live or on-demand viewing, and advanced venue capture with software or a dedicated capture appliance.
"With these improvements to our flagship product line, Echo360 offers the most comprehensive blended learning solution to ever hit the market," said Fred Singer, Echo360 CEO. "EchoSystem 5 maintains our pledge to innovation by delivering exactly the technology our clients need to help improve learning outcomes. There's no reason to look elsewhere."
Echo360's cloud-based solutions are scalable, slash time to deployment, and enable institutions to employ academic continuity plans during campus emergencies. EchoSystem 5 includes two varieties of hosting so virtually every college or university can affordably provide blended learning and lecture capture:
EchoSelect Hosted is a robust solution for clients that require flexible, high-quality recording and is a cost-effective alternative to on-premise infrastructure management. Using EchoSelect Hosted, institutions record content using any combination of EchoSystem software and/or SafeCapture HD hardware. The editing, publishing, streaming and storage of both SD and HD media are hosted in the highly reliable Echo360 managed environment.


EchoReady is an easy-to-launch hosted solution. It bundles together the most popular elements of the EchoSystem for classroom and personal recording of audio, video and course visuals. The downloadable software readily installs on existing computers and does not require a dedicated capture appliance. Content is produced into pre-set formats and quality levels in the cloud, and can be viewed via the EchoCenter portal, Blackboard® Learn® and Moodle. EchoReady is simple to install and operate, without taxing IT staff or campus budgets. EchoReady will be available in Q1 2012 in the United States.


EchoSystem 5 also includes a series of software enhancements available in December 2011:
Live Webcasting delivers an engaging and dynamic distance learning experience with a real-time broadcast stream in conjunction with social learning tools such as peer-to-peer chatting and direct-to-professor questions. It supports multiple HD and SD sources, simulating the classroom experience for remote learners.


Classroom Capture software supports up to two USB inputs for webcam video and document cameras. Classroom Capture runs on existing classroom computers and is an active element of the Echo360 comprehensive suite of recording options that includes SafeCapture HD capture appliance and Personal Capture.


Personal Capture software now offers two highly requested conveniences for instructors -- a pause/resume capability for PC and Mac platforms and added support for Apple® Lion OS X.


The launch of EchoSystem 5 furthers the company's focus in helping universities increase course availability, graduation rates and student retention through blended learning. Other recent product advancements such as SafeCapture HD, EchoPlayer for Apple® iPad and social collaboration have brought a custom approach to improving the value of campus technology. Echo360 is enjoying a record-breaking year with over a 50% worldwide sales increase and just celebrated its 500th enterprise installation.
About Echo360
As a global leader in blended learning and lecture capture solutions, Echo360 helps higher education institutions keep pace with modern students' learning needs through products that digitally record and upload learning content. Echo360 has been recognized with a Product Line Strategy of the Year Award from Frost & Sullivan and named a Visionary Vendor in Educational Technology by IT research firm Basex. Echo360's products facilitate better instruction, lower costs and enrich learning experiences by enabling students to easily access and share multimedia content. Through Echo360's platform, students can replay recorded sessions and review course information online at their convenience and across various devices. More than 500 colleges and universities in 29 countries use Echo360's solution.
Add to Digg Bookmark with del.icio.us Add to Newsvine
Media Contact:
GdR PRoductions, LLC
Gabriel del Rio
323/247-8853
Email Contact


Copyright @ Marketwire
Page: 1
Related Keywords:
lecture capture, hosting, cloud, blended learning, live webcasting, Echo360, Broadcast, Management, Streaming, Computers/Peripherals, Notebook/Laptop/tablets, Mac OS, Internet Media, OS (Operating System), webcast, Mac, OS9, OSX, USA, Marketwire, Other,
---