East Carolina University Continues 20-Year Partnership With Paciolan
Leverages Ballena 3D Stadium Venue Visualization Integrated With Paciolan System to Enhance Season Ticket Buying Experience
(April 18, 2012)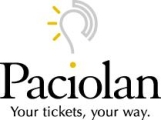 IRVINE, CA and GREENVILLE, NC -- (Marketwire) -- 04/18/12 -- Paciolan, the leading provider of ticketing, marketing, and fundraising solutions in college athletics, today announced that East Carolina University (ECU) will be continuing its 20-year partnership with the company. During this time, ECU Athletics, ECU Performing Arts, and Student Life events will continue to leverage the integrated box office and online ticketing, Fundraiser's Advantage and email marketing solutions to serve its fans and customers through a single, on-campus system.
"It's been great working with Paciolan for the past 20 years," said Terry Holland, athletic director for East Carolina University. "Our partnership with Paciolan helps us to reach our goal of offering Pirate fans, students and donors the best services and technology available in college athletics."
For the 2012 season ticket renewal process for football and basketball, ECU is leveraging the 3D stadium and arena venue visualization system through Paciolan's partner, Ballena Technologies. Through a rich, interactive, digital venue, fans can preview, select, and purchase their season tickets, as well as view parking options available at each of the venues. ECU plans to add the integrated Ballena technology to soccer, baseball and softball this summer using a universal map that will feature drop down maps, directions and parking for each sport.
"We're extremely proud to be able to offer our fans these additional seating and parking services through Paciolan's partnership with Ballena," said Scott Wetherbee, assistant athletic director, marketing and ticket operations, at East Carolina University. "Paciolan continues to help us achieve our goals on so many fronts as we continue to elevate the services we offer our fans."
Leveraging Paciolan's Access Management scanning system, which provides detailed data on game-day attendance, ECU has achieved 50 percent print-at-home delivery for all single tickets, which helps the university save mail costs and decreases will call lines. ECU has also leveraged their digital ticketing system to serve its 9,700 member "Student Pirate Club." As a member, students are provided a bar-coded membership card that gives them access to every football game. This summer, ECU plans to move 100 percent of all student ticket sales online, making this process fully digital from end to end.
To complement its digital ticketing strategy, ECU recently developed a season ticket booklet, which included bar-coded season tickets, parking passes and Pirate Club membership cards -- all included in one, comprehensive booklet.
Using Paciolan's Fundraiser's Advantage solution, ECU is able to maximize its donor communications to increase contributions. Integrated with the ticketing system, ECU is able to offer enhanced customer services to its season ticket holders and donors. For example, using a point system, ECU rewards priority points to donors and season ticket holders who attend events.
"We've been very pleased with the many benefits of Paciolan's fundraising solution, especially the transparency of the point system," added Wetherbee. "We're able to track these points, as well as all donations and past history, and easily display the information to our donors when they log into their accounts. There's so much we'll be able to accomplish as we continue to evolve and grow our fundraising efforts, which is very exciting to us!"
"We're proud to be working with East Carolina University as they continue leveraging our proven technology solutions to consistently achieve success with their athletics initiatives," said Dave Butler, chief executive officer of Paciolan. "It's been a wonderful 20-year partnership filled with many exciting accomplishments, and we look forward to continuing this trend for many years to come."
About Paciolan
Founded in 1980, Paciolan is the leader in venue enablement, powering ticketing, fundraising and marketing technology solutions for leading organizations across North America. Collectively, Paciolan powers over 500 live entertainment organizations that sell over 100 million tickets annually. Primary markets include college athletics, professional sports, performing arts, arenas and museums. Paciolan is a wholly owned subsidiary of Comcast-Spectacor.
Visit www.paciolan.com for additional company information.
About Comcast-Spectacor
Comcast-Spectacor (comcast-spectacor.com) is the Philadelphia-based sports and entertainment company which owns the Philadelphia Flyers (NHL), the home arena for both the Flyers and the NBA's Philadelphia 76ers, the Wells Fargo Center, and four Flyers Skate Zone community ice skating and hockey rinks. In addition, Comcast-Spectacor is also the principal owner of Global Spectrum, the fastest growing firm in the public assembly management field with more than 100 facilities throughout the United States and Canada; Ovations Food Services, a food and beverage service provider; New Era Tickets, a ticketing and marketing company for public assembly facilities; Front Row Marketing Services, a commercial rights sales company; FanOne, a digital fan marketing company; and Paciolan, the leading provider of venue enablement, ticketing, fundraising and marketing technology solutions.
Add to Digg Bookmark with del.icio.us Add to Newsvine
Copyright @ Marketwire
Page: 1
Related Keywords:
Paciolan, USA,Holland,Marketwire, ,Sports,Marketing Services,Entertainment,Sports,Baseball,Hockey,Soccer,Skating,Winter Sports,Basketball,Email,
---