Earth Day 2011 - Children Learn about the Environment with "The Four Seasons," a Free Earth Day Interactive Book by TabTale
(April 05, 2011)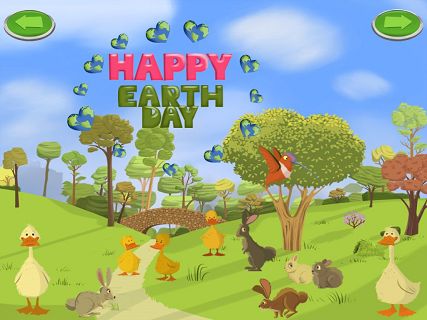 New York, NY (PRWEB) April 5, 2011
Even the smallest child will appreciate the symbolism of a green earth with "The Four Seasons," TabTale's unique children's book that celebrates Earth Day 2011. "The Four Seasons" is a charming and engaging interactive storybook for children of all ages that honors the earth's "birthday" in the context of a beautiful story about the changing seasons. "The Four Seasons" Children's Book is free and available now for the iPad, iPhone and iPod Touch.
"As a citizen of the earth and as a parent of young children, I sought for a way to explain the importance of the environment in terms they would understand. The result is 'The Four Seasons.' I'm thrilled to make this book available to other parents around the world in celebration of Earth Day," said Sagi Schliesser, CEO and Founder of TabTale.
In the book, a good-hearted gardener teaches children  the value of clean air, refreshing water and a green environment, and the role we all can play to preserve the environment.  Filled with interactive activities and surprises on every page, this book is a source of delight to both children and parents. Children interact with the screen to grow new trees, help clean the park, learn the value of drinking fresh water, clear snow from the path to make it safe, and enjoy many other fun interactions throughout "The Four Seasons."
TabTales interactive storybooks provide a new interactive reading experience for our most beloved children's stories. Richly filled with innovative and engaging activities, each book inspires young childrens creativity and imagination in a uniquely enjoyable and interactive way. See other TabTale interactive books at http://www.tabtale.com/books.
Contact TabTale at http://www.tabtale.com/contact.
###
Read the full story at http://www.prweb.com/releases/tabtale/2011/prweb5221264.htm.
Page: 1
Related Keywords:
computer crime, education, adult education, further education, religious education, family, family planning, computing and information technology, satellite technology, wireless technology, science and technology, technology (general), identification technology, agricultural research and technology, Commonwealth Games, Winter Goodwill Games, Summer Asian Games, Winter Asian Games, Panamerican Games, African Games, Mediterranean Games, SouthEast Asiatic Games, PanPacific Games, SouthPacific Games, PanArabic Games, Summer Goodwill Games, World games, paralympic games,
---