E-Band Launches New Flagship Product, Providing Innovative 4G Backhaul Solution With the E-Link 1000-LR
(November 01, 2010)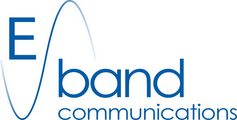 SAN DIEGO, CA -- (Marketwire) -- 10/18/10 -- E-Band Communications Corporation, the leading manufacturer of 80 GHz 4G backhaul solutions for carriers, announced the introduction of its new flagship millimeter wave backhaul system, the E-Link 1000-LR. The 1000-LR brings new state-of-the-art design innovations to the E-band 80 GHz frequency segment, including PoE (Power-over-Ethernet) and field-selectable GigE interfaces that enable customers to choose any combination of copper, fiber or mixed configurations during installation. The all-outdoor 1000-LR has the smallest form factor, lightest weight and lowest power consumption in its class.
The 1000-LR continues the company's RF leadership position with the industry's highest output power at +23dBm, and the lowest latency at less than 5 microseconds. E-Band's nearly quarter-watt output power, driven by proprietary gallium arsenide MMICs, enables the 1000-LR to provide the longest link distances and highest QoS in the 70/80 GHz GigE sector, which is essential for carrier grade LTE networks. Additionally, the E-Link 1000-LR can be field upgraded to a configuration that provides 2.5 Gbps over the air, and can also be seamlessly integrated into any Ethernet IP or TDM network carrying multiple E1/T1 and STM1/OC3s.
"The E-Link 1000-LR is a quantum leap forward in 70/80 GHz technology, with customer driven innovations that make it the product of choice for deployment in 4G networks", said Sam Smookler, president and CEO of E-Band Communications.
The 1000-LR also boasts a new higher gain antenna system with an innovative high resolution mounting system for ease of installation and deployment. The combination of this new mount and field-selectable GigE interfaces shortens installation time and reduces costs.
"Carriers face increasing pressure to relieve congestion in their backhaul networks, which necessitates upgrading capacity to hundreds of megabits, and even gigabits to support the proliferation of devices such as the WiFi enabled iPad, iPhone, Blackberry and Android smartphones," said Adlane Fellah, CEO and founder of research firm Maravedis. "Furthermore, the frequency congestion in the traditional microwave bands has made obtaining licenses more difficult, which has inhibited growth and often led to consumer satisfaction issues and subscriber churn. This is one reason why millimeter wave frequencies, which offer more spectrum than all traditional microwave frequencies combined, are so attractive for carriers deploying 4G and LTE networks."
About E-Band
E-Band Communications is the leading supplier of ultra-high capacity multi-gigabit wireless solutions, serving 4G carriers in public and private networks. E-Band Communications' E-Link 1000-LR is on display at 4G World in Chicago, Illinois, October 18-21.
Add to Digg Bookmark with del.icio.us Add to Newsvine
Contact:

E-Band Communications
Phone: 858-408-0660
Email: [email protected]


Copyright @ Marketwire
Page: 1
Related Keywords:
E-Band Communications Corporation, Displays, Communications, WiFi, Digital Audio, Smart Phone, PDA, Home Networks, iPods, iphone, iPad, Marketwire, Apple Computer, Copper, Communications Technology, Internet Technology,
---