Dune HD Introduces Award-Winning TV-101 to Ethnic and Specialty Content Providers
Award-Winning Digital Media Player Provides All in One Entertainment System for OTT, VOD and IPTV Service Operators
(January 10, 2012)
LAS VEGAS, NV -- (Marketwire) -- 01/10/12 -- CES Exhibitor Booth: South 1 - 21445 -- Industry experts report that IPTV service revenues will grow from $12.9B in 2010 to $27B in 2014, and the latest media player from Dune HD GmbH will take advantage of this growing consumer and operator demand. Unveiled at 2012 International CES this week, the new Dune HD TV-101 is the latest product in the company's operator and mass-market retail series designed to address today's content delivery requirements for Over-the-Top (OTT), Video-On-Demand (VOD) and IPTV service operators. Debuting in North America this week, the Dune HD TV-101 won the coveted Connected TV of the Year Award from ConnectedWorld.TV in September 2011.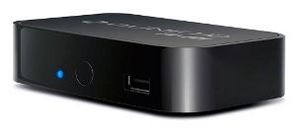 The device is a compact, hybrid media player and set-top box that allows playback of standard and high definition video (up to full 1080p) and is capable of supporting digital TV program reception. For content operators seeking to deliver ethnic or specialty programming to a growing consumer audience base, or cord cutters seeking to replace pay TV services and augment OTA broadcasts, the TV-101 makes it simple to deliver video from VOD or subscription premium services, ethnic programming, niche content and beyond.
To facilitate easy connection to an operator's middleware service and Internet-delivered video streams, Dune HD has developed an IPTV interface that is in use today with one of the most successful OTT ethnic content operators in the world. The Dune HD IPTV interface provides an elegant yet simple way to launch and navigate hundreds of channels, view EPG and other user interface menus and content metadata via a video overlay, and a graphically rich user experience. (The Dune HD IPTV interface may be utilized on any of Dune HD's players.)
"TV-101 delivers what discerning operators and their customers want," says Dune HD CEO Konstantin Dyshlevoy. "People now expect their IPTV STB to include features such as playback of video, audio and photos, support for network-based digital content and premium streaming from VOD or SVOD services. TV-101 includes all of this and more."
Dune HD TV-101 features include:
Upscale DVD or SD video content to 1080p.
Multiple Media Sources are supported, including PC, NAS or directly attached storage devices such as HDD, USB Flash drives and SD cards.
Content from IPTV, OTT and VOD services supported.
Support for digital terrestrial TV (via external USB module) and DNLA.
Multiple DRMs supported, including Microsoft DRM10, PlayReady, Verimatrix, Secure Media, Flash Access and more.
Dune Network Playback Accelerator with special optimizations ensuring best-in-class network playback performance for the Sigma Designs platform. Enables smooth playback of any supported media content via any network protocol (including NFS and SMB) even in 100 Mbit/s Ethernet networks.
Processor: Sigma Designs 8670, running at 700 Mhz delivering a 40-percent increase in performance, while reducing power requirements 30-percent from previous generations.
Dune HD at CES
The entire Dune HD product line, including Dune HD TV-101, is on display at CES in the South Hall, Lower Level, Booth #21445. For any questions or to arrange a meeting with Dune HD executives at the show, please contact Samantha Steinwinder, [email protected], 206-713-6983.
More about Dune HD, GmbH
Dune HD, GmbH is recognized as a global leader in universal digital media players. Over the last five years Dune HD has received more awards than any other company in the category for delivering the very best in universal digital media players. Dune HD products support the widest number of digital formats in use today, from Internet based digital streaming and download, to disc based formats such as Blu-ray and DVD. The Dune HD line of media players offers superior quality HD video and audio with support for IPTV, VOD, networked digital files and interactive services. More information on Dune HD is online at www.dune-hd.com.
Image Available: http://www2.marketwire.com/mw/frame_mw?attachid=1850078

Contact:
Samantha Steinwinder
Concept PR, LLC
Phone: (206) 760-9809
[email protected]


Copyright @ Marketwire
Page: 1
Related Keywords:
Dune HD GmbH, Displays,Internet,High Def (HD),Digital TV (DTV),DVD,Web,DVD Audio,DVD Media,DVD Player,Video,Broadcast,Streaming,Digital,Internet/Web,Display,Prosumer/Consumer,Programming,Internet,Flash,Blu-ray/HD DVD,Settop Box,VOD,DVD Hardware,Authoring/Programming,Broadcast Technology,Graphics/Design,Internet Media,DTV,HDTV,IPTV,Interactive/Multimedia,media player,IPTV,Marketwire, ,CES Attendees,Television,Internet Technology,Entertainment,Internet,Other,
---