Drug Prevention Action Thriller Novel Set to Become a New Literary Series
Books That Will Enhance Your Life Due to Release Author John A. Andrews' Rude Buay Series
(October 25, 2011)

HOLLYWOOD, CA -- (Marketwire) -- 10/25/11 -- Prolific, national bestselling author John A. Andrews, known for his twisted and gritty writing style in his hit title Rude Buay... The Unstoppable, is taking his writing career to another level by extending this original "drug prevention" chronicle into a hard hitting literary series.
Andrews, a visionary, released his screenplay-turned-into-novel Rude Buay... The Unstoppable on Independence Day 2010. Since then he has not only signed this title extensively in the U.S. including Puerto Rico, Hawaii and Alaska, but has translated his bestseller in Spanish and Chinese, with a French edition coming in April 2012.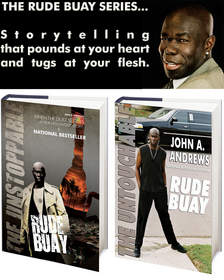 The Rude Buay model was created after Andrews, who grew up with aspirations of becoming a cop, had a change of mind and decided to police the drug trade instead. He reminisces, "While growing up in the islands of St. Vincent and the Grenadines, I used to pray every night to become a police officer but had a rude awakening when I saw firsthand how corrupt and notorious some of the finest conducted themselves."
Andrews is not only the father of 3 teenage sons but has written and spoken extensively on Success for Teens at High Schools, Middle Schools and other institutions. The author views this series on drug prevention as far more than just a wakeup call for Teens but adults alike. According to Andrews, who is currently on a Multiple Title Book Tour signing a body of work, including his memoir When The Dust Settles - I am Still Standing: "Many readers are now anxiously awaiting the release of this first sequel Rude Buay... The Untouchable, like they did for the arrival of the epic Twilight saga Breaking Dawn by Stephenie Meyer in the summer of 2008.
This new installment, like its forerunner, is set in Jamaica, Miami and Colombia, except for the addition of Shanghai. Rude Buay... The Unstoppable is a blend of Traffic meets Casino Royale with Charlie's Angels -- gone corrupt. While soon to be released: Rude Buay... The Untouchable is a flavor of Blow meets Live and Let Die with Training Day -- unplugged.
Like the James Bond Series created by Ian Fleming, Rude Buay maintains wit and international pizzazz. Even so, it sets itself apart; cemented in a deep rooted Caribbean culture, thus branded as a gritty, ethnic, relentless, and poignant modern day action adventure. The Rude Buay Series although embedded thus far with scenes in the martial arts genre, gives rise to not only a multi-dimensional Caribbean American hero but an International one as well.
The Caribbean has been without a hero since "Ivanhoe Martin" played by Jimmy Cliff in The Harder They Come back in 1973. Rude Buay emerges as a new brandish hero with a no holds barred mindset. His wittiness and tenacity make him a character not only possessing grit but longevity as well. The Dragon Drug Cartel, the biggest and most notorious drug cartel ever assembled is a force to be reckoned with. Is Rude Buay really up to the challenge? Readers will find out!
Both installments of Rude Buay could end up merging for a two picture shared production. This reality would potentially place the franchise in the league of successful films such as Lord of The Rings and Pirates of The Caribbean -- produced using the shared location strategy. Shooting locations will include Puerto Rico, Jamaica and Hawaii, according to A L I - Andrews Leadership International. Rude Buay... The Untouchable can be pre-ordered before March 9, 2012.
Image Available: http://www2.marketwire.com/mw/frame_mw?attachid=1774915

Contact:
Andrews Leadership International
Phone: 818-297-2189
Email: Email Contact


Copyright @ Marketwire
Page: 1
Related Keywords:
Books That Will Enhance Your Life, USA, Marketwire, , Sports, Lifestyle, Martial arts, Adults, Teens, Other,
---