Don't Be Rude -- Intermedia Survey Finds 81% Say Taking Conference Calls in Public Is Inappropriate
School May Be out, but Business Etiquette Is Always in Session
(July 25, 2011)

NEW YORK, NY -- (Marketwire) -- 07/25/11 -- The lazy days of summer don't mean lethargic business communications etiquette says Intermedia, a global leader in cloud services and the largest Microsoft Exchange hosting provider. Intermedia's business communications survey, conducted by Harris Interactive on behalf of Intermedia, reviewed the appropriateness level of various communications situations. According to the survey, 81 percent of respondents(1) say it is somewhat/completely inappropriate to take a conference call on a cell phone while in public. On the other hand, after-hours texting between colleagues isn't seen widely as impolite, with over half saying it is okay to do so.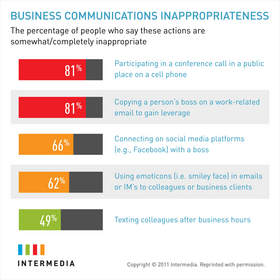 Further survey findings include:
Bosses and social media don't mix: Two out of three say it is completely/somewhat inappropriate to connect with a boss on social media platforms such as Facebook.
Workers keep "cute" out of the office: 66 percent say that using emoticons, such as smiley faces in emails and instant messages, isn't appropriate. Perception of emoticons does vary based on workers' age, with 77 percent of workers who are 55+ saying emoticons are inappropriate -- but only 58 percent of workers who are 18-34 agreeing.
Nearly no one likes a tattletale: 81 percent agree that copying a person's boss on an email in order to gain leverage is inappropriate, preferring to first work out issues directly with coworkers.
Turn it down in public: While 71 percent of those in the 18-34 age range say it is completely/somewhat inappropriate to take a conference call from a public place, that number skyrockets to 98 percent for those 55 and older.
"New tools for communication -- from tablets to social media -- are creating new etiquette questions," says Manlio Carrelli, CMO, Intermedia. "Common sense still applies to issues like taking conference calls in public settings -- be respectful of your neighbors. Questions like using emoticons are more nuanced. For instance, many of the global small businesses we work with find emoticons occasionally useful for communicating tone across borders, but using them in other settings, such as when sending a sales proposal, is likely not appropriate."
Intermedia offers a suite of hosted communications and collaboration software, including Exchange 2010, hosted PBX, Online Backup, Email Encryption, Office Communications Server 2007, SharePoint 2010, and an entire ecosystem of related offerings including support for BlackBerry, iPhone, Android phones, fax lines and more. For more information, please call 1-800-379-7729.
For an info graphic representing the survey data, see Intermedia's Resource Center.
(1)Respondents are full- and part-time employed adults in the US who have colleagues. This survey was conducted online from May 12-16, 2011 among 2,398 US adults by Harris Interactive on behalf of Intermedia.
ABOUT INTERMEDIA
Intermedia is the premier provider of cloud services to small and mid-sized businesses. Delivered from Intermedia's secure datacenters, these services include hosted Microsoft Exchange email, VoIP telephony, instant messaging, file management, security, backup, support for the full range of smartphones and tablets, and more. The company's proprietary cloud infrastructure assures high reliability, and a certified support team is available around the clock. Intermedia also empowers thousands of partners -- including managed service providers and select Fortune 500 companies -- to sell cloud services under their own brand. Founded in 1995, Intermedia was the first company to offer business-class cloud email and now has 320,000 premium hosted Exchange mailboxes under management, more than any other provider. For more information, visit www.intermedia.net.
SURVEY METHODOLOGY
This survey was conducted online within the United States by Harris Interactive on behalf of Intermedia from May 12-16, 2011 among 2,398 adults ages 18 and older, of whom 1,345 were employed full/part time. This online survey is not based on a probability sample and therefore no estimate of theoretical sampling error can be calculated. For complete survey methodology, including weighting variables, please contact Susan Turner at 646.202.9783 or susan.turner@horngroup.com.
Image Available: http://www2.marketwire.com/mw/frame_mw?attachid=1681468

Add to Digg Bookmark with del.icio.us Add to Newsvine
CONTACT
Cynthia Greenberg
646-225-9473
cgreenberg@intermedia.net


Copyright @ Marketwire
Page: 1
Related Keywords:
Microsoft Exchange hosting, hosted Exchange, Intermedia, Harris Interactive, cloud services, Adults, Digital Media Software, Communications, Digital Audio, Web, Cell phone, Smart Phone, PDA, iPods, iphone, Security, EMail, Social Media, USA, Marketwire, Apple Computer, Communications Technology, Business, Email, Adults, Other,
---