Domo Debuts on the iPhone With WeeWorld
Big Tent Entertainment, Virtual Greats and WeeWorld Partner to Extend the Viral Sensation's Reach Through WeeWorld's Top-Selling iPhone App
(February 08, 2011)

NEW YORK, NY -- (Marketwire) -- 02/08/11 -- WeeWorld, a top social engagement company, announced today that its first branded virtual goods campaign for purchase on its popular iPhone app will also be viral superstar Domo's first foray onto the iPhone. In partnership with Big Tent Entertainment, a global branded entertainment agency, and Virtual Greats, a leading virtual goods sales and distribution system, WeeWorld today launched an in-app pack of Domo-inspired virtual goods on its WeeMee Avatar Creator iPhone app.
The "Domo Closet" contains 15 Domo-themed assets including hats, shirts, accessories, backgrounds and Domo pets to further customize iPhone users' WeeMee avatars and is now available for $4.99. WeeMee Avatar Creator asset closets range from $0.99 to $9.99.
"Domo is a viral icon, and we continue to find new ways to give Domo fans access to their favorite viral sensation throughout their digital lives. It was time to take Domo to the iPhone, and the WeeMee Avatar Creator is the perfect fit," said Dan Jansen, CEO of Virtual Greats.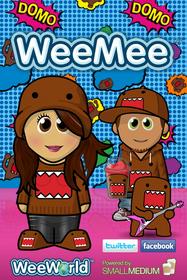 Launched in 2010, the WeeMee Avatar Creator app is the top-selling avatar app on the iPhone, consistently earns the top "Staff Pick" title, and continues to be shortlisted as a favorite in the App Store.
"The initial Domo campaign on WeeWorld's popular social gaming site, WeeWorld.com, was such a success that we wanted to carry that viral momentum into the mobile arena as well," added Rich Maryyanek, CMO of Big Tent Entertainment, licensor of Domo. "WeeWorld helped us reach and, more importantly, engage its expansive teen audience by creating virtual assets that really spoke to our fans. We expect the new mobile assets will lead to similar success in the iPhone community."
Viral phenomenon Domo was created as the mascot for Japanese public television station NHK in 1998, but the fuzzy brown creature eventually became a pop-culture icon and is now widely regarded as the poster child for personalized, user-generated content. WeeWorld.com users adopted the Domo-themed virtual goods in droves, leading to a specialty Domo "shop" for the ever-expanding collection of Domo gear on the site.
"Based on the astounding success of the WeeMee Avatar Creator, we've been working with a lot of brands interested in branded virtual good collections for our iPhone users, but Domo will be the first pack of branded virtual items offered for purchase," said Maura Welch, Director of Marketing for WeeWorld. "We expect our users to embrace the Domo gear on iPhone with just as much enthusiasm as they do on WeeWorld.com."
WeeMee Avatar Creator gives iPhone users a way to easily create customized WeeMee avatars and use them as caller ID images or post them to Facebook or Twitter. With more than half a million paid downloads, users of the app have created nearly two million mobile WeeMees to date.
Associated Links:
About Big Tent Entertainment, LLC
Big Tent Entertainment, LLC (www.bigtent.tv) is an entertainment company specializing in the integrated development and management of media brands. Formed in 2002, the company manages a portfolio across both traditional and new media while focusing on brand strategy, community building, viral marketing, licensing and retail merchandising. Big Tent currently serves as the worldwide (ex Asia) marketing and licensing company for fashion and viral sensation Domo as well as the North American agency of record for a number of properties including: Discovery Kids, the #1 real world entertainment brand for kids; Telemundo, a leading producer of high-quality content for Hispanics in the U.S. and audiences around the world; Purple Ronnie, one of the U.K.'s most successful social expression brands; and PixFusion, a global leader in personalization products.
About Virtual Greats, LLC
Virtual Greats connects celebrities and artists, intellectual property owners and brands with a new generation of fans, unlocking value through digital representations of real-world content in online communities. Virtual Greats' unique team of specialists is based in Los Angeles and San Francisco, helping partners develop new revenues from the complex relationship between content, technology, and virtual goods while reaching out and connecting with young audiences in social networks, casual gaming, virtual worlds and mobile applications. For more information, visit www.virtualgreats.com.
About WeeWorld
WeeWorld (www.weeworld.com) is a popular social game for teens with mainstream appeal, reaching a global audience of more than 42M registered WeeMees. WeeWorld's goal is to provide a fun, visual environment that encourages self-expression and creativity. The WeeMee Avatar Creator is the #1 avatar on the iPhone and is consistently ranked as one of the top-selling social networking apps in the Apple app store.
Through an expansive palette of features, clothes, accessories, hobbies, etc., WeeWorld users can create their personalized WeeMee avatar, connect with friends, decorate their own visual space, send animated messages, play games and more. Thanks to WeeWorld's open platform, WeeMees are portable to all major social networks and blogging sites, in addition to instant messaging platforms, e-mail signatures and mobile phones. WeeWorld has offices in Boston, New York City, Boston, London and Glasgow, and is funded by Accel Partners (www.accel.com) and Benchmark Capital (www.benchmark.com).
Image Available: http://www2.marketwire.com/mw/frame_mw?attachid=1503775

WeeWorld Contact:
Erica Camilo
BluePoint Venture Marketing for WeeWorld
(781) 861-7800
Email Contact


Copyright @ Marketwire
Page: 1
Related Keywords:
Domo, iphone, app, weeworld, virtual greats, virtual goods, big tent entertainment, virtual world, Teens, Children, Communications, Digital Audio, Accessories, iPods, iphone, Sales, Applications, Marketing, Sales & Marketing, Networking, Internet, Internet Server Applications, E-mail, Management, Sales, CEO/CFO, CMO, Sales, USA, Marketwire, Apple Computer, Television, Lifestyle, Entertainment, Social Networking, Teens,
---